.
Interviews > Jan Russ
Jan Russ is a name that will be familiar to many Australian TV fans. Jan is Grundy Television's Casting Director, though she has other responsibilities with Neighbours, which all come under the title of "Assistant Producer". She has been with Neighbours since its concept in 1985, and is held in high regard in the industry and by cast and fans alike - which makes her contribution all the more special.
Can you give us an idea of your day-to-day work, and a typical working week?
Well a typical working day, or week, for me can vary somewhat. I receive a great deal of correspondence consisting of actors' photos; resumes and demo tapes - and get through all of them myself. There's also the weekly auditioning of actors for guest roles as well as long term roles; negotiating contracts; storyline and production meetings; liaising with cast members and agents; reading scripts and storylines; viewing tapes; going to theatre and graduation and workshop classes among other things!
Before becoming head of casting with Grundy's you were an actor. When did you first break into the industry and what sort of work did you do prior to working behind the camera?
I guess I've been in the industry from the time I could walk - it's always been a part of my life. I started out in youth drama groups training under a RADA teacher. I then went into amateur theatre, both drama and musical, and went into professional theatre in the shows Oliver!, Man of La Mancha, Fiddler On the Roof, Charlie Girl, Godspell - touring Australia and New Zealand. I lived in New Zealand for a while doing repertory and musical theatre as well as many TV shows - appearing as an artist in comedy, drama and light entertainment. I then decided during this time to also move behind the scenes as well and worked as a Production Assistant and Floor Manager - I was the first female to achieve this! I then came home to Australia and went into performing in theatre restaurant as well as local TV dramas and was given the opportunity to work as a Casting Assistant for Crawford Productions with the late Bunney Brooke. Worked there for 12 months, when I received a phone call from Ian Smith [Neighbours' Harold Bishop] who was working on Prisoner for Grundy's at the time - asking if I would like to go to lunch with the Producer at Grundy's, to which I said yes of course... free lunch!! Anyway, he offered me the job of Casting Director on Prisoner - having already had a guest role on that same show! [playing one of the incarnations of "Mrs Daniels"] - to which I agreed, and the rest of course is history...

How did the transfer from Prisoner to Neighbours come about? Was there a brief overlap in the production of both shows while Prisoner finished on TEN and Neighbours started on Seven?
Yes there was an overlap of Prisoner and Neighbours for a while. Of course, the two shows are so different and the main one being that Prisoner was totally driven by the strong female cast. It gave our Australian actresses the opportunity to play some really hard-edged characters and to stretch their performance levels - playing roles that would normally never have been written for them at that time. I think it's great to be able to employ some of those actresses once again who appeared in Prisoner years ago.
Of course, what is totally surreal to me is the fact that with Neighbours being on air for so many years, so many young people have literally grown up with it. Some young actors who I may have auditioned when they were 10 or 12 year olds suddenly appear to see me again as 26 year old adults - now that's scary!! Or these young adults come in and say they have literally grown up watching the show, and it's still a surprise to me when I realize just how long the show has been playing for. It is literally mind blowing! And, also, the number of actors that have gone through the show and gone onto other things, even those I have given a small role to - their first TV appearance in fact - have moved onto bigger and better roles in other shows. But their first opportunity was Neighbours, so it's been a good starting off point for quite a few actors in Australia.
Even more amazing is the fact that I will have been working for Grundy's for 20 years on 30th May! Now that is something, huh? Particularly in this industry and in one job - even I can't believe that!
Are there ever occasions when you cast someone, having been impressed by their audition and screen test, that you see them in the studio and perhaps they aren't quite as comfortable in front of the camera as first thought?
Yes, there has been the occasion when someone has done a good audition and then hasn't exactly "grasped" their role, let's say. I can't give you a particular character or audition, obviously, but it does and has happened.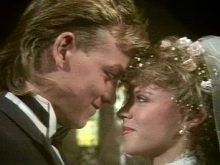 Perhaps your most famous discovery was Kylie Minogue. Likewise, Jason Donovan, Natalie Imbruglia, Guy Pearce and Craig McLachlan have gone on to become huge names all over the world. Did you ever imagine they would mature into the successes they've become today?
With Kylie, Jason, Natalie, Guy and Craig - during the time they were on the show - none of us, including those actors, could have realised the success they would achieve. Obviously, we certainly hoped that the show would be successful and would do good things for the actors, but with the phenomenal success of Neighbours in the UK, this really boosted the international success of those actors. Obviously, I felt that each one of them had that special "something" that would elevate them into a successful career - but I don't believe anyone expected the success that they, or in fact the show, has had over these years. But I am absolutely delighted at what each one of those actors have achieved - they have all worked extremely hard and I feel very proud of each one of them.
How difficult is it to spot young actors who have the ability, but are yet to have the same sorts of experiences as the older actors? Can you spot those who you reckon will go on to "make it big"?
Yes, I can spot young actors who have that "special" something - of course it takes time for them to gain experience - but the ones that have the inbuilt natural quality have it over anyone else. Spotting the ones who will "make it big" can sometimes depend on the viewing audience - they are the real critics that take someone into their hearts (and not always the ones you may think) - also the media and publicity have a great influence on "pushing" some actors into the limelight.
Occasionally, Neighbours is criticized as being a showcase for attractive teenagers in swimsuits. What would you say to these critics?
For all those who criticise Neighbours as being a showcase for attractive teenagers in bathing suits - well I'm here to tell you that is not a regular occurrence as the weather doesn't always allow for it - and we only shoot those scenes in the summer! There will always be people who will criticize - at least they are talking about us! Also, what is more attractive than seeing that? There is nothing obscene in it. On a lovely summer's day, anywhere in the world, we see attractive teenagers in swimming costumes. I'm sure they wish they could still look as good as that!
Jay Bunyan recently took the role of Jack Scully, and has been very well received, despite him succeeding Paul Pantano in the role. In 1995, Caroline Gillmer was taken ill, and the role of Cheryl was quickly taken over by Colette Mann. It caused quite a stir when Cheryl turned blonde overnight! To what extent is a physical similarity important in re-casting?
With Jay Bunyan, I went to New Zealand to audition a couple of actors for the role of Max, and thought I would do some general auditions while I was there. Jay and Michelle Ang both came in for those auditions and I was so impressed with both of them that I spoke with the other producers to write them in somehow, and the idea of casting Jay as Jack Scully happened, as well as writing a role for Michelle. Physical similarity is not always necessary in re-casting and the viewers accept quite willingly the new actor. When Caroline was taken ill, it was a very quick replacement - like immediately! No time for any auditions - we needed someone who could just walk in and take over the role at such short notice and we felt that Colette was the ideal actor to do that.
How often are roles created especially for actors you've been impressed with - for example, Michelle, Jay and Jaime Robbie Reyne?
There have been quite a few occasions where I've found an actor and then roles have been written for them. I find it sometimes works a lot better that way than having a time limit to try and find the "right" person for the role.
When you started on Neighbours, did you ever foresee the success the show's had? Having filmed more than 4000 episodes, it is now Australia's longest running series. Is it still hard to believe its success, especially overseas?
We never expected the international success of Neighbours when we first started the show. Of course, we hoped it would be successful in Australia but the UK phenomenon was very exciting - and yes sometimes it is hard to comprehend its popularity out there. When one reads the websites and talks to the public about the show, it is sometimes a bit of a shock to realise this. I guess I am very proud that the show does have an amazing history: First time a show was axed and picked up by another network; first time an Australian TV show was part of the Royal Variety Performance Show and of course its international success and that the cast of the show has become a "who's who" of Australian actors!
Do you think the show's changed or matured in any significant way since 1985? Would you agree with the suggestion that there is a tendency to undermine the female characters in the show?
Obviously things change over a period of time and Neighbours is no exception - we have had many producers and writers over that time - all with their own ideas - so there have been different "levels" over the years. You asked about the tendency to undermine the female characters in the show: as I said before, that's the difference between Neighbours and Prisoner...
Are there any characters you would dearly love to cast?
Yes, I must admit I loved the Eileen Clarkes and Mrs. Mangels in the show - everyone loves a busybody. I'm sure we all have one in our street!
Do you still keep in contact with any of the actors who've left the show, especially those who have gone on to become international artists? Do you think they should be proud of their Neighbours days?
No, the actors who have left the show don't always keep in touch with me, but some do, of course. In fact, I saw Jason recently and it was wonderful to catch up with him again. And yes, I do think they should be proud of their Neighbours roots - because if they hadn't done the show they wouldn't have had the opportunity to be where they are now.
What do you make of Neighbours' huge fan base, not only in Australia and the UK, but around the world. You are also considered an icon to fans - especially to those of us who have grown up with the show.
How flattering to be considered an icon - thank you! And I think that the fan base is fantastic - without you guys where would we be? We rely on you as our viewing audience to watch the show and for you to have such enthusiasm and dedication to a programme is just fantastic! I have only admiration and respect for you - well done and keep up the good work!
Many thanks to Scott Anderson of Prisoner: On The Inside for kindly donating Prisoner images.
Interview by Rhys. Added on 31st May 2003