.
Interviews > Val Jellay
One of the most recognisable names in Australian Television, Val Jellay has been acting since she was four years old. Throughout her amazing career, Val has appeared in many of the classic Australian shows and has worked with a host of celebrities in Europe, including comic icons Laurel and Hardy. An Icon in her own right, in this exclusive interview Val reflects on her time in the industry and her most recent role as Lyn Scully's (supposed) mother Connie in Neighbours...
For the younger fans of Australian television, can you give us a little background on your career before Neighbours?
I was a Vaudeville performer from the age of 4. It was during World War 2 that I joined the prestigious Tivoli circuit where my education in theatre was learned from the greatest. The headlining comedians of that time were very serious people. Comedy, and its timing, is so delicate. Three years in England for the Moss and Stall circuit in the 1950's took me to the Theatres of Europe with Joyce Grenfell and Harry Andrews after which Sorlies Revue in Australia invited me to come back home.
Can you give us a little insight into some of the most enjoyable parts of your career so far?
It was an eye opener travelling through the historical cities of Germany, Austria and Northern Egypt in the mid - fifties. The world was recovering from war battering. Television was beginning to take hold of audiences in Australia. While touring with Sorlies Revue through NSW and Queensland, I met and married my beloved Maurie Fields. Our many vaudeville type double acts were polished to perfection and we became the busiest performers in TV variety shows. We were pioneers loaded with enthusiasm. The transition to drama was a neat segue. We were used to live audiences and the visual medium unlike radio actors who always had an unseen script. Creating many visual characters was always a pleasurable challenge in all the TV dramas.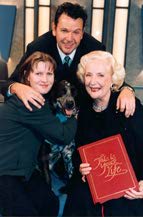 Together with your late husband Maurie, your contribution to the entertainment industry in Australia is something to rival any leading celebrities today. Looking back over your career, to what extent would you say the industry had changed leading up to your latest role in Neighbours?
The industry had gradually leaned more towards pleasing the advertisers in commercial TV. A good idea had to appeal nationally to big advertisers. No longer can a programme be made essentially for one State.
Personally, my casting in Neighbours was the first ongoing role I had played without Maurie. We never actually planned to always work together - it was management's preference because of the natural chemistry we displayed. Whether it be drama, comedy or dance, we were told we made magic. Forty years of loving what we did can do that.
How did the role of Connie O'Rourke in Neighbours come about?
I received a phone call asking my availability for certain dates. Would I be interested in playing the role of Connie. Grandparents of the Scully family were going to be introduced into the storyline. If I was interested, the casting department would have to find an actor to play Henry my husband (the obvious choice was no longer available). We would be known to our grandchildren as Nanna and Gump. I said yes to the idea and was delighted when my old friend Bud Tingwell was cast.
What were your first impressions of Neighbours when you joined the cast?
The speed necessary to get the product out on time. Everything is so compact and hands on, like a well oiled machine. Directors dont have time to teach people, "get it right" is up to the individual. The floor manager, Ray Lindsay, is the son of a fine vaudeville act called Rex and Bessie, my friends from Tivoli days and England variety shows. Ray held the same responsibility throughout the long run of Prisoner. There were so many old friends.
How did you enjoy playing opposite Bud Tingwell?
Speaking of friends! After Bud returned from England and his movie career over there, which was after he was a pilot during the war, he went straight into the new Aussie TV scene. Both Maurie, myself and Bud crossed paths many times in early TV cop shows - Cop Shop, Division 4, Homicide, Solo One, Carson's Law and also The Sullivans. For Maurie and I, it culminated in playing Vic and Nancy Buckley in The Flying Doctors, a top rating drama that ran for eight years with us central characters. Bud Tingwell was the original Producer of the mini series.
Who did you enjoy working with most in the show?
They are all fine actors. Nice scenes were written for me with my "grandchildren". Kate Keltie (Michelle), Holly Valance (Flick) and Carla Bonner (Stephanie). Janet Andrewatha, my supposed daughter (Lyn) is a fine actress. She also played my daughter long ago in Carson's Law.
Can you give us some information on your current projects?
These later years in my career I have become quite selective. This choice coincides with the lack of available theatre and television dramas. Australia has an overabundance of available talent with unbalanced outlets and a comparatively small population to feed off our product. This is evident by the success of American artists and their career lifestyles. Population equals audience. Happily, I've been cast in another musical opening December 2003 The Full Monty. I play the role of Jeanette. It follows happy times in Crazy For You, Follies and Anything Goes.
Do you ever manage to catch an episode of Neighbours these days?
I try to watch it as much as possible especially to see how the Scullys are doing. They are my television family. My character is still influencing their lives.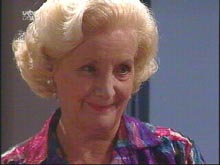 . . .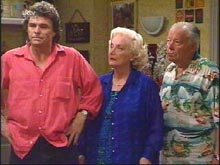 What do you think accounts for Neighbours' continued popularity?
Everybody, and I mean everybody, works very hard on the show, beginning with the script writers. The characters are well drawn giving the actors words and situations to get their teeth into. Talking heads is totally avoided. Camermen, lighting crew, wardrobe, makeup and props departments work hand in glove. Every studio area is but a few paces from the next. There is no time for mistakes or time wasting. This all results in mutual respect for the next person's job. That's why it works and that's why being there for me was a joy.
Interview by Barry. Added on 27th July 2003