.
Interviews > Kate Kendall

Spoiler Warning! Please note that this interview contains spoilers!

2013 saw the Turner family move onto Ramsay Street, with Kate Kendall taking over the role of Lou's daughter, Lauren, a character who hadn't been seen in Erinsborough in almost 20 years. Here, Kate chats to us about joining Neighbours and how she's dealt with her biggest story so far, as Lauren searches for her long-lost daughter...

Can you tell us a little about how you first got into acting, and some of your early roles?


My first role was a Mary in the Nativity play in kindergarten and then I did school plays like Calamity Jane and those sort of musicals. I had a great drama teacher called Mrs Burley who did really interesting things which inspired me. My dad was an actor and I used to go and watch him teach and think, 'Wow this is the best fun ever'. So that's how I got into it. I did Home and Away years ago where I said 'excuse me' and I also did Neighbours where my line was 'I've got a cold' so I had all these little grabs. Then the roles start to get a little meatier. I got a role in Blue Heelers and then people in the industry start to watch you and then along comes a role like Stingers, and that's when things really took off.

How did your role as Angie Piper in Stingers compare to working on a series like Neighbours?
They are very, very different because of the amount of time you get to shoot scenes. 48 minutes over six days for Stingers, whereas we are shooting three hours of Neighbours in the same time.

Were you at all nervous about taking over the role of Lauren, who'd previously been played by Sarah Vandenbergh during the 1990s? Did you watch any of Sarah's work or do any other research on the character before joining?
I only read, because I didn't think it would be that helpful to watch too much of it, because I know there would be a lot of people out there who would be well-versed in the original, Sarah, and I knew I needed to put my own spin on the character.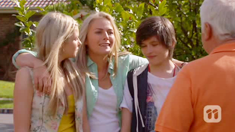 How would you describe Lauren? What do you think are her strengths and weaknesses?
She is turning into quite a complex character. She came in as a sort of earthy family woman, and because she has these secrets now, on paper she has turned into a hypocrite. She is telling everyone to be open and honest and then she is going off to Adelaide and snogging people. She knows she has done the wrong thing. I think she is quite layered which is the direction I would like to keep pushing her in.
What's it like to work so closely with a Neighbours legend like Tom Oliver?
It is wonderful. We have have a great time, Tom and I, and he can be quite cheeky when he wants to be. From day one we have always had a great synergy with each other and don't have to do the scene 20 times, it just works.
We've already seen visits from Lolly and Kathy ­ would you like any of Lauren's other relatives, such as her siblings Guy and Mai Ling, to visit?
Sure! I think there is always room to have more people, and it jolts the story line up.
We've recently seen Taylor Glockner leave the show after a year playing Mason. What was it like to say goodbye to one of your screen children?
It was actually really hard because I had been his real champion throughout the story lines and for Lauren it was very difficult so I think they worked that story really well. I had worked with Taylor before so I don't feel like I'll never see him again, that's just the way the industry works, you always bump into people.
Who are you closest to in the cast?
I'm really close to Colette (Sheila), Rebekah (Terese) and Eve (Sonya) but I have contact with everyone in the cast. We don't live in each others' pockets but you do meet up socially at events and no matter who it is, we're always pleased to see each other out-of-character.
Earlier this year, viewers saw Lauren find out that the daughter she presumed had died at birth was actually adopted out. The response from fans, regarding your performance in these episodes, has been overwhelmingly positive. What was it like to film those scenes?
I realized that I had to give this story a lot of gravitas and go in there and really push the envelope, and Scotty Major was directing and he was really keen to do that as well. We wanted to honour the magnitude of the story and I was really happy where we ended up with it.
Would you like to see Tina Bursill return again as Kathy?
I would love to work with Tina again, we had a great working relationship.
Were you aware, when you first joined, that the long-term plan was for Lauren and Brad to have had a baby together?
No, I had no idea. That was not part of the plan but I'm so glad they did because it's taken us on this incredible journey which has been fantastic to play.
Can you give us any hints about what's to come for Lauren as the story continues?
Lauren does discover who her daughter is but not before quite a bit of heartbreak, and there are lots of other juicy bits coming from the Brad, Terese and Matt fall-out.
And finally, as it approaches its 7000th episode and 30th anniversary, what do you think accounts for Neighbours' enduring success?
I think the characters and story lines, and it's very family orientated which viewers can relate to. And if you write it and cast it well, they will come. It has an incredibly loyal following and there are opportunities all the time to spike the story lines with lots of surprises and special guests and events.
Interview by Steve. Added on 24th May 2014