.
Interviews > Jeremy Kewley
In 1995, Cody Willis found herself victimised, after a brief relationship, by her university lecturer Adrian Ewart. The role of Adrian was just one of many in a long and varied career for Jeremy Kewley, who took some time to tell us a little about his Neighbours experience and what he's been up to since...
Can you tell us a little about your acting career, prior to appearing in Neighbours in 1995?
My first professional acting job was in the 1975 film The Devil's Playground, a powerful and important Aussie movie that won a swag of Australian Film Institute Awards, including Best Film, Best Actor, Best Director and so on. I was only 14, but I was hooked and I continued to work in film and television from that moment on. As a teenager I had on-going roles in series like Bellbird and The Sullivans and films like Mad Dog Morgan opposite Dennis Hopper.
When I was 19 I moved from Melbourne to Sydney to play one of the lead roles in a soapie called Arcade. Interestingly, Arcade aired in the same 5-nights-a-week time slot now occupied by Neighbours. Same network too! Unlike Neighbours though, Arcade was a flop and was axed after only 30 episodes had gone to air … just six weeks!
However, my career recovered from that little hiccup, and at the start of 1985 I actually screen-tested for the role of Paul Robinson before Neighbours began production. Needless to say I didn't get the role. (Bloody Stefan Dennis!)
How did your role as Adrian Ewart come about? Was it just a typical audition?
No it was not! 10 long years after that first Neighbours audition, just after I had played the lead role in a hard-hitting criminal justice series on ABC-TV called Janus, I was chatting to Neighbours Associate Producer and Casting Director Jan Russ at the TV Week Logie Awards (where my show had just won Best Series and Best Actor) and I joked that since I failed that first Neighbours audition all those years ago, I had never been asked back to audition for another role!
Actress Moya O'Sullivan (who was playing Marlene Kratz in Neighbours at the time) overheard the conversation and said to Jan - "He's never been in Neighbours? Ever? What's wrong with you Jan? For heaven's sake, give him a job!" ... and within days I was offered the role of Adrian Ewart! Just like that!
Did you enjoy playing Adrian? How would you describe him?
I had just finished playing this decent, honest, upstanding character called Vic Manoulis for two years in Janus so it was nice to play a bloke - Adrian Ewart - who turned out to be a bit of a two-timing cad.
Dr Adrian Ewart was lecturing part-time at the University Cody Willis [Peta Brady] was attending. They began an affair, he the older teacher, she the younger student. Except it turns out that Adrian is also in a long-term relationship with another woman! And when Cody eventually finds out, and tries to break up with him, Adrian turns on her and makes her life - both at University and at home - a living hell!
What did you think of the harassment story between Adrian and Cody, and the way Neighbours handled the issue?
The only problem I had with Adrian was that the scripts were a bit black and white, a bit simplistic. It seemed a bit obvious that Adrian was up to no good from the moment he appeared. There were little directions in the script like – "as Cody turns away, we see a smirk come across Adrian's face". That sort of thing. I had a number of discussions with Producers and Directors at the time, trying to make sure that Adrian came across as a nice bloke with no initial hint of anything bad . . . otherwise, I figured, why would Cody be interested in going out with him? After all, Cody was a pretty smart girl, not easily fooled.
And I also didn't think there was any fun in the audience knowing straight away that Adrian was up to no good. I say, always string everyone along for as long as possible! But overall it was fun. Peta Brady and I got to do all the nice romantic scenes at the start, then all the yelling and screaming break-up scenes at the end – with all the emotional rollercoaster stuff in between!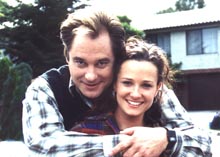 Were there any cast members you particularly enjoyed working with?
I was really chuffed to be working with Peta Brady who was playing Cody Willis at the time. (I think Amelia Frid had played the role before her). As a way of saying thank you, I gave her an engraved silver cigarette lighter as a gift on my last day. Peta was - and is - a great gutsy actress. She was no "soapie starlet". She was a genuine and respected young actress and we really enjoyed our scenes together.
Cody's best friend Jen Handley was played by Alyce Platt. Alyce had played my wife Dianne in Janus, so it was a treat to work with her again.
Did you get any negative feedback from fans when playing such a nasty character?
A little bit. The odd - "You leave Cody alone you bastard" or "Bit old for her aren't you mate?" Made me feel as though I was doing my job properly!
Would you ever consider a return to Neighbours, either as Adrian or, more likely, a different character?
I speak to Jan Russ a few times a year - even had her over for dinner - and I bump into Peter Dodds from time to time, and we talk about what they're doing and about what I'm doing. So, when the time is right . . . well, you never know! But if I ever did Neighbours again, I'm sure it would be as a new character, not Adrian!
Did you keep in touch with any of your co-stars from your time on Neighbours?
So many of the Neighbours cast - past & present - I have known and worked with over the years (it's a pretty "small world" here in Melbourne!) . . . Alan Dale [Jim], Alan Fletcher [Karl], Benjie McNair [Mal], Jesse Spencer [Billy], Ryan Moloney [Toadie], Richard Grieve [Sam] ... the list goes on and on. In the last few weeks I have worked with Bernard Curry [Luke], Brett Cousins [Ben] and my very good friend Jonathon Dutton [Tad]. And I still cross paths with both Peta Brady and Alyce Platt at industry functions and opening nights and we always stop for a chat. (Peta has been shooting R.A.N. - Remote Area Nurse and Alyce is shooting a series called City Homicide with Daniel MacPherson [Joel])
Do you ever find yourself being recognised these days, thanks to your Neighbours role?
Not really no. I'm more recognised for the work I've done since, although some people still come up and congratulate me for my work on Janus (which I did just before Neighbours) in 1994 and 1995 which is very gratifying. It was a wonderful series.
Have you ever been a Neighbours viewer yourself?
Yes, I like to keep up with the show from time to time (not always easy with work commitments). But I will often tape all the episodes for a couple of weeks - a block - every couple of months to keep up with the storylines, who is in the show, which characters are coming and going, and to see who is writing and directing the episodes.
What are you doing these days?
Always working, which is nice! On television I did an 'undercover cop' series called Stingers from 2000 to 2004, playing a cop called Bryan Gray, who really developed and grew over the five years I was on the show. At the same time, I had a 9 year recurring role on another cop show called Blue Heelers (from 1997 to 2006) playing a great fun character called Tony Timms, the overly keen and annoying reporter for the local newspaper in the country town where the show was set.
In 2007 I started shooting the recurring role of Adam Gardiner on a series filmed in South Australia called McLeod's Daughters (pictured above).
From 1984 to 2006 I was on stage EVERY WEEK doing comedy shows at a number of Theatre Restaurants, very popular here in Melbourne. Ryan Moloney, Jonathon Dutton and a bunch of Neighbours guys were regular audience members! I also wrote and directed the shows, and Benjie McNair even came and worked in one of my shows! I work as the "audience warm-up comedian" on a number of popular television shows including a once-a week prime time variety/sports chat show called The Footy Show which I have done since it started back in 1994. We have even been to London twice where we broadcast the show live from the Theatre Royal in Drury Lane!
More Neighbours connections... I warmed-up the audiences for Daniel MacPherson when he hosted the Aussie version of X Factor, and in 2006 I did a quiz show special – Australia's Brainiest Neighbour - the winner was Stephen Lovatt [Max]! I also write and produce television commercials, and television documentaries and specials, including Young Talent Time Tells All. I flew over to the UK on an Easter break to interview Dannii Minogue for that program. Dannii has been a friend since we worked together – along with Kylie – on Young Talent Time back in the 1980s. That's when I first started doing "audience warm-ups".
Kristian Schmid [Todd] and quite a few of the Neighbours kids used to come and watch Young Talent Time being shot in the studio next door. Ah, those were the days!
Finally, after more than 22 years, what do you think accounts for Neighbours' success? I could tell you, but then I'd have to kill you!
Interview by Steve. Added on 18th August 2007