.
Interviews > Mirren Lee
When Madge Bishop joined women's basketball team, the Grey Growlers, back in 1998, one of her more spirited, and vocal, teammates was Pat Horrocks, played by Mirren Lee. Here, Mirren shares some of her memories from her recurring Neighbours role...
Can you tell us a little about your career prior to joining Neighbours in the recurring role of Pat Horrocks?
I migrated to Australia from Los Angeles in 1969 when I was 18 with my Australian mother, 6 brothers and sisters, and my son, who was almost 2. I had trained in acting my whole life, and went looking for an agent and ways to keep up my training when I landed in Sydney. I was successful with the first, but not so much with the second as in those days Australia had no on camera training at all, and very old fashioned voice and theater training. Everyone was being moulded to sound British. I did a bit of extra work, and then was lucky enough to end up in Number 96, Australia's first "racy" soap opera. I did about 6 months on the show, playing a baddie (a biker's girlfriend), then did a few more TV roles before going back to the U.S. and the U.K. to find more training on camera because I felt I could still be better at it. I worked in both countries, then came back to Australia, and started teaching voice and acting on camera along with my own career. I've had a varied career, covering every aspect of the business, both in front of the camera and behind the scenes.
How did the role of Pat come about? Was it just a typical audition for you?
I ran my own actor's agency in Melbourne for 5 years, and got to know Jan Russ through that. After I did the requisite "general audition" for Neighbours, I got a call one day offering me the role of Pat Horrocks.
Did you enjoy your time playing Pat? What do you remember most about working on the Neighbours set?
Playing Pat was fun, especially when I found I had a few scenes with Tom Oliver (Lou), who I hadn't seen since I auditioned with him for the Number 96 movie. I reminded him that the audition had required me to sit naked from the waist up while we did the scene, and asked if he remembered me, which he did. It was the most embarrassing audition of my life, because all the men watching (about 20 of them, including Tom) were fully dressed. My chest, unfortunately, didn't pass the audition! They don't allow auditions like that anymore. Neighbours, of course, doesn't have nudity clauses like some shows did in the old days. The most interesting thing about my role on Neighbours was when we did the basketball game. Australians play netball, so I was the only one in the cast who knew how to play basketball. I remember the director coming up to me and asking me to choreograph some moves for the game. I couldn't understand why they didn't just make it netball. The other funny thing was coming back after a month's break to find they'd changed the name of my "husband" in the show! I asked if Pat had gotten a divorce while I'd been away, but they'd just lost track, and we decided to go back to his original name.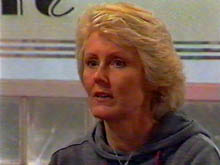 Was there anyone you particularly enjoyed working with during your time on the show?
Working with Tom was fun because he's very relaxed, and Sue Ingleton (Portia) was an absolute hoot because she kept changing the script to make it funnier - and better. She was very energetic and added a lot to her role and the interactions with everyone. And I must mention Ian Smith, who is as nice a person in real life as he is as Harold! He makes all newcomers to the show feel as if they have always been part of the cast, and his ability to make people feel comfortable makes working with him a real joy.
What was it like to work alongside such an established cast?
The cast calls it "The Factory" because it's all so well organized and runs so smoothly. Everyone knows what they have to do, and gets on with it. The only problem with that is it can lose its creativity as everyone just goes through the motions, which is why Sue was such a breath of fresh air to work with. She was always thinking of new ways to liven things up.
Would you ever consider returning to work on Neighbours if the opportunity arose?
No, not really. I don't enjoy working on one all consuming thing that goes on and on. I work on many projects at once, as an actress, a coach and a writer, and I enjoy the freelance life and the feeling of, "What will today bring?"
Are you still in touch with anyone you worked with on Neighbours?
Not since I moved to Sydney in 2001. I used to have coffee with Jan Russ when we both had time, and Alan Fletcher used to do my headshots (he's a very talented photographer), but distance means you lose touch with people.
Have you ever been a Neighbours viewer yourself?
I watch on and off, mostly to see who's on it. There's always someone I know, and that's interesting.
What are you up to these days?
I'm unusual in that I love doing commercials and voice-overs more than anything else, so I concentrate on those, although I did do a small part in Superman when they filmed it here. I am also a voice and dialect coach for American productions, to help Australians sound like they're from the States. I teach acting as well, along with career counselling, and I'm writing a book now on how to be an actor in Australia. In addition, I am working to get a couple of projects off the ground for American companies - TV, not film, which I find too slow and boring to work on. Again, I'm a bit different - where most actors love films, I love television because it goes at a faster pace. I have a website at www.mirrenlee.com for all my projects.
Finally, as it continues its 23rd season on Australian television, what do you think accounts for the show's enduring success?
Mostly the English market! While it's true it's an institution here, and most actors (especially in Melbourne) have done at least one role in it, Neighbours is kept alive by the incredible passion the English have for watching it. For most Australians, it's just another soap, and part of the TV landscape, but the English seem to love the characters almost like a cult. I know that when I ran my agency, and represented Lou's "baby daughter Lolly", she was asked to appear on magazine covers in England. Here she was ignored! Most people really believe that it is the English people that keep Neighbours alive.
Interview by Steve. Added on 14th September 2007