.
Interviews > Teressa Liane
Teressa Liane burst onto our screens earlier this year as Mason's ex-girlfriend, Rhiannon Bates. Here she talks to us about her career and the process of becoming brash country girl Rhiannon...
Can you tell us a little about your career before joining Neighbours as Rhiannon?
I started out in Community and Student Theatre Productions at a young age. I loved the idea of being able to physically transform into another character, something I continue to look for in the roles I choose. Making the transition from Stage to Screen I was cast in minor roles for a couple of Australian Feature Films, as well as a number of Independent Short Films. I always find myself drawn toward characters that are fighting for something even if it's just to be loved, which I felt to be the case with Rhiannon. I enjoy the challenge of presenting an audience with someone completely flawed and then asking them to accept you anyway, good and bad. It serves as a good reminder in life, that there is more to a person than meets the eye.
You had a minor role as Tammy Frazer in Neighbours back in 2011 - what do you remember about filming that?
It was such an exciting experience that it felt like it was over all too soon. It was one of my first roles, so I remember being a little nervous. My character was referred to as "the hot chick", and I remember reading that being like "I'm not hot. I pull weird faces. What were they thinking?!!" But, when I got there, the cast and crew were so welcoming, and testament to their talent and skill I was able to step in for the day, do my thing and leave, without breaking anything. One thing that stood out to me that day was how organized and awesome everyone is at their job. I drove away elated, knowing that this was what I want to do for the rest of my life and I was just so grateful for the experience.
How did the role of Rhiannon come about? Was it just a typical audition for you?
My agent sent me the audition piece along with a brief character breakdown. I had been in to audition for other roles, but there was something about Rhiannon that really grabbed me. I fell in love with her immediately. I remember laughing so much when I first read the script. The writers have done an incredible job, giving me absolute gold to work with.
I knew that I wanted the part so badly, but as an actor you try not to put too much thought into the final outcome. I went in with a completely different take to what Rhiannon became. I was wearing pastel and floral-patterned shorts, neat hair and makeup and was speaking in my own voice. Then, Thea suggested I go the complete opposite. Push the Aussie accent; have her be from a rougher side of town and to just "have fun with it". I remember my eyes lighting up and looking at her like "Are you sure? 'Cause I can do that".
Thea encouraged me to go with it, so I did. Her notes were key to my understanding of Rhiannon and it was one of the most fun auditions I've ever had. About two weeks later I got the life-changing call from my agent telling me that I'd got the part. Amidst my happy crying I thanked them for the news, hung up and excitedly started planning the process of becoming Rhiannon.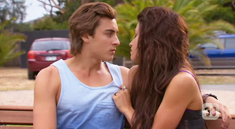 Did you enjoy playing Rhiannon? How would you describe the character?
From the hair, the make up... the clothes! I loved it all! Rhiannon is brash, intense, feisty and resilient... all awesome qualities I love! I had the MOST fun playing her! She has such a vibrant personality, its impossible not to be affected by her.
Rhiannon's been through a lot. She has a big heart, and I think her problem is that she gives too much of herself, too quickly. When Rhiannon was young she lost her mother, and her father was never really around, so her idea of love centers around the only attention she's learned to attract, which is based on her physical qualities. Her only experience with love in the past has left her used and hurt. Which is why she has such a tough exterior. At the same time, I have so much respect for her, for putting her heart on the line time and time again when she feels she can trust someone.
Were there any actors you particularly enjoyed working with?
I was so blessed to work with such fantastic people. Everyone is so talented and they are truly generous actors. I learned a lot from Colette Mann [Sheila], I looked forward to every scene with her. There was this understanding that we were going to have so much fun with our characters' interaction. I have so much respect for Colette as an actor and as a gorgeous, intelligent woman. Never a dull moment with her.
I was blown away by Taylor [Mason], he is a lot of fun to work with. We were just constantly mucking around during takes. It was interesting to see our characters evolve together. I think we were both a little surprised with our first scene, the chemistry just clicked and it was as though we had been friends for ages.
And of course Stefan [Paul]! What should probably have been challenging scenes, were instead wickedly fun. We'd chat about ideas for our scenes in rehearsal, and had a few cheeky laughs on set. As our characters, Paul enabled Rhiannon to realise her own strength.
How did it feel to be working alongside such an established cast?
Every day I felt so grateful to be there. Not only do I hold such immense respect for these people as actors, but there really is a feeling of family that sort of surrounds you when you're there. From my very first day, the cast and crew made me feel so welcome. It was exhilarating working opposite such a talented group of people.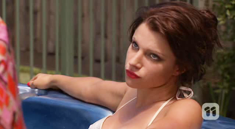 You had to undergo quite a dramatic change to your appearance to play Rhiannon. Did that help you to get into character?
The incredibly talented hair and makeup team and wardrobe are just as much a part of bringing 'Rhiannon' to life as I am. It was a collaborative process from a lot of people. So much thought went into the styling. Every day I would walk in and out a completely different person. I had my own ideas of what I wanted to bring to the character, but it definitely took her to that next level. The very first day we did the complete transformation, hair, makeup, wardrobe, I put on the plastic wedges, was given Rhiannon's handbag and out of nowhere I started walking differently, that was how her sassy strut was born.
Would you ever consider returning to the show, either as Rhiannon or a new character, if the opportunity arose?
If another character was written that I felt a strong connection to, absolutely.
I would jump at the chance to return as Rhiannon. I think she has a lot of potential and I'd love to see her grow.
Have you ever been a Neighbours viewer yourself?
Yes, I watched the series from a young age. Harold was always my favourite.
Where do you hope to see your acting career go from here?
I would be happy to continue working with great, talented people. As for "What's next?" Who knows? At the moment I'm just enjoying the experience of being part of something so special.
Finally, what do you think is the secret to Neighbours' success?
The show has been very open in their willingness to evolve with their audience and that is something that I feel really proud to have been part of. The wide range of characters, themes and storylines keep the show fresh and relatable.
Interview by Steve. Added on 26th May 2013