.
Interviews > Klara Lisy
Klara Lisy first made a Neighbours guest appearance in 2005 as bikini shop customer Sandra Fitzgerald and, in this week's UK episodes, she's back to play an important role in the future of Paul Robinson's relationships with both Gail and Izzy...
Can you tell us a little about your career prior to your first appearance in Neighbours?
Sure. I've been a part of theatre groups, workshops and acting courses since I was a child. I have always tried to involve myself in as many short films as possible because I believe the best way to learn is to do! I started out as a model when I was 17, after winning a competition called Face of 1997. Regular jobs followed in magazines and on the catwalk. Shortly after that I did some modeling on a Channel 7 show which led to work as a TV presenter on two shows, FAB South Oz a tourism show and AM Adelaide a morning chat show, which I loved. In 1999 I flew to Melbourne to fill in for Nicky Buckley on Sale of the Century while she was on maternity leave and fell in love with the city. I moved from Adelaide to Melbourne 5 years ago and since have been lucky enough to work consistently as a model and actor in TV commercials and on TV shows.
How did your first role as Sandra Fitzgerald come about? What was it like filming that part?
I auditioned for that part like everyone else, in my bikini. I've dove a lot of swimsuit and lingerie work in the past so it wasn't as daunting as it sounds. Filming was great. Toadie (Ryan Moloney) and Connor (Patrick Harvey) were just as much fun off screen as they appear on and they were constantly cracking me up between takes. They made my first experience on the show a very memorable one for all the right reasons.
A year after playing Sandra, you returned as Paul Robinson's new fling, Lilly DeRouge. What was it like to film that part?
It was a very different experience filming the part of Lilly. Not only was it a much bigger part the second time around but I got to get down and dirty with the resident bad boy of the street, which is always fun. It was an awesome experience. I got a real taste of what life on the show is like. I was away on location with Stefan Dennis, Fiona Corke and Natalie Bassingthwaighte. I remember watching Paul and Gail get married when I was a child so it was a real thrill to be able to work alongside them. There was a moment towards the end of the days filming when Stefan and I were lying on the bed about to film the kissing scene, and I caught myself staring up at him thinking "I'm about to kiss Paul and Gail is going to walk in on us…the world is too weird!", it was very surreal.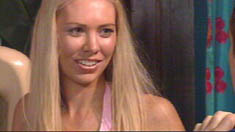 Which of your two roles did you prefer?
Definitely Lily, the second role. She is such a fun character for all the wrong reasons. She is a naughty little gold digger who causes a lot of trouble. It's always fun to be able to play someone who has such lose morals… It's nice to be able to cause havoc without facing the consequences…that is a philosophy I can definitely get onboard with.
Were there any actors you particularly enjoyed working with?
I had most of my scenes with Stefan so I got to know him the best. He is a real professional. He always made sure I felt comfortable. I loved working with him because as Paul he was so wicked and devious and it was great to be able to play with that aspect of his personality. I also have to mention Fiona (Gail Robinson), who I sat with during our lunch break. She is amongst one of the nicest and most genuine people I have ever met. She really cares about the deeper issues affecting us and our planet, and her love for animals has endeared her to me for all time.
How did it feel to be working alongside such an established cast?
I felt very comfortable working with everyone. There wasn't a person on set that was unpleasant to be around. Even Natalie, who must have had a million things on her mind (trying to juggle the show and her band commitments) , joked around and told stories in between takes. They were all friendly and made me feel accepted. I half expected to feel out of place, like a third wheel, because they all have such a long history with each other, but they were great. I felt like part of the gang, which was awesome! At the end of filming when all my scenes were complete I didn't want to go home…
Would you ever consider a permanent role in the series, if the opportunity arose?
Hmmm, that's a tough one… of course I would!! I would love the opportunity to bring Lilly back. I think she could have a lot of fun in Ramsay Street… Whenever they want me, I am ready (hint, hint).
Have you ever been a viewer of the series yourself?
I sure have. I started watching in 1987 when I about 7 years old and like most young girls of the time I wanted to be Charlene (Kylie Minogue). I even convinced my mum to let me get a spiral perm for my 10th birthday because she had one. I still switch on now to see what everyone in the street is up to when I have the time.
Having worked on other Australian dramas, such as The Secret Life Of Us, how does Neighbours compare?
Neighbours has a very tight rehearsal and filming schedule, because the show airs every week night. Secret Life of Us only aired once a week, so the actors had more time to learn their lines and perfect each scene. If they didn't like a particular take they could do it over until they were happier with it, as time wasn't such an issue. On Neighbours you have to bring everything you've got to the first take. You need to come to the set understanding the scene, knowing your lines and hitting your marks, as there isn't any time for mistakes. I think that says a lot about the professionalism of the cast of Neighbours.
Do you ever find yourself running into familiar faces from your Neighbours days, either through work or socially?
Not normally. I have my close circle of friends and when I go out I go with them. However, last year there was an exception. My partner Steve Simmons who is also an actor and musician became acquainted with Ben Nicholas (Stingray) through a musical (Bunch of Ratbags) they were both performing in. Subsequently we attended his 18th birthday party and as you can imagine many of the Neighbours cast were also there.
What have you been doing since your most recent guest appearance?
I've been attending a lot of auditions, featuring in fashion magazines and strutting my stuff down a few catwalks. Most recently I've appeared in several TV commercials for Hairhouse Warehouse and City of Melbourne, as well as recording advertisements for radio (they tell me I have the face for it). All in all I've been a very busy girl.
With Neighbours now on screen for more than 20 years, do you have any thoughts on why the show has lasted so long?
In my opinion it has a lot to do with the writers and producers understanding what the viewers want to see. I think their ability to change with the times and keep the characters in situations that are exciting and current mean that the audience always has someone on the show they can relate to. The world has changed a lot in the past 20 years since the show began and I think Neighbours has done a good job changing with it.
Click here for a biography of Sandra Fitzgerald and here for a biography of Lilly DeRouge.
Interview by Steve. Added on 14th October 2006