.
Interviews > Mark Little
Neighbours made international stars of many actors in the late 1980s and one of the most enduring has been Mark Little. Mark first appeared as Ramsay Street's typical Aussie bloke Joe Mangel in 1988, remaining in the role until 1991, and reprising it for the show's 20th anniversary in 2005. Here, he shares with us some of his memories, and controversial points-of-view, from his time in Erinsborough...
Can you tell us a little about your career prior to landing the role of Joe Mangel in 1988?
I graduated from NIDA (National Institute of Dramatic Art) in 1981 and relocated from Sydney to Melbourne where there was not only an exciting cabaret scene but a centre for television drama. I'd been in an episode of Skyways before graduating which consequently led to other roles in other drama serials, such as Cop Shop, The Sullivans and The Flying Doctors. I was cast in main supporting roles in a couple of mini-series, being Waterfront and The Dunera Boys and a number of feature films such as An Indecent Obsession and Short Changed. At the same time I was performing my self-devised 'funny' theatre in the burgeoning comedy clubs regularly. Prior to starting Neighbours and over the first six weekends, I shot an independent film called Nirvana Street Murder which is worth tracking down. I'd been asked to play one of the Ramsays when Neighbours first began but had to turn it down.
Can you remember much about auditioning for the role or filming your first scenes?
I remember coming home from the audition and telling Cath, my life partner that it wasn't mine as it was clear they were looking for someone older. I did have a good rapport with the producer at the time who I'd worked with at the ABC. He knew I could bring humanity to a character that could be easily portrayed as a caricature. I do remember my first scenes. Joe was a baddie in the beginning so I tried to make him as bad as Neighbours would let me. 'Ping off' was my first ad-lib of many.
How would you describe the character of Joe Mangel?
Quintessential Australian suburbanite of the late 80's. A complete 'bogan'. (see Wikipedia) Into ACDC, Ugg boots, pies and earning a quid... in that order.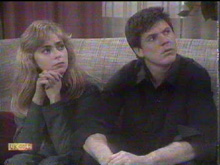 Was there anyone you particularly enjoyed working with during your time as Joe? What was Vivean Gray like to work with?
The whole Mangel house was a treat. Vivean Gray, Annie Jones and dare I say, Bouncer. We had a great time with the extreme 'soapiness' of Joe's arrival...Mrs. Mangel's estranged son! Ooh Er Mrs. This was the beginning of the 'Mangel era'. Joe, Toby, Bouncer, Melanie, the whole catastrophe. We had fun creating the mayhem... with kids. It was well organized chaos and we were proud of it. Ian Smith was always particularly fun for a bit of neighbourhood feuding. And for my sins, I even had a pretty daft time with Henry. The whole suburb was filled with larrikins at that time. It was special. It was great going back and seeing Sky grown up as a gorgeous young woman. I had great scenes with Stephanie. Not enough with Harold which was the disappointment. They seemed to keep us apart like naughty school boys - boring. The second coming was also a chance to work with Janet. I'd always wanted to work with her and this was our first opportunity. We did pretty well with a ridiculous storyline.
During two stints in Ramsay Street, Joe had three wives and a fiancée. Who did you feel he was most suited to? Would you have liked to have been around for Linda Hartley's comeback as Gabby Walker in 2005?
I think it's obvious that Joe wasn't made for long term commitment. Well, his mother didn't set a fine example. 'On ya wild man'. Joe was a square peg in a round hole for all of them. He did his best to fit in but he found his calling in the bush, on his own, roaming the horizon. I actually found Kerry returning from the dead and kissing Harold in the coffee shop a bit shocking. Wouldn't want to have been there. Even writing about it induces queasiness. Next question please.
Although often a comic character, Joe's life seemed to be regularly touched by tragedy. Did you prefer acting out the comedy or the drama?
Both are as difficult and as draining as one another darling! Joe's descent into the depths of despair after Kerry's death and Melanie's grandfather's death and the bloke stealing Sky and the Kombi accident were too much in the end. It's what pushed me away. Not enough comedy. Comedy is what I believe made Neighbours great in the first place.
What led to your decision to leave the role in 1991?
I think we've covered that above. Too much tragedy for a funny show. Oh, and did I mention Harold got washed off a rock? Too, too much tragedy.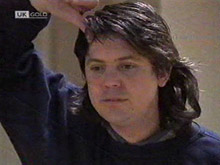 Where did you career take you after playing Joe?
I would have to say, Joe Mangel does cause me regret. I haven't been taken seriously as a television or film actor since. The only TV jobs I get offered these days require eating kangaroo testicles and their anus, raw. I haven't done one television drama since Neighbours. I did host The Big Breakfast for three years which was fun. I like presenting especially when it's live. I've also taken a number of self-devised shows on the road and am working on a new concept at the moment. I've done a bit of theatre. Had success with Defending the Caveman, which won an Olivier Award in 2000. I also played 'Bottom' in Stafford Festival Shakespeare's outdoor production of A Midsummer Night's Dream last summer which was extremely satisfying. Look out for some forthcoming archival clips on YouTube!
After 14 years, you reprised the role of Joe in 2005 for the 20th anniversary celebrations. How had things changed on set since your original stint?
Well, everyone I knew seemed to look 14 years older but somehow the same, yet the scripts looked half way the same but were 14 times stupider. It was very surreal.
What led to you leaving the series for a second time?
Don't start me. A travesty of errors. Commercially, artistically and personally. I really had gone back to Neighbours with plans to reprise a great soap character. A fortnight in, a close mate suicided in Melbourne. My level of grief and the appalling story lines left me with little fight to make Joe great again. I actually didn't have the energy for the battle. So, hence Joe bowed out disgracefully. Oh well.
During your interview with Brendan Courtney in 2006, you said it would be unlikely you would go back to Neighbours. Has that view changed?
No, not the more I watch it. Joe Mangel is a dinosaur, a dead Australian.
Are you still in touch with anyone from either of your two Neighbours stints?
Lucinda Cowden and Ben Guerens. Ian Smith sometimes and Anne Charleston occasionally. Lucinda's one of my best mates.
What are you up to these days?
Just came off the road after a gruelling tour of Defending the Caveman. Thank goodness for theatre. Having a rest now... re-grouping. Working in my garden and spending time with my family. My wife Cath Farr directed me in the last production of Caveman which was sensational. We're about to collaborate on a documentary film. I'm keen to take this century by the horns. Trying to organize my space on MySpace. It'll get there. But I will never understand it.
Finally, as it continues its 23rd season on Australian television, what do you think accounts for Neighbours' enduring success?
Neighbours wouldn't still exist if it wasn't for Britain and its incredibly loyal fan base. I'm not sure what you people see in it although I did see a particularly bad scene between 'Hop along' Paul Robinson and the lump of wood with hair gel from Oakey (which I resent because that's where I come from... bastards). It was so bad, probably the worst acting I'd ever seen on TV. But I just couldn't take my eyes off it. And therein I suppose lies it's true success. Cast a show with a number of very competent soap actors, give them ridiculous, psychopathic storylines and provide them with an incredibly vacuous, incompetent supporting cast and Eureka! 23 years of television gold.
To read a character biography of Joe, click here...
Interview by Steve. Added on 23rd June 2007