.
Interviews > Scott Major
Back in 1993, Darren Stark arrived on Ramsay Street and caused chaos as he dragged Debbie Martin into a dangerous life of crime. The actor behind Darren's first incarnation, Scott Major, chats to us here about his nasty character.
What were you doing prior to your work on Neighbours?
I had worked on quite a few Australian productions before I was on Neighbours when I got the job I was working on a play called Desire Lines.
How did the role of Darren come about?
I just auditioned like most people do.... I think they needed a baddy on the show.
Were there any cast members you particularly enjoyed working with?
They were all great, Natalie [Imbruglia] (Beth Brennan) and I got along really well and had known each other before. Also Dan Falzon (Rick Alessi) and I got along really well..
Were you approached when it was decided to bring Darren back to the cast?
Yes.
Did you ever see Todd MacDonald in the role? If so, what did you think?
Yes I did, I think he did a great job. He worked a lot with a mate of mine, Fletcher Humphrys (Martin Pike).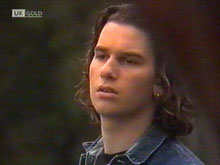 Having worked on several other Australia serials, how does Neighbours compare?
It was great fun and there is so much history in the show so you know not matter what you are working on something that has stood the test of time.
Have you since worked with any of your Neighbours co-stars again? Do you keep in touch with any of them?
I run into them every now and again but I don't think I have worked with any of them again.
What have you done since your stint as Darren?
Quite a lot since then... Heartbreak High, Always Greener, lots of guest roles in Australian series. And a few feature films. Envy, Ned and He Died With A Felafel In His Hand.
After 20 years, Neighbours is still hugely successful. What do you believe is the key to its success?
I think any show that can last 20 years is a great achievement esp. when we all know how fickle the industry can be.
Finally, even though Darren has been recast, would you ever consider returning to Neighbours if asked?
Never say never.
Find out more about Scott on his website.
Interview by Karl. Added on 16th April 2005