.
Interviews > Valda Marshall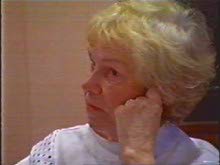 If Anne Haddy was the on-screen matriarch of Neighbours, Valda Marshall was the off-screen one. A well-known Australian journalist in the 1950s, Valda was connected with Neighbours from the very beginning, working alongside Reg Watson on the early episodes on Channel Seven and staying with the series through the height of its popularity until the early 1990s. In this insightful and entertaining interview, Valda fondly recounts a period of time that she considers one of the happiest times of her professional life as a writer...

Can you give us a background on your career before Neighbours?
Before joining Neighbours I was a journalist/feature writer/ TV columnist based in Sydney. I had been a TV critic for a Sunday newspaper, the Sun-Herald, for 15 years when my husband was transferred to New Zealand. Although I had to give up my newspaper column, it turned out to be a window of opportunity, as I then decided to put my money where my mouth was and write for television instead of just watching it. I had two TV plays (both comedies) produced in New Zealand, and I have to say they weren't very good. New Zealand was just starting to produce its own television drama, and welcomed any writer who was prepared to have a go at it. Later, in our return to Oz, I had another TV play - also a comedy - produced by the Australian Broadcasting Commission (now Corporation). By this time, I had a better idea of what television writing was all about.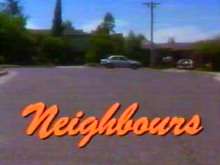 How did you come to be involved with the development of Neighbours in the lead-up to its debut on Channel 7?
I had decided that comedy writing was my forte, and started bombarding production companies and networks with ideas and scripts for sitcoms. Some of these landed on the desk of Penny Fraser, secretary to the Grundy Organisation's then head of drama Reg Watson. She thought they were funny, and passed them on to her boss. The next was a phone call asking me to come in for an interview. I was a bit intimidated at first but Reg was relaxed and friendly, questioning me on what I thought of various shows, why I thought they'd worked or hadn't worked, the role of humour in television. He then gave me some Neighbours scripts (10 had been written) to take home and read before coming to a decision. It was one of those situations where we were both sizing each other up: did I like them, did they like me? All I'd been hoping for was the chance to write an occasional script, but to my surprise when I went back next day Reg offered me the job as Story Editor on the show, which was to be launched in four months time. It was offered on a trial basis of six weeks, and I started the first week of November 1984. Nobody said anything at the end of the six weeks, so I assumed I still had a job. I finished up working at Grundy's for 10 years.
Can you share with us your experience of working with Reg Watson on developing the series?
Most of the major characters for Neighbours had been cast by the time I joined the show, but auditions were still being held for the role of Daphne. Reg had very definite ideas about the type of actress he wanted, one being that she should not look like the stereotypical stripper. He believed in casting against type (maybe one reason why the role of Max the plumber was played by a Shakespearean actor). A young actress with the face of an angel was an early favourite, but decided to return home to New Zealand. The role of Daphne finally went to Elaine Smith. One of the most important things for a Story Editor is to understand what a show is all about, and get inside its characters. Make them real people, to whom viewers can relate. Reg told me that his inspiration for Neighbours had been the Andy Hardy movies starring Mickey Rooney. He liked the relationship between the young and brash Andy and his father, Judge Hardy, wise and kindly guide and adviser whenever Andy got into trouble. He was also a great fan of the TV series Family Ties, with Michael J. Fox. This, I feel is one of the reasons why Neighbours was so successful. It was about different generations getting along together.. something most people can relate to. The Robinsons, in fact, had three generations, with Jim's mother-in-law Helen Daniels as the much-loved family matriarch. When I started with the show, my job was to create storylines for all the characters as well as move the action along and create a dramatic cliffhanger for the end of each episode. A daunting task. I had a sentimental attachment at the time to my little portable Olivetti typewriter, standby during all my years as a working journalist, so I'd bring it on the bus each day to Grundy House in Artarmon, Sydney. On my little portable I would churn out story material for five episodes a week, which would then (after final approval by Reg at a story conference) be passed on to outside writers to construct into scenes and dialogue. I shared an office with the Script Editor, a former actor being trained by Reg to edit scripts. He had a disconcerting habit of striding up and down the room, stopwatch in hand, acting out each scene aloud. He had one of those strong, carrying actor voices, and every now and then someone passingby would glance into the room with a look of alarm, wondering what was happening in there. Eventually, someone quietly took my colleague aside and explained that script editors usually do their timing in silence. It made for a quieter work environment but I was sorry in a way, because I was enjoying the dramatic monologues. Shortly afterwards, a third person joined us as a trainee, also from The Young Doctors. His name, if I remember right, was Robert Leys, and the reason I mention him is that he was the one who invented the suburb in which Ramsay Street is located. We had a blackboard in the room, and he would while away spare time trying to come up with an anagram of the word Neighbours. After what seemed like several hundred attempts (it was probably dozens) he finally came up with Erinsborough. But he had to use an extra 'r' and 'o'.

Of the original cast of characters, which characters do you think worked best?
My vote for the characters who worked best would go to Helen Daniels, Jim Robinson, Des and Daphne Clarke - with a special mention for Des's interfering mother Eileen Clarke, played brilliantly by the late actress Myra De Groot. I was never completely comfortable with the character of Max Ramsay, as his ocker accent seemed strangely at odds with that of his friend and neighbour Jim Robinson. After all, the two had supposedly been to school together. And the original Scott Robinson, played by Darius Perkins, didn't have the same impact as Jason Donovan when he took over the role and made it his own.
As the show approached its demise on Channel Seven, it took a more dramatic turn with the gripping Terry/Charles Durham plot culminating in Terry shooting Paul. Was it always intended to work out that way, or did this plot development occur to wrap up the series?
My memory is that it was part of a number of plots designed to wrap up the series on Channel Seven and take it out on a strong note. My personal view, looking back, is that the Terry murder story was perhaps out of character with the family theme of the show.
What do you think went wrong for Neighbours on Channel Seven?
The timeslot. Neighbours was originally designed for 6 pm, but then Seven decided to change the time of its news session and moved Neighbours back half an hour to 5.30 pm. The change was critical, as it was now slap-bang in the middle of game show territory.
Take us through the move to Channel Ten...
Ian Holmes, managing director of Grundys, sold the idea to Channel Ten... thus making television history for Neighbours as the first show to be dropped by one network and picked up by another. I had them moved on to Sons and Daughters. I was buying lunch at the sandwich shop across the street when I ran into Reg Watson who told me the news, and asked if I'd like to return to it.
A number of changes were made to the series on Ten - new characters such as Madge, Mike, Clive, Zoe and Charlene were introduced, Darius Perkins was replaced in the role of Scott by Jason Donovan, 'Ramsay Street' was extended to include more houses and the Lassiter's complex became a prime location. How important do you think each of these changes were to the show's eventual success on Ten?
Very important. The Lassiter's complex opened up Neighbours and gave us many more opportunities for stories. The addition of Madge, Charlene, Henry, Mike, Jane and Clive gave the show tremendous appeal for young viewers. Incidentally, Mitchell wasn't the original name for Madge's family. Reg had chosen Emery - with his quirky sense of humour, he liked the sound of a character called 'Henry Emery'. But about this time, the English comic Dick Emery died, so as a mark of a respect, Reg decided to change the name to Mitchell. 'Henry' was Reg's invention. I chose the name 'Charlene' as I felt it was a uniquely Australian-sounding name similar to Raeleen, a very popular character in an earlier Grundy show, The Restless Years.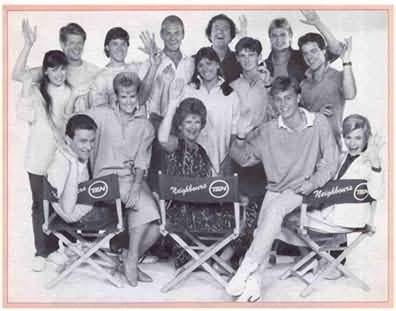 Not long after the Channel Ten episodes were underway, Francis Bell departed the series suddenly and one of the leading original characters, Max Ramsay, needed to be hurriedly written out. How did this affect the production of the show?
Oddly enough, Max Ramsay being written out didn't seem to affect the show at all. Good writers can always work around situations like this, and his shadow was still looming over Ramsay Street in the person of his sister Madge - who changed her name back to Ramsay after her divorce from her erring husband Fred.
When did you begin to realise the enormous impact the love affair of Scott and Charlene was having on viewers?
Almost immediately. Kylie Minogue and Jason Donovan had a lot of on-screen charisma and chemistry. They seemed to be right for each other. Incidentally, we had endless discussions at the time among our story team on how far we should go in terms of a sexual relationship, and whether sixteen was too young to be thinking of marriage. Remember, there were a number of restrictions in those days on what could be shown or implied in an early timeslot when children were watching. But Scott and Charlene were a super-charged duo from the beginning.
Daphne Clarke holds a special place in the show's history as being the first central character to be killed off. What impact do you think this - and indeed, subsequent deaths - had on the show?
Difficult to say what impact Daphne's death had on the show, except that story editors are always reluctant to kill off good characters. Killing off a TV character is so final, and almost impossible to reverse. I remember it was done once in the famous American TV series Dallas in which the character's death turned out to be only a dream. Another way out is to bring back the character as his/her twin. The 'death' of Harold was a tricky one, as we didn't want to lose the character. He had apparently died from drowning, but the writers cleverly arranged it so his body was never washed up or discovered. He later returned to the show - with amnesia.
Re-casting was a more frequent option in the old days of the series - what are your feelings on re-casting?
I think we had three Lucy's (or was it four?) over time. I don't have any particular view on re-casting. Sometimes it works, sometimes it doesn't.
Working on the show at the height of its success in the late 1980s must have been an amazing experience - can you share with us some of your memories of being involved in the 'Neighbours Mania' of the time?
Yes, it was an amazing experience. By this time, we had a terrific team of storyliners working on the show, very creative, very hardworking and enthusiastic, with Ray Kolle as Story Editor. Ray was a superb editor, with an almost uncanny knack of being able to come up with the right story and the right character just when needed. As well as counting him as a friend, I also regard him as one of the outstanding editors in the business.
Incidentally, let me throw in an anecdote here concerning Jason Herbison, who has own place on the Neighbours website (and thanks, Jason, for those kind words about me!). Our first contact with Jason was when Ray began getting letters from a teenage schoolboy who'd set himself up as an unofficial critic of the show. Ray would come out from his office (sometimes amused, occasionally irritated) and read them out to us. Jason was a tough critic, but very fair and perceptive. When Jason left school, he was offered a job as a trainee storyliner, and as the saying goes, the rest is history.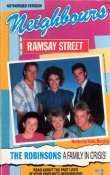 In 1988, you wrote two prequel novels, "The Ramsays: A Family Divided" and "The Robinsons: A Family In Crisis" with your fellow Neighbours colleague, Ray Kolle. Can you tell us a little about that? Where there ever plans to do more books?
The idea for the two Neighbours books was based on a prequel that had been written for the English TV show EastEnders. The one on the Ramsays was written with the help of Ray Kolle, structuring the story. I then wrote one on the Robinson family. And no, there were no plans to do more books, although we'd have been happy to write any. Trouble is, no one asked us.
Who have been your favourite characters over the years, and why?
My favourite characters are Helen, Des Clarke, Clive, Madge, Charlene, Scott, Henry, Harold Bishop, Lou Carpenter and Mrs. Mangel, whom one of our storyliners claimed was modelled on her mother-in-law. And of course, Bouncer. Everyone loved Bouncer, he was almost as clever as Skippy the kangaroo. It was a sad day for us when he had to be retired through illness. The only story for him I found difficult to accept was when Bouncer once dreamed of his own wedding. Do dogs have romantic dreams? And if so, do they dream in colour?
Did you have any favourite storylines? And were there ever any storylines that you didn't like?
Too many favourite storylines to list, although Charlene and Scott's marriage would come close. While we were sitting around a table planning the episodes for it, Reg Watson came into the room and said he wanted Charlene to have a 'Cinderella dress' for her wedding. This then gave us the opportunity for a story with Henry working after hours to buy his sister a dress she had admired in a shop window, but couldn't afford. Story ideas come from everywhere. For my unfavourite, see above - Bouncer's dream.
Did you have a favourite era of the show?
No. I loved all of them. Which makes me a very uncritical viewer, doesn't it?
When hugely popular characters such as Charlene, Scott and Henry left the series, did you think their exits would effect the show's popularity? How did you go about tackling their departures, in terms of writing them out, bringing in new characters etc?
I wasn't with Neighbours for the entire time I was at Grundy's, sometimes I was working on other shows, so can't answer this.. except to say that no character, however popular, is irreplaceable (something actors often find out to their regret). And a clever Story Editor - such as we had in Ray Kolle - can always think of something or someone to fill the gap.
Mrs. Mangel's departure was a huge loss to the series in that Ramsay Street lost its resident nosey neighbour. Do you think anyone could have filled the void left by her?
Nobody could fill the void left by Mrs. Mangel. She was a one off.
How important do you think the core, long serving characters such as Helen, Jim, Paul, Madge etc, were to Neighbours?
Very important. They were the foundation on which Neighbours was built. If there's one thing that saddens me about Neighbours today is that we've lost all those wonderful characters who made up the original families in the street... the Robinsons, the Clarkes and the Ramsays. And I'm not sure they've been successfully replaced.
What was the most rewarding aspect of working on Neighbours?
Most rewarding? Seeing what you've created as a storyliner or script writer eventually shown on screen. And realising it worked.
What have you done since leaving Neighbours?
Moped around wishing I were with Neighbours again. No, seriously, I have been studying for an Honours degree in English Literature.. which is a strange kind of thing for a television writer to do, but I've enjoyed it. Graduated in April 2003 with cap and gown.
Do you still watch the show now? If so, what do you think of it? Do you think it's changed a lot since your days at the helm?
I watch Neighbours occasionally. It's still an excellent show, but it's not the same Neighbours as the one I worked on. Less emphasis on family values, more emphasis on teenage characters and their complicated love lives. But I'm happy to see Harold and Lou are still in it. Someone should create a show around those two. It would have to be a sitcom, of course.
What do you think is the reason for the huge success Neighbours has enjoyed for the past 19 years?
Good stories. Strong and well written characters. And most of all, a sense of fun and humour. Which is how I came into Neighbours in the first place.

Interview by Mark. Added on 27th March 2004