.
Interviews > Lulu McClatchy
Whilst partaking in his new hobby of wrestling, Toadie Rebecchi seems to have found himself a new love interest in the form of Genevieve Doyle, otherwise known as Eva Destruction. Here, Lulu McClatchy, the actress behind Eva, shares her thoughts on the role and her career to date...
You were one half of the comedy act Supergirly, who became very popular in the UK a few years ago. Can you tell us a little about your experience with that?
I went to the UK in 1997 and wrote a show that I did at the Edinburgh Festival with a friend of mine, Jai, and it just took off. After Edinburgh we did national tours of the UK. Then we were asked to join Live and Kicking on BBC1, which I wrote sketches for us to do and we sang the odd song. Then we had our own sitcom Supergirly and after that hosted a show called Take the Mike on ITV. We also hosted shows on MTV, VH1 and even the Mardi Gras! We supported Elton John on his Australian tour and also did many private parties for celebrities, including Madonna, Queen, Bananrama and the Pet Shop Boys to name a few! Then we toured Canada and the US with the Just for Laughs tour. The whole Supergirly experience was amazing, I cherish everything we did and consider myself very lucky. Supergirly is not finished though, I plan to relaunch the show solo in 2006 so watch out!

What other acting and performing roles did you have before Neighbours?
I started acting at nine in an Australian show called Carsons Law. Before I moved to the UK I did a fair bit of theatre work including a role playing Marcia Brady on stage in The Real Live Brady Bunch. I compered for Disney Live and toured Australia. I also had guest roles in a few australian TV shows including Neighbours, Off The Dish and Just Kidding. I did a lot of acting in Supergirly too in the sitcom and sketches.
You played the bit part of Karyn in Neighbours back in 1995. What do you remember about that role?
I remember having a bad perm! It was a small role, I had my 21st at the Waterhole in the storyline and it was around the time of Annalise (Kimberley Davies) and Rick (Dan Falzon).
How did the role of Eva come about?
I got the audition for the role of Eva and decided to try and make my audition memorable by making the role funny, luckily it worked and the producers gave me the opportunity to add comedy to the lines when I got the scripts. They also added in the singing, so I was very pleased.

How would you describe the character? Did you enjoy playing her?
Eva is a fantastic character to play. She is girly, but not a push over. She is funny, sarcastic and good fun, but she stands up for herself when anyone has a dig at her, like Tim!! She also has a lot of extra talents; She is a wrestler, a school teacher and a singer. And meeting her match with Toadie she also shows she has a softer side too. I loved playing the role, although I had never wrestled before, and found that a little daunting! After the training, I found it easier, but ended up with a few bruises! But a lot of laughs were had during filming!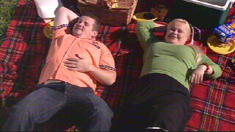 Who did you particularly enjoy working with during your time on the show?
Ryan Moloney (Toadie) and I obviously had a lot of scenes together, and he is good fun, we improvised a few extra bits into each scene, it was great. I had one scene with Natalie Bassingthwaighte (Izzy) and we had a great time, she's a lovely girl. Marisa Warrington (Sindi) is so funny, we had a lot of laughs together too. The whole cast were great actually, very welcoming.
Is there any chance that we might see more guest appearances from Eva? Would you be interested if the opportunity arose?
I hope so! There was talk about bringing Eva back, I would love to come back as Eva. I have had a lot of positive feed back playing her especially from young girls that were pleased to see a curvy girl on the show who had confidence with her size and therefore was a positive role model. That was one of the other reasons I loved the character.
Are you a fan of Neighbours yourself? What do you think lies behind its enormous success over 20 years?
I have grown up watching the show and especially when I was living in the UK for 7 years, it was my link to Australia. The show's popularity and longevity is incredible. I think it has been so successful because people can relate to the characters and the show has changed with the times. But not too much, it's stayed true to it's original format, everyone would still like to live in Ramsay Street.

What have you been up to since finishing filming on Neighbours?
I just finished filming a movie called Aquamarine - it's an American film that was made in Queensland. It's like a cross between Splash and Mean Girls, it was great fun. I play 'Bonnie' I run the snack bar and take the activities at the summer resort. It stars Emma Roberts (Julia Robert's niece), Jo Jo (pop singer) and Sara Paxton (Summerland). I have also been writing two TV series. One is based on Supergirly and the other is a concept my manager has come up with.

Interview by Steve. Added on 4th June 2005