.
Interviews > Brenda McKinty
Over the last three years, Brenda McKinty has made numerous Neighbours appearances, including presiding over three weddings and a Christening, as four differently-named celebrants! Here, she chats about her various stints in Erinsborough...
Can you give us a little background on your career before your first Neighbours appearance in 2006?
Prior to Neighbours, I appeared as a guest in Blue Heelers (2002 & 2004) and in MDA (2002), as well as a few commercials. I studied musical theatre at WAAPA, performed in several musicals in WA, then relocated & trained in film & TV at various workshops in Melbourne.
Your first role was as celebrant Sarah Green in 2006. What was the audition like?
Nerve-racking! I don't know of any actor who loves auditions! The casting consultants are lovely & supportive - they want you to succeed, so I make sure I prepare well enough to overcome the nerves. It worked on this occasion! Auditions are always over so quickly - so much prep work for about 5-10 minutes in the audition room.
You then returned twice in 2007, as Virginia Walters and Lili Ford, in 2008 as Clare Singer and most recently, as the celebrant at Libby and Dan's 2009 wedding. Did you constantly have to reaudition, and did you find it strange to be playing so many different characters on one show in such a short space of time?
The only really different character was Virginia Walters, the mother's group organiser. All of the other roles (despite having different names) were the celebrant, and fortunately I didn't have to reaudition for these roles - they just booked me. Good feeling! Can't remember if I had to audition for Virginia... It helped that I had a 1 1/2 year-old - he came on set with me & is one of the kids in the scene.
Which of your roles was your favourite to film?
Hmmm... each role has been a little different due to working with different people in slightly different locations, and I've enjoyed every shoot. Playing Virginia was fun because I kept having to move my son away from the scones! The outdoor shoots are fun, too. I think the shoot at Montsalvat is my favourite - beautiful location, peacocks roaming around the car park, art and statues everywhere... lovely.
Can you tell us a little about the filming of Janelle and Steigerís wedding episode? Was it as much fun as it looked on screen?
Yes! And meeting Daryl Braithwaite was pretty cool too - nice guy. Joe (Allan Steiger) and Nell (Janelle Timmins) were really lovely to work with. Lots of sore feet from standing & dancing. We were all pretty tired by the end of it - long day - but it was fun.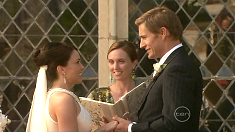 Could you tell us a little about the location shoot for Libby and Dan's wedding, which involved almost the entire cast at the beautiful surroundings of Montsalvat?
Montsalvat is an artist's retreat - artists can apply to live on the grounds while they work. It's incredibly peaceful & relaxing. The shoot for Libby & Dan's wedding started early - I believe some of the main cast were called to makeup at about 6.30am..? Close to that, anyway. We wrapped at about 7pm, so yes - an incredibly long day, especially for the crew. The surroundings made it easy to relax while waiting for the next setup or during a break - I could easily have had a snooze on the lawn. Location shoots are always at the mercy of the elements - light fades, the clouds play with the sunlight, rain threatens etc - so a lot of patience is needed by everyone to get the job done as quickly and effectively as possible.
Were there any actors you particularly enjoyed working with?
I'd have to say Joe & Nell. It's hard to socialise on set because everyone is staying focused on their lines, moves etc, but I did have a chat with Nell & Joe. And with Stefan at Montsalvat. Plus the crew - it's nice to chat with the crew on set, they're lovely people. Meeting up again with a cameraman I met on set in Blue Heelers was funny!
How did it feel to be working alongside such an established cast?
Coming in to any established environment is always a little intimidating, but the cast made sure I felt at home. If I was unsure of anything I would watch what they did or ask. It was good to experience how fast turnaround TV works.
Would you ever consider a permanent role in the series, if the opportunity arose?
Absolutely.
Have you ever been a viewer of the series yourself?
Yes, particularly 'back in the day' with Kylie Minogue, Guy Pearce, Craig McLachlan, etc (and, of course, Bouncer). I watched mainly in the late 80's. Then, funnily enough, life got in the way of my TV watching. (Damn those exams!!)
What have you been doing since your most recent guest appearance?
I am an ensemble member of a theatre company in Melbourne - PMD Productions. We have four seasons per year, so that keeps me very busy both on stage and off. The most recent role I performed with them was Olga Prozorova in Chekov's Three Sisters. I'm currently working front of house for PMD's The Merchant Of Venice and have auditioned for their next production: Picasso At The Lapin Agile. I've also auditioned for a variety of commercials over the year & attended casting workshops etc to keep my skills in film & tv up to scratch.
Finally, as the show continues its 25th season on Australian screens, what do you think accounts for its enduring success?
Keeping the storylines up-to-date with current pop culture has helped the program stay accessible to each generation. Plus, everyone needs a little escapism, so to tune in to the characters & events happening in Ramsay Street is a way to relax & recharge. As an Australian show it's something more Australians can identify with (rather than the US based TV soaps).
Interview by Steve. Added on 15th August 2009