.
Interviews > Mauricio Merino Jr
He's just arrived on UK screens as Simon Freedman, the quiet younger brother of Donna, having won his role in the Dolly magazine Neighbours' Next Big Stars competition and here, Mauricio Merino Jr chats to us about his Neighbours guest role and how it felt to win the part...
Had you done any acting before auditioning for your Neighbours role?
Ever since being a young boy I've performed in school plays and performed in theatre productions such as Oliver and Ned Kelly, I've always had a passion for the performing arts. I've done a few Victorian Educational Movies, and a few short films. I also done a heap of extra work on several TV shows before getting my first role on Steven Spielberg's and Tom Hank's TV series The Pacific, it was a small role but I learnt a lot from being on set. However, Neighbours is my major debut on television.
You secured your role on Neighbours by winning the Dolly magazine competition. How did you find out about it? What made you apply?
Neighbours has always been a show that happens to be airing when my family and I are having dinner, so after the show had ended, the ad for Dolly's Search for Neighbours' Next Big Stars came up and that's how I found out about it. I applied because it's such an amazing opportunity to be given to so many young Australians who want to break through into the acting industry, I had nothing to lose. I just had to try my best and see what the outcome would be, because either way it's the experience that makes you a stronger person and determined to nail the next audition that you have.
Can you tell us a little bit about the audition process and what it felt like to be told you'd got the part of Simon?
The audition process went so fast. There were 3 auditions. The first was submitting a monologue that was provided in Dolly Magazine and sending it through to the competition organisers. Next, 15 finalists from each state were chosen to audition in front of Gemma Crisp (Dolly Magazine Editor) and Jan Russ (Neighbours Casting Director) with a scene that was provided. Then 6 of the 15 were chosen to perform the scene with a current Neighbours star on stage in front of a whole shopping centre. Then one boy and one girl were chosen to be the state winners and then you were up against the whole of Australia. When I was told that I was chosen to play the part of Simon, I remember I was at the library studying and my sister came to pick me up because Neighbours had called. I called them back, and when they told me I had won the entire competition I remember crying of happiness because it was a dream come true and after years of auditioning and being patient it was the best feeling ever. I had already convinced myself that somebody else had won the part, so I was in shock when I was told I would be Neighbours Next Big Star.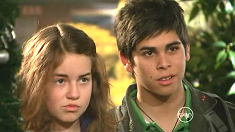 What were your first few days on set like?
The first few days were so amazing and nerve-wracking. I had to pinch myself a few times because I was walking around the sets, going to wardrobe, getting my haircut, getting interviews and having photo shoots and meeting the entire cast and crew. It was such a bizarre feeling; I couldn't believe what was happening, especially because it all happened so fast. On the Wednesday I found out I won the role, Friday was my last day of school and Monday I began filming. It was such a big change from classrooms and textbooks to scripts and cameras.
How would you describe Simon?
Simon is a very mysterious and quiet young boy, who's been through a lot in his young teen years. He's a person who doesn't like to say much, but when he has something to say it's important as he sees the world in black and white. Simon is very protective of his sisters, especially Donna as he cares for her a lot and seeks to reconnect with her. Simon likes to escape his problems most of the time by listening to his iPod as he finds it hard to trust and talk to other people from past experiences.
What was it like working closely with the likes of Tottie Goldsmith and Stefan Dennis?
Tottie Goldsmith is one amazing and beautiful person and Stefan Dennis is such a talented and intelligent actor. It was such a privilege to work closely with them as they both taught me so much and helped me grow not just as a person but also as an actor. It was such an awesome experience to learn from two of the best and well known faces of Australian television.
Was there anyone you particularly enjoyed working with during your time on the show?
The entire cast is one big family. My entire time working on the show was one of the best experiences of my life. I enjoyed working with everyone as you learn so much from them and have so much fun. The cast practically becomes your family as you see them everyday; I formed lifelong friendships and learnt something from each actor that I will keep with me always.
What can UK viewers expect to see from Simon over the coming months?
Simon will come across as a stubborn cheeky boy, so expect the unexpected!
What have you been upto since leaving Neighbours?
The whirlwind of life! Well recently I got into university and filmed a few more roles, but at the moment I've joined Youth Mission Team. Which is a group of young people who visit schools and give empowerment to young people to live life to the fullest and not fall into the world's temptations and bring them closer to God. We do all this through dramas, music, personal sharings and more.
Do you think we'll see Simon again? Would you like to return?
Simon left Neighbours with a new attitude towards life and left so many doors open for future storylines, that it's possible that Simon will come back to Erinsborough to experience new things and see Donna again. I would definitely love to return to explore other sides of Simon and especially because I miss my friends from the cast and crew. I loved waking up in the early mornings knowing that I was going to work to do something that I loved and was passionate about.
Finally, what do you think is the secret to Neighbours' enduring success?
The success of Neighbours comes from the storylines that are easy for the audiences to relate too, they are not over the top. Also the entire cast and crew, because without them the show wouldn't be possible as they bring so much to it. I hope the show is still successful in the future as we all love our Aussie dramas.
If you've enjoyed the interview and would like to discuss it with other fans, click here
Interview by Edd. Added on 28th March 2009