.
Interviews > Maggie Millar
As Rosie Hoyland, Maggie Millar brought to Neighbours a wealth of experience and created what was arguably the closest the show has seen to a central matriarch since the days of Helen Daniels. Alas, Rosie's reign was to be short-lived, and the decision to end the character brought the producers fierce criticism, generating the largest outcry seen in the show's entire history. Maggie discusses life as Erinsborough's holiest figure...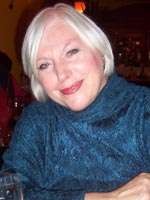 Can you give us a little background on your career?
I started out at school. We had a fine tradition in arts education, and one of my teachers - a Dominican nun - encouraged me. I then won a scholarship to a small drama school in Sydney, then went on tour around Australia with a professional theatre company playing one small role, and understudying seven others. I did quite a lot of theatre. I then joined the English Old Vic company when they toured Australia with Vivien Leigh - Patrick Stewart was one of the actors alongside me! I then went to London and won a scholarship to the Royal Academy of Dramatic Arts (RADA), graduated with honours and won the Gertrude Lawrence award. I came home and worked a lot in theatre, radio and Television. I have won three awards for excellence, one in theatre and two in television. I can't say what I enjoyed most, although the Old Vic tour was pretty special! And RADA was great too. Also, winning those awards was very gratifying - it's always satisfying to have one's work recognised, especially by one's peers.
Was it a difficult decision to come out of retirement to accept the role of Rosie Hoyland in Neighbours?
Yes. I was perfectly happy doing what I was doing - painting, writing and conducting the occasional workshop on self esteem and body image.
When Rosie first appeared, many of the fans commented on how she looked as if she'd been a part of the show for years. Did you research the role or base the character on anyone?
I spoke to a couple of female vicars, both of whom were very helpful. I'd also worked with quite a few of the cast in other things - Janet Andrewartha (Lyn Scully), Tom Oliver (Lou Carpenter), [Ian] Smithy (Harold Bishop) and Alan Fletcher (Karl Kennedy), and there is no substitute for having had a lot of experience in the business. I'm a professional, and am paid to do a good job!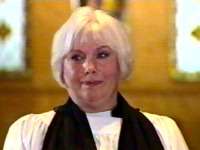 Your very first episode at Ben's christening was really lovely, particularly your speech in the church. What are your memories of your first day filming?
I was very nervous! That was a long speech - unusual in this kind of television - and I felt it was very important for Rosie to make a strong impression. I worked very hard on that speech, and indeed the whole scene, before I filmed it, and I spoke to one of the vicars about how to do a Christening - who holds the baby, how the water is poured... It was also nerve-wracking to be up there in front of so many of the cast for the very first time, but they were terrific, very supportive and accepting.
Some fans have commented that Rosie is similar to Madge, but quite clearly they were totally different characters. How did you feel about 'taking over' from Anne Charleston?
I don't think Rosie is anything like Madge, and am always surprised when people say she is! For a start, she is a highly trained professional woman, with a difficult and demanding career. I never saw myself as 'taking over' from anybody, least of all Annie Charleston! I felt however, and many people have said this to me both in the cast and elsewhere, that the show desperately needed such a female character - a matriarch if you like - to balance the two older blokes. There has been a huge gap since the two Annes - Haddy and Charleston - have gone. I still feel that this is the case. Women of my age are rarely if ever seen on television in this country and if we are, the portrayal is most often extremely negative - for example a shop-lifter, or gambling addict, or garrulous, over the top, comic relief! To have the chance to play such a positive character of that age was most gratifying.
Do you have any particular favourite scene or storyline from your time on the show?
Not really. I loved doing some of the comic scenes with Harold and Lou and the more dramatic, and motherly scenes with Summer. Also the stuff with Lyn - Janet is a dream to work with. I did love doing the hypnosis scene where we saw an intriguing glimpse of Rosie's past, and was very disappointed that more wasn't made of these possibilities subsequently.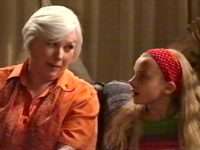 Was there anyone in particular you enjoyed working with?
That's a very difficult question. I had most of my scenes with Smithy and Tom, and we all enjoyed ourselves hugely. Because we're all old pros we were able to play around and have a lot of fun with the scripts, and I think that showed. Marisa Siketa (Summer Hoyland) is amazing! Both Janet and Jackie Woodburne (Susan) are extraordinarily good, and a delight to work with, as is Alan Fletcher, whom I'd worked with in theatre. I'm very fond of Kym Valentine - her work during the week of Drew's demise was quite remarkable. And I love what Carla Bonner, brings to Steph. Also Stephen, Lovatt, who plays Max Hoyland is quite wonderful, he always surprises you, and I love that. And young Kyal Marsh (Boyd Hoyland) has learnt so much since he started. I guess my favourite is the person I'm working with at the time!
As you know, there was a campaign to save Rosie from the axe, based on a huge outcry from almost one thousand fans. How did you feel about the campaign to save you?
No one was more astonished than I was at the huge response Reverend Rosie's proposed departure triggered. It was very pleasing to me, even though the producers weren't too happy! Nothing like that has ever happened to me before, and as I said, I was totally amazed, and very grateful. I still am!
Would you like to reprise the role if Rosie was to make a comeback?
I'm not sure. It would depend an awful lot on how it was done. But I don't think it's very likely, so don't hold your breath!
It has been a joy to see you back on television again. What lies ahead for Maggie Millar?
Who knows? I'm looking forward to visiting the UK soon for the du Maurier festival, hopefully signing with an agent there, and maybe some work over there eventually. But I'd be just as happy tending my garden!
To read a full character profile of Rosie Hoyland, click here. To read about the Rescue Rosie campaign, click here.
For more information on Maggie's career, visit MaggieMillar.net
Interview by Barry. Added on 17th May 2003