.
Interviews > Katrina Milosevic
SPOILER WARNING: This interview contains minor spoilers
She made her debut in this week's UK episodes as primary school teacher Kelly Katsis, and here actress Katrina Milosevic chats about her arrival in Ramsay Street...
How did you first get into acting? Can you tell us a little about some of the other roles you had before appearing in Neighbours?
I honestly can't remember deciding to be an actor..to this day it still shocks me that I actually am!! I studied at NIDA and I guess since graduating, I've called 'acting' my job..cool huh?!
Some of the other shows I've done? Well I've had guest roles in a whole heap of tv shows, I've appeared in video clips for The Whitlams, Wendy Matthews and Dallas Crane, a telemovie called Little Oberon, various short films, but I suppose the show people might best know me from is Stingers. I played Sophie Novak on the show for 2 years. I was even lucky enough to have been nominated for a "Best New Talent" Logie award... I lost though... I've done a whole heap of theatre as well. The Bell Shakespeare Company, Sydney Theatre Company, Melbourne Theatre company, etc...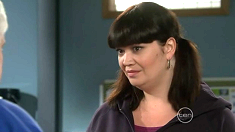 How did the role of Kelly come about? Was it just a typical audition for you?
I don't know exactly how the role of Kelly came about! I'm a lucky girl, I didn't audition for the role! Susan Bower (executive producer) and Jan Russ (associate producer and casting director) knew me (fortunately!) and asked me to come on board!
How would you describe Kelly?
Hmm, I guess the best way to describe her is sweet but strong-willed... she tends to match Toadie's likes, dislikes and humour.
Was there anyone you particularly enjoyed working with during your time on the show?
I honestly feel very lucky to have worked with ALL of the guys... they are an incredibly wonderful bunch of people.
What is it like to work alongside such an established cast?
You'd think it would be quite daunting, but, to be honest, they were all incredibly kind and welcoming. It was quite a lovely experience.
Have you kept in touch with any of your Neighbours castmates?
Yes! There have been a few dinners and adventures and a few more to come!
Have you ever been a Neighbours viewer yourself?
Indeed, ask anyone... I've watched the show for years!! It's like putting on a comfy pair of slippers.
You've appeared in Australian dramas such as Blue Heelers and Stingers – how did Neighbours compare?
Ask anyone who has gone from other shows to Neighbours and they'll say... you can't compare!! The Neighbours schedule is relentless compared to other shows and the way each week is put together is quite mind-boggling... I've never worked so hard!
What have you been up to since you completed filming with Neighbours?
It's only been a week... so not much!! Sleeping, reading, sleeping...
Would you ever consider returning to the show if the opportunity arose?
Absolutely! (there have been some whispers..!)
What are your plans for the future?
A bit of a trip overseas at the end of the year... but besides that, anything is possible!
With Neighbours now in its 24th year, do you have any thoughts on why the show has lasted so long?
I think Neighbours provides it's viewers with pure escapist entertainment. There's a safety to Neighbours which I think viewers rely on to take them out of their all-to-complicated and busy lives.
Interview by Steve. Added on 15th November 2008