.
Interviews > Nikola Dubois
After over a year as the recurring character of scheming single mum Kirsten Gannon, Nikola Dubois bowed out of Neighbours last year, as Kirsten left for treatment on the extensive burns she received in the bushfire. Nikola, meanwhile, has been busy pursuing a music career, and here, she tells us more about her time in Erinsborough...
Could you tell us a little about your acting career prior to Neighbours?
My first job out of Music Theatre School was a few episodes in The Secret Life of Us. I played Hat Girl - I got to wear a different hat in every scene. It was fun and I fell in love with the buzz of a TV set! Before that I'd mainly done theatre - plays and musicals. I also play the piano and so I studied a music degree for a while... I studied heaps! I did a three year degree of Music Theatre in Perth, two years at The National Theatre...
I landed a great role on a show called Last Man Standing after Secret Life. It was such a great script - but unfortunately the show didn't go into a second season... I also did some guest roles on shows such as Stingers and Blue Heelers, heaps of short films... and I taught piano, drama and singing, and made beautiful music!
Do you remember your audition for the role of Kirsten, and how you felt when you heard you'd won the role?
Yes! It was a strange audition because I remember reading the scene and I just understood where this poor woman was coming from. And I didn't need to learn the lines either... I just knew them. The back story was that her parents died just after Mickey was born, (She would have been 16 at the time) and so she moved in with her grandparents - who also died just before she came to Ramsay street. Desperate. With no other options. I thought she was really brave. I was quite shocked that I got the role - and very excited. I was even more shocked when my agent called to tell me they wanted me to come back and then have an affair with Paul Robinson!!
Did you enjoy playing her? How would you describe the character?
Kirsten was really fun to play. It's always fun playing the trouble maker. I think Kirsten was really misunderstood on Ramsay Street - she never found a place where she belonged... and she so desperately wanted to fit in. Mickey was her number one priority. She did everything that she did because she wanted to be something Mickey could be proud of. I think she made a lot of mistakes - but desperation sometimes makes you do things without thinking first.
Was there ever any discussion about making Kirsten a permanent fixture? Would you have been willing to join full-time?
Actually, I was really only ever meant to be on the show for three weeks, but the writers liked the way I took the character and so they invited me back for another month. It just kept happening like that, an extra few months here and there, and before I knew it, I'd been on the show for over a year!
Were there any actors you particularly enjoyed working with?
Everyone is so great out there! There's always so much energy on set, and in the greenroom. The Parker house was always a laugh a minute! I learned heaps from everybody! There was one particular hilarious day with Stefan and Pippa I will never forget, but I always loved it when Fletcher (Mickey) was around the most.
Which of Kirsten's storylines was your favourite to film?
Definitely when we went to Oakey for the school reunion (and left Janae behind or so I thought)... because I got to kiss Dan O'Connor!! No seriously, we had heaps of fun on location and there was a mechanical bull and poor Nikki (Miranda) had to step in a cow pat and... it was really hilarious.
I also loved it when Kirsten got to help out at the mechanic shop in overalls.
What was it like to film the bushfire scenes, which saw Kirsten badly hurt and ultimately written out of the series?
It was a really windy day this one day and there were these smoke machines but the wind kept changing direction and we'd try to shoot a scene, and get the smoke perfect and then the wind would change on us and blow out of shot and we'd have to reset. But the crew were very patient and so great, the shots ended up looking amazing in the end! Would you believe that some of the smoking logs were actually little pieces of burning incense, hidden? I'm lying in the bush, pretending to be unconscious, and it smells like an ashram!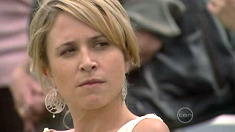 How did it feel to be working alongside such an established cast?
I felt very honoured. I learned heaps. Especially from the older cast members. They work with such lightness and ease! And they were very encouraging and welcoming, making you feel right at home. It was funny in the greenroom on my first day... 'Oh my gosh' I thought, 'there's Harold'. Then he said 'Hi. I'm Ian.' It was weird.
Would you ever consider a return to the series?
For sure!
Have you ever been a viewer of the series yourself?
Oh yes!! In the days of Kylie and Jason, I was obsessed! Never missed it!
Having worked on other Australian dramas, such as Blue Heelers, how does Neighbours compare?
Shooting a drama is much more luxurious. There is so much more time to work on the perfect shot, say that line perfectly, whereas on Neighbours it's just go go go. There is just no time- shooting five episodes a week - so everybody needs to be really on their game. Usually, it's one or two takes - we're done!
What have you been doing since you finished filming with Neighbours last year?
I've been working on my original music with my band Blisstronic. I'm currently in North America finishing the album, about to embark on promotional tours. It's very exciting!!
With Neighbours now in its 25th year of production, do you have any thoughts on why the show has lasted so long?
Great storylines, iconic characters, and sunny Australian suburbia! What more would you need?
Interview by Steve. Added on 7th February 2009