.
Interviews > Matt Norman
Matt Norman appeared in Neighbours as the bullying football coach Pat Miller in 2001. From dealing steroids to his team members to intimidating Karl and Paul, Pat remains one of the show's most unabashed villains of recent years.
Can you give us a little background on your career before Neighbours?
I started acting professionally back in 1996 doing small bit parts mainly. Believe it or not before I got the role of Pat I had played two other smaller characters on Neighbours. One was Constable Cummings, a policeman for one episode, and the other was a security guard. I have worked on most of the television shows that are filmed in Melbourne, including Blue Heelers, Stingers and Good Guys Bad Guys. I've also appeared in a few films, including The Bank, Moby Dick and Silver Strand.
Over the last two years I've really concentrated on my film production company, the Actors' Cafe Pty Ltd. I've written several feature films and am also a producer and director. This keeps me occupied when not working as an actor. In 2003 I played serial rapist Wayne Gawler on Australia's Stingers opposite one of my favourite actresses, Rebecca Gibney. I'm always staying very busy with different roles here and there but my main focus at the moment is to get my film projects up and running.

What were your initial impressions of the Neighbours production set-up?
It was really weird working on the same set that I'd watched for so many years. To look Ian Smith (Harold) in the eye when doing my lines was also a real trip. I used to love him during the Kylie and Jason days, so to finally be on the actual set was overwhelming at first. I should say too that I was an extra on Neighbours many years ago before I started training as an actor. Things have certainly changed over the years.
Neighbours is a great environment to work on. If you've never worked in a multi-cam environment - more than one camera on you simultaneously - then Neighbours will teach you to keep your eyes open! Never turn around and pick your nose or anything crazy like that because more than likely there will be a camera on you from behind as well. I think that Neighbours works just as hard if not harder than any other drama purely because they need to get five episodes a week on air. Drama and soaps are pretty similar though here in Australia. The cast and crews are all great to work with and the drive to tell a story is always one hundred percent.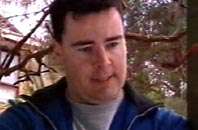 How did it feel to be working alongside an established cast?
One thing about Neighbours regular cast - they're all very nice people. I remember the first time I walked into the Coffee Shop and just thought back to the days when I was a big fan. It was very weird to know that I was actually in the Coffee Shop speaking to Harold or Madge or Karl... Tom Oliver (Lou Carpenter) was the first person I met years ago when I arrived in the green room on set and he was just amazing. They always make you feel like a part of the gang!
Who did you enjoy working with on the cast and why?
I spent most of my time with Alan Fletcher (Karl Kennedy), Ian Smith, Jansen Spencer (Paul McClain) and sometimes Holly Valance (Felicity Scully), so to be honest I loved working with all of these guys. They were always professional, friendly and caring and really gave me an opportunity to grow as an actor.
When playing the part of Pat, how did you want the viewers to react to him?
I was in a pub not so long ago with my wife. A woman came up to me out of nowhere and said "You're a real jerk to Paul!" My wife and I had no clue what she was talking about! Anyway, this woman was a die hard fan and was obviously talking about my treatment of Paul McClain. My wife actually thought that I was having an affair or something! I think Pat was a great villain but feel that there was so much in his life that he hated that maybe to see a softer side to him would be great. I'd love to know why he was the way he was.
How did you feel about covering such a controversial subject as steroid abuse in professional sport?
Loved it! How often do you get the opportunity of playing a total jerk! I thought it was my perfect avenue to start being seen as a bad character and not just a fresh sweetheart. Steroids in sport are just not on, obviously, but for the drama it was fun being the one responsible in the show for dealing them out.
Did you think that Neighbours covered the subject well?
I think there could have been more room to cover the subject but you've got to think of the audience too. Some people don't like public messages during their entertainment viewing times. Neighbours to me is one of those shows that you flick on during dinner and just escape for half an hour. We all know who everyone is, so it's great to just relax and watch what's going to happen to your favourite neighbour.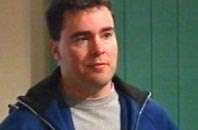 Would you ever consider a return to the show? Have you any ideas for situations Pat might be in today?
I left the show in 2001. I really enjoyed my time at Neighbours and would certainly take up the role of Pat again. He was a great character and gave me the opportunity of not playing a policeman or good guy. I seemed to be always cast as the hero and not the villain. Pat Miller was a bit of both. He seemed to be always snapping at Karl and Paul. Jansen Spencer, Alan Fletcher and I really formed a good bond on set. One second we were giving each other the death stare and then when they called 'cut' we were off telling jokes with Ian Smith - who is one of the coolest guys I've ever met as an actor.
I would love to see a more personal side to Pat. Find out more about his love life, his life story. I think Pat is the sort of guy that takes his personal life with him to work and that's why he seems to hate everyone. I'd certainly jump at the opportunity to play on Ramsay Street again. I had a ball!
For more information on Matt's career, visit theactorscafe.com
Interview by Billy and Steve. Added on 8th April 2003