.
Interviews > Nicki Paull
Nicki Paull appeared in Neighbours in 1999, playing Joel Samuels' older girlfriend. Her son was played by Damien Bodie, who now plays Dylan. Here she gives us an insight into her career before, during, and after Neighbours.
Can you give us a background on your career prioe to Neighbours?
I graduated from the Victorian College of the Arts in 1983, aged 21. Soon afterwards, I got a big role on a series called Return to Eden, which was a big hit in the UK. I played, "Sarah", with my hair dyed blonde and curled. I was supposed to be the ugly duckling who morphed into a beauty by the end of the sixth-month shoot. (My mother had been similar, having been plain before being taken by a croc in the north of Queensland and then been reconstructed by a plastic surgeon, who became her husband.) It would have been a great series along the lines of Brideshead, but they sacked the writer after we'd started pre-production, and it became a soap opera pretty quickly, with storylines like me finding out that the guy I was about to marry was my secret twin brother who was swapped at birth! You get the picture! But it made me a TV star, and from there, I hopped from one show to another: Prisoner (spiky peroxide blonde prostitute); Flying Doctors and other local shows, including playing Miss Scarlett in Cluedo, which was very successful over here. Then I got picked up as a film actress, and did many films which you would never have seen over there, with the exception of Boulevard of Broken Dreams which is still in video shops there. I have attached my resume so you can name things if you want. I had always hoped to have an international career in film and on stage, and at 32, decided I had to move on. (I now look back and realise how lucky I was and how I didn't appreciate that at the time, but we are all wise in hindsight.) I moved to London, where I did a short film and a play before retraining and working as a writer and producer of corporate events.

How did the role of Natalie come about? How would you describe the character?
Upon my return to Melbourne, aged 36, things were very different and it was a lot like starting again. The casting director for Neighbours had always been a fan of mine, and she called my agent and offered me the role of the sexy older woman as soon as it came up. I didn't even audition for the part, because it was so like an older version of the parts I had played in my 20s. I was grappling with the ageing process at that stage, so playing Natalie as a real person and not a stereotype of the older woman praying on young handsome flesh was a challenge. She was fairly tough, having been in the world of pubs and nightclubs for her whole career, and having been a single mum for a fair while. When she started to really like the Daniel McPherson character, her first impulse was to lie about her age. I could relate to that, as youth and beauty are so important in our culture - especially in TV land. But ultimately, she WAS a real person, and so she came clean about her age and it became obvious that she and her young lover were destined for different things. It was nice while it lasted.
Your two main co-stars on the show are now regulars on Australian tv (Daniel MacPherson on The X Factor and Damien Bodie back on Neighbours as Dylan). Any thoughts on their success? Did you enjoy working with them?
Daniel was a delight to work with. I was amazed that he had such a good attitude to this business, which can be very cruel. he said at the time that he didn't really have great ambitions to be an actor all his life and that he'd be happy to retrain when things slowed down - as they always do. Plus it was no hardship having to kiss him, I can assure you! To be honest, I wasn't aware that Damien was back on Neighbours. I don't have time to watch TV any more. But I'm glad that he is as he was a very dedicated kid and kids who grow up in front of a camera can teach us oldies a thing or two - especially when one's been out of the game for a while like I had.
You've worked on several Australian dramas – how did Neighbours compare?
Neighbours is probably the toughest Oz drama to work on, in that they film at a very rapid rate, so when you're on, you get only a couple of takes and it's on to the next thing.With lots of waiting in between, it requires quite a bit of discipline to go from total boredom to being right on the ball. I am essentially a Shakespearean actress at heart, so the other thing I find challenging about Neighbours is the sheer banality of the scripts and storylines, but that is something you may prefer to leave out of your interview! The Australian industry is in a very dire state of decline now, so Neighbours is like a great flag flying in the middle of the desert as far as Australian actors are concerned. We actors love it as much as the Brits do!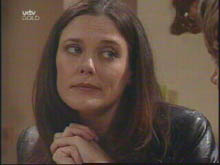 Do you ever find yourself running into any familiar faces from your Neighbours days?
Neighbours is filmed in Melbourne, which is where I live, and I am an active theatre actor and Equity member, so I do run into the regulars on the show. Dr Karl was until recently, the president of Equity and he and I are old colleagues. Toadie gets out and about a bit, but over the years he would have met so many guest stars on Neighbours that I'd be surprised if he even recognised me! He's a really great guy in real life. Just as adorable and funny as his screen persona. Shane Connor , who is no longer with the show, was my best mate at college and I had hoped to get the role of his wife! But it was too soon after playing Natalie and Janet Andrewartha was the person for that role. Maybe I'll get onto the show again when I'm old enough to play someone's granny!

Would you ever consider a return to the series?
As above. It is a real pleasure working in your profession full time, and although I'd probably prefer to be working in rep at the RSC, a great series like Neighbours would be a joy to do. The casting people, the producers and the directors they have through are all such good people that the set is a great workplace.
Have you ever been a viewer of the show yourself?
Strangely enough, the only time I ever watched Neighbours regularly was when I lived in England! The lifestyle on the show was in such contrast to the lifestyle one has in London that it was a reminder of home then. The weather (obviously), the big houses and gardens, the friendly neighbours and the close-knit community, plus the affordability of leisure activities seemed quite foreign when I lived there - and were ultimately the reason for my returning.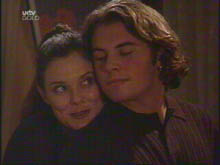 What have you been doing since your guest stint as Natalie?
When I got back, people remembered me from my days as a TV star, but time had passed and I was in a lousy age-group. I thought long and hard about what to do if there wasn't enough roles for women of 40, and decided to go back to University and study a business degree. For a while I worked in corporate-land, but as my studies progressed, I realised that I was motivated to be an artist and that if I ignored that it would be to the detriment of my personal happiness. So I am now a Master of Business in Human Resource Management, and in addition to guest roles on TV and a lot of Shakespearean theatre, I deliver seminars Australia-wide for all freelance professional artists. Called, The Business of Being an Artist, they are about teaching business skills to artists - financial management and marketing, as well as business coaching and psychology to help people deal with the ups and downs in an artistic career. I love being able to help my fellow artists while making enough money to allow me to do projects that I want to do even if they're in fringe theatre or student films or whatever. I feel like I'm giving back some of the good fortune I had in my early years.

With Neighbours now in its twentieth anniversary year, do you have any thoughts on why the show has lasted so long?
It is definitely the British market which has sustained Neighbours over 20 years and probably for all the reasons I gave above. It shows a lifestyle that is appealing, it shows friendly people with old-fashioned values dealing with everyday issues in the modern world. It doesn't preach, it's not full of unpleasant stories and characters and so many of the Neighbours community have grown up with the viewers that it feels like a comfy old sweater!

To read a full biography of Natalie Rigby, click here.
Interview by Steve. Added on 28th May 2005