.
Interviews > Phantom Artists
Phantom Artists are the organisers of the "Original Meet Your Neighbours Trivia Night" held at the Night Owl, 33 Elizabeth Street, Melbourne every Monday night. Here, they explain a little of what it was like to actually live at one of the world's best know addresses, Pin Oak Court, better known as Ramsay Street. We also learn the real story behind the early beginnings of the original Neighbours nights and some of where this has taken them.
As previous residents of Pin Oak Court, known to viewers all over the world as Ramsay Street, can you give us an idea what it was like to actually live on the street? How long did you live in what was then the Robinson (later Scully's) house?
Pretty sure it was about 5 years. What was it like to live in the house? Have you got a week?
We had one very memorable little incident, when, remember Emma Harrison? Her character was getting married and they had the coach on the street and everything. I remember taking some photos myself and later talking to Julie Torrance (friend of ours, who was Ryan and Kym's manager at the time). I said "Oh well Jules, do you want to see the shots that I've got?" and she replied "Wow, do you know how much money you could get for them?". Which, of course, we really wouldn't do. Anyway, I've gotten off the phone from talking to her and I could hear this voice, something like "Hello, help! Hello!". I thought "where is that coming from", so I go out the backyard and here is this journalist up against the fence with our dog, Sultan, standing there looking at him. I said to the guy, "don't look in his eyes, as he's been trained on eye contact". I called Sultan over and I asked the person where had he come from. He had jumped over from one of the houses in the next street, through their place and into our backyard and there was Sultan waiting for him. He was pretty lucky and while I was talking to him, one of the crew guys came out, come around the backyard and I said they "might want to talk to this guy". Well, it wasn't until a couple of years later that we were talking to this guy at an industry function and he said "Oh, I've met you before!" and I asked where I'd met him before and he said he'd "met the german sheppard in your backyard".

Then you had your incidents, you know like backpackers pulling up in the street and putting up things like cricket stumps and doing the poses in the street. Going to the toilet in the early hours of the morning and flash, flash, someones taking a photo from down the street. Not in the toilet, but you'd get the flashes and know someone was on the street taking photos. Lots of flashes. It was pretty constant. But you really met a lot of interesting people there too.
Had you been fans or regular Neighbours viewers prior to moving there?
No, I'd never been a fan but it was good to see such a show running because, being an actor, it meant work for me, it meant work for other people. So, it was good that the show ran but the only time I did watch it, was when I was on it!
How did you find working around the show's shooting schedule? Can you explain how this would affect your daily lives at the time?
It really didn't affect us at all. We always had the schedules a week in advance. Mind you, we did have a missed train or two. When we moved there, they were all friends already anyway. I'd known them from working on the show before we moved to the street. So, moving to the street was like, you know, moving in with your friends dropping over all at once. A big party, so to speak. Like if it was a hot day, the crew would bring their beers up and put them in our fridge.
There was one time when Smithy [Ian Smith - Harold], he's a big Willamstown supporter, and there was this time, when they were playing in the grand finals. One rare Saturday, where they had filmed a Salvation Army marching thing and it had been bedlum that day - I think they had the Police to help get the traffic around - Saturday morning, you know. People knew that the show was being shot and all that and where it was, but there were also a lot of people that have alredy seen them film on their way home from school or school holidays but this was a Saturday morning. Something different. More people were around to see something that they don't usually see in their local area. Well, what had happened was Smithy was all panic stricken that Williamstown was playing in the finals. So, I set up the garage with a heater and the tele and he sat there and had lunch in the garage, watching tele.
I also remember one time, them doing a scene and Ian Rawlings [Philip] with, remember the dog, Holly? They were doing a scene and I was sitting in the back of the ute, with the garage door shut because they had to do a scene where Ian had a ladder. He was dragging it in and trying to open the garage door but he was only supposed to open it so far. I'd been in there polishing up some car parts and I thought they were running through a rehearsal, as each time he opened the garage door, he'd say "Be quiet Holly!". I sat there, polishing away. Again, next minute, "Be quiet Holly!". I laughed and said "It's not bloody Holly!" and I could hear Ian laughing away, followed by a loud "Cut!". They were actually doing a shoot! Laughs. After all the times that he kept on doing it, the one time that I did actually answer back, they were doing the shoot. Well, Ian nearly died, as he didn't expect someone to be on the other side of the garage. Then all you could hear was me, "Sorry".

On another occasion, they had gotten wet, with it raining outside. We had them inside and they were using the dryer, they had their ironing board, with Beccy [Rebecca Ritters - Hannah] getting changed in the spare room. There were extras getting changed in another room. It would have also happened with the Bentons, they were really cool people and were living in Lou's place back then. Actually, the Bentons had their letter box taken a few times too.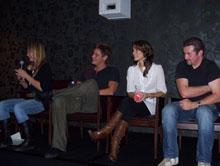 Do you recall any memorable encounters with fans and visitors to the street?
Yes! Working out in the lounge room one time and nearly having a heart attack with someone pressed against the window, with their hands cupped, looking through. Knock, knock, knock on the door and "Hello, is Helen there?" and they really would think that you were hiding the fact that Helen's hiding in the kitchen. You telling them it's only a TV show but they're looking at you like "yeah, c'mon I know she's in there". They were for real. It goes back to whether it was a hassle with the crew. No. In a way, that (fans/visitors) was more of a hassle. If you went out to collect the mail, fans would grab you and ask some questions. It was timing, sometimes you'd go right, they've walked past, run to the letterbox now, quickly check the mail and come in because if you didn't you were going to be stopped and we didn't have the time all the time to be stopped. You'd always talk to them, chat away but yeah. A good time would be if they (the crew) were on lunch to mow the lawns out the front. You knew if they went and you started mowing your lawns, it'd take you about 4 hours to mow that little strip on the footpath because you'd be stopped all the time.

Then, there was the night when you took Ryan [Moloney - Toadie] to the Logies. That was funny, they really did think he lived there! The security didn't come on 'til about 8 at night and you've got that time 'til 8pm when there are still people milling around. Well, there were backpackers there that night, or English people and Ryan had left our place on the bike to go to the Logies and they were saying "They DO live here, they DO live here!". It was because they were leaving from our house on a Saturday night, but it wasn't a filming night. So, to them, it seemed Toadie did live at the Robinson house! That one always stuck out for me.
After moving away, you began to hold the first Pub Trivia Nights with some of the Neighbours cast. Please tell us how these nights initially came about?
While we lived in the street, I met a guy called George when I was washing the ute. He was there with some tourists and came up and asked me "Do you mind talking to them?" and I did. He then told me about this trivia night he was doing but it had nothing to do with Neighbours whatsoever. It was just your basic pub trivia night. It would have been a good night if he had 8 people there and a fantastic night if he had double figures
After we left the Court our dog, Sultan, got sick and I contacted George with an idea I had. I suggested to him that I would bring down Neighbours actors to the trivia night he held and he could bring in English backpackers who would like to meet them - I thought this concept would work well - and boy it did. I said to George, as he had contacts with the backpackers, I would get the Neighbours guys and we do a Neighbours trivia night. Ryan came over and I was talking to Jules (his manager) and said to Ryan, "I've got this gig for you to do but you're not getting paid and neither is Jules. I'm going to speak to a few others and see if they'll do it too" and Ryan said he'd speak to some of the cast as well - some of them were up for it. The money received on the door paid for general expenses and the rest went to the vet. After Sultan died, we all sat down and said "What do we do with show now?" as it had become a successful night and it would be a shame not to continue running it so we did.
It seems the news about these nights began to spread very quickly. What were initial reactions from fans like at getting the chance to meet the cast members?
So many reactions. From gobsmacked to screaming, from crying to hysterical, to hyperventilating. You name it, they've done it! It's true.
After the terrible and tragic 2001 fire at the Childers backpackers in Queensland, you travelled up there with some of the cast to help raise funds. Can you share with us some of what you recall of this experience?
We had raised the funds here in Melbourne before travelling up there. We held a night and quite a few cast members volunteered their services for that night - it was huge I think we had approxitely 10 cast members appear. A lot of companies came in and provided prizes, for example Steve Price from 3AW helped us get our way up their courtesty of Ansett Airlines and Sun State Airlines - AVIS provided a vehicle for us to travel in and many companies pitched in. Ryan also provided his ponytail for auction, all sorts of things A couple of the guys that were in the fire had been to our nights. Being close to the backpackers, as Smithy had said on the interview we did on GMA (Good Morning Australia), we felt compelled to do something. It was Smithy's idea, he sparked the idea. A lot of people and sponsors came in on that one, so we raised a lot of money then. Then, we flew up and it was a different weekend, that's for sure. We met a few of the survivors and that was strange because they were just emotionless. Usually, when they see Smithy and Madeleine West [Dee], they would be all smiles and excited but this was just emotionless. We went to another place and we met one of the fire brigade guys, who had been taking down the bodies and they were all young. You could see it was going to affect her and who knows how many other people for a long time.
On a lighter note, Phantom Artists also provided a vintage Chevy for the Neighbours Richard O'Brien's Rocky Horror Show production for charity in 2004. Can you explain how it was used?
Alan Fletcher had called and asked if there was any chance of getting the Chevy for this shoot, I said yes, as long as it's not raining. In the end, it was raining in the morning and I knew the charity it was for and I thought I'd better get it down there. Then it went clear. They took the car up the street, with Alan dressed as Brad and Natalie Bassingthwaighte [Izzy] as Janet. I had to laugh, as the Chevy was pretty hot and every time Alan has gone to take off down the street, it'd nearly rocket off and Nat would go, "My god, be careful, be careful!". That caused a car accident too. I was cleaning the Chev in the park and these guys had been up the Court, talking to Alan and as they've come past, they've seen the Chevy. They sort of slowed down and stopped and next thing, wham, a car slammed right into the back of them! Half a fun day had by all. After finishing, no sooner had we got home, just shut the garage door and it began raining.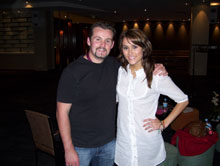 During 2007, after eight years, Phantom Artists relocated to new premises in central Melbourne with Meet the Stars from Melbourne's Famous Street nights (now renamed back to The Original Meet Your Neighbours Trivia Night). The following week, an article titled "War on Set of Soapie" appeared in Melbourne's Sunday Herald Sun, claiming a war was brewing within the cast "with a group setting up a "rebel" trivia event to compete with sanctioned competitions". It also referred to this change as being Phantom Artists "first trivia night". I also read an email from Alan Fletcher to Phantom Artists that stated if George ever claimed the Neighbours trivia night to be his that there would be a multitiude of actors who would say that this is not true. The nights would not happen without Phantom Artists and would not be happening without Phantom Artists - that is very contradictory of what George has stated.

What are your thoughts on that and were Phantom Artists contacted for comment?


Number one there was no war on the set and number two there was only trouble with one person. Ryan was contacted for comment and he didn't want to make a comment at that time. The rest of us that were named in the story were not contacted at all, except for me, about 2 or 3 months later. Johnathon Moran, who wrote the story, contacted me and said "look, I hear there is a different side of the story, do you have you contracts, etc". Jonathon asked us for our reply. We gave them him reply and he won't print it. They want a new story because that's an old story, but as far as I'm concerned it's a story that's done a lot of damage because it was a lot of lies. The story that was done by Jonathon Moran was given to him by George's cousin's girlfiend who knew Jonathon Moran - it was one-sided and designed to do damage to Phantom Artists. Josevski mentioned that he was broken hearted and felt let down by the cast - he also said that he had done a lot for Ryan Moloney when in actual fact it was Ryan Moloney and the cast who did a lot for George. We were shocked by George's story, as this was the thanks that Phantom and the cast received after many years of hard work, and the hard work provided by Phantom and the cast is what has placed George Josevski in the position he is now in.

Note from interviewer: During the course of this interview, I cited the evidence of this in writing and can vouch that this is all based on proven facts.

With The Original Meet Your Neighbours Trivia Night running successfully, what are the plans for the future?
We'd like to do some meet and greet's in Queensland, not trivia nights or anything like that, just to promote Melbourne. Tasmania, as don't think they get a lot there. A few places out there where know we can do a few more things.

Lastly, with Neighbours now running for over 23 years, what are thoughts on its enduring success?
Luck! Any show that get's done, realistically, if it takes off, it's luck. You've been lucky enough to get that cast, that's going to pull it off, you're lucky enough to have the crew, to pull it off. You're lucky to have a lot of things in place for that to happen, which they did at the time. Another thing is they touch on a lot of things that you hear the backpackers talk about all the time. Like when we've been up to Sydney, we used stay up at Harbour City at Woolomooloo, you'd be asking them, "why are you so fanatical about Neighbours?" and nearly every time, 9 out of 10, would say because of the blue sky, they're in the swimming pool and it's still light at 4pm. For them, I guess it's a break from the gloomy weather they live in all the time and here's half an hour break where they see people basking in the sunshine. Not only did they have the luck of everything fall into place but they also had the luck of having an audience that was thriving to see that sunshine!

Visit the Original Meet Your Neighbours Trivia Night website here...

Interview by Darren. Added on 2nd February 2008