.
Interviews > Ramona Pusch
In 2002, Ramona Pusch played the recurring character Liza Rowntree, but it wasn't the role she'd auditioned for. Here, she reveals more about missing out on playing Susan's niece and tells us about her career and her time in Ramsay Street...
Can you tell us a little about your career prior to appearing in Neighbours in 2002?
Why of course…I started acting at the age of 13 in school plays and independent theatre and musical theatre productions around Melbourne. At the age of 15, I received a $3000 yearlong scholarship to one of Melbourne's highly regarded independent youth theatres (St. Martin's Youth Theatre). I studied there and did some other short courses on the weekends. I continued to do theatre but started dabbling in television with a few commercials here and there, and some extra work on shows to gain on set experience. I also became a highly sort after model in Australia during this time. Neighbours was my first speaking character on a television series. I always say you learn from your experiences and on set training is very valuable.
How did the role of Liza Rowntree come about? Was it just a typical audition for you?
I landed the role of Liza in a very non-typical way of auditioning. It started when I went to an acting industry information day, where Jan Russ was one of the speakers at the age of 17. Afterwards, I literally bumped into her as she was leaving. We started chatting and I handed her my headshot and resume. She asked what kind of accent I had and I said German-Australian. She said they were casting a German backpacker role at the moment and that she would get me in for an audition. I didn't get that role but I was called in for a new long-term character (Susan's niece) a couple of weeks later. I got down to the last 2 girls for that role but didn't get that one either. They then wrote the character of Liza Rowntree especially for me because there were possibly some cast changes happening and some character relationships needed a shaking up.
You appeared a couple of times during 2002 as Liza – can you tell us a little about each of your experiences filming with Neighbours?
The first time I was meant to be on set, I got lost. I was meant to arrive at the studios for hair and make-up but was given the wrong instructions from my agent and ended up on location about 20mins from the studios. It was all cleared up pretty quickly, but I learnt never to trust your agent with directions hahaha My first filming experience on Neighbours was with Dan Paris [Drew] and Blair McDonough [Stuart]. They are both great guys, hard working and took me under their wings on set. Blair kept tripping over a cord in every take, it was hilarious. And Dan was a real professional. That was a great day because we were filming nightclub scenes, so there was lots of dancing and trying to out class each other with crazy moves – go the running man! The other memorable experience (compared to other standard days on set) Janet Andrewartha [Lyn], Shane Connor [Joe] and Holly Valance [Flick]. My character was being married off to a footballer interstate and Lyn was doing my hair, whilst I was talking footy with Joe. Very girly day on set pampering with Janet and Holly whilst having a very blokey conversation with Shane.
Was there anyone you particularly enjoyed working with during your time on the show?
I didn't have any scenes with Ryan Moloney [Toadie] or Madeleine West [Dee] but we did have lunch together each day I was on set. I knew Madeleine from my days at St. Martin's Youth Theatre because she had also received a scholarship that year. I particularly enjoyed working with Dan Paris. He is one of the most genuine people I have ever met - very down to earth and so incredibly sexy too. Just a great all round nice and talented bloke.
What was it like to work alongside such an established cast?
The cast are amazing. You film a couple of scenes a day, so the turn around time of scripts and rehearsals are at a minimum. We had one rehearsal for ourselves, then one rehearsal for the cameras and then it was time for the first take. Each member of the cast is hardworking and focused. I felt very welcomed and comfortable working with everyone. Though I only worked with 5 cast members in particular, every single person including crew was a pleasure to be around. They were all friendly and I half expected to feel out of place. I felt like I had come to visit relatives for a short stay – they are one big, happy family. I nearly didn't want to go home…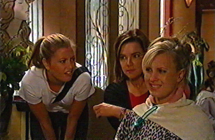 Would you ever consider a permanent return to Neighbours if the opportunity arose?
No…just joking. Of course, if the offer ever arose (call now…hint hint). The offer of ongoing work with such an established show is too good to pass on. I think Liza would be great addition to Ramsay Street – a little sex appeal with a whole lots of laughs (I am a clumsy person). And if not Liza, a new character is always a great challenge.
Are you still in touch with anyone you worked with on Neighbours?
No unfortunately. I have my close circle of friends who I go out with constantly. But once in a while I will run into someone from Neighbours - Ryan Moloney and his wife at parties and launches. Sometimes Madeleine West and I do some acting classes together but she's extremely busy with her baby. Nicky Whelan [Pepper] and I used to hang out before she started on Neighbours, we still run into each other at parties and clubs, and hang out. Melbourne isn't such a big city – everyone knows everyone!
Have you ever been a Neighbours viewer yourself?
I remember watching in 1988 when I was about 5 years old. My mum became a big fan after we moved from Germany, and I became a little Charlene impersonator. We still watch it together once in a while over dinner, when I have time to sit and relax.
What have you been doing since filming Neighbours?
I filmed a couple of guest roles on some other Australian shows such as – Stingers and Last Man Standing. I had a great role of a Russian spy/pop star on a kids series called Scooter: Secret Agent, which was sold to the Disney Channel and ZDF in Germany. Apart from that I've been attending lots of auditions, filmed a couple of TV commercials, been filming many short films for festivals all around the world, starred in musical The Wild Blue in Melbourne and been getting back to my theatre roots. I have sashayed my way down a couple of catwalks recently and as well doing photo shoots here and there. I recently am back after living in LA for a couple of months and will be heading back hopefully soon, if not then to London for some more theatre training and see what career paths I can form there. I am always busy and am very ambitious – come on Spielberg, call now. Hahaha.
Finally, as it enters its 23rd season on Australian television, what do you think accounts for the show's enduring success?
The viewers can relate to the characters and the scenarios that are screened every day. The writers and the producers have an understanding about what the viewers want to see and also keep the storylines current and exciting. The show adapts to what is happening in the world and doesn't give the illusion that the world is a perfect place. The world has changed in the 23 years that Neighbours has been on air, and I think the show incorporates the world issues and portrays them in every year that has passed. It constantly evolves and doesn't become stagnant, which keeps new and old generations interested. There are intelligent production members behind the scenes, who give the actors great storylines to entertain the TV audiences constantly.
To read a character biography of Liza Rowntree, click here...
Interview by Steve. Added on 30th May 2007