.
Interviews > Tamasin Ramsay
Back in 1987, actress Tamasin Ramsay won the role of aspiring model BB Larkin, who both conned and charmed Henry Mitchell. Here, she shares some memories of working alongside actors including Craig McLachlan and Kylie Minogue, as the show's popularity was really starting to take hold...
Can you tell us a little about your career before Neighbours?
I started working from a young age. I played 'Flower' in an episode of the ABC TV series The Truckies starring John Wood in the mid 1970s, and had a small part in Dimboola the movie when was even younger - I must have been 10 or so. In The Truckies I got to drive an old beat up car around the back yard which was very exciting! And my best memories from Dimboola was mucking around with Bruce Spence, dancing with Chad Morgan in the wedding reception scene, and meeting the band. I did some voice overs, commercials and danced and sang in front of my grandfather - the usual things...
How did your role as BB Larkin come about? Was it just a typical audition?
I didn't audition for BB Larkin, as I recall. I was working pretty steadily at that point and I just had a quick chat with Jan Russ. She offered me the part.
Did you enjoy playing BB? How would you describe the character?
She was a model which I had to work a bit at playing - I've never had that kind of delicacy and grace in my mind. My dad says I still walk like a 15-year-old boy, and I'm now 40! However, I liked the fact that she played along as a kind of girly girl who didn't know much about anything, and then pulled out her talents at the last minute (in this case it was playing darts) and stole the show!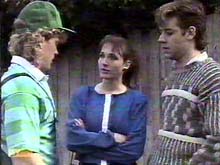 Were there any actors you particularly enjoyed working with?
I quite enjoyed working alongside Craig McLachlan [Henry], although I remember he was a pretty big flirt off the set. Even moreso than on the set! I also liked Kylie [Charlene] a lot. I remember how regular and unassuming she was... and how tiny! We were chatting in the makeup van and she told me about how she was about to see an image consultant, to help work out how to best present herself for the next stage in her career. Obviously she or he did a good job. Fiona Corke [Gail] was great. Ian Smith [Harold] as well... he's been a friend of the family for many years. Also, Anne Charleston [Madge] I knew from working on Possession so it was great to work with her again too.
How did it feel to be working alongside such an established cast, particularly as the show was just becoming so hugely successful?
At that time it was just like some of the other shows I'd worked on. Also, because I knew some of the cast previously it was much like any television - kind of like running into old family members again. I was actually going out with Darius Perkins [Scott] when the show first began in 1985 before Jason Donovan took over the role. So I somehow had a strong connection with the beginning of the show.
Would you ever consider a return to the series?
Oh yes... why not.
Have you ever been a Neighbours viewer yourself?
No.
Do you ever find yourself running into familiar faces from your Neighbours days, either through work or socially?
Not really. Although I do remember one day when I was working as a paramedic (that was my next career) and we were resuscitating someone on the sidewalk in St Kilda in the 1990s, someone recognised me from Neighbours and was drilling me about when I was going to take up my acting career again. It was very peculiar, and it wasn't really the best time to have a conversation!
Having acted on other Australian drama series, such as Possession and Blue Heelers, how did Neighbours compare?
I think it did feel more established and was a bit more playful given the young age of the cast.
Where did your acting career take you after playing BB?
Return to Eden, Darlings of the Gods, Prime Time, a bit of theatre, a couple of student films - one which won the overall award at the St Kilda Film Festival. A few other things too... I can't remember really. I loved performing but I didn't quite have the maturity at the time to deal with being recognised. I felt it separated me from people. I had a real distaste for this idea of being 'famous' and the whole 'star' mentality. I had some experiences along those lines that were quite off-putting. This is what made me start a career in the emergency services. I think I was craving real life in all its raw messiness. I still enjoy performing though and I relish the company of many of the great people and actors I worked with. I think they're just such open-hearted and incredibly interesting people. I still miss that sometimes. But I ended up being a paramedic - which I LOVED! That introduced me in a roundabout way to the academic world. A very different place to either the arts or the emergency services... but I'm now doing a PhD in medical anthropology, exploring how people use spirituality to make sense out of the trauma resulting from disaster. So... life goes on! Oh, by the way... (I almost forgot!) I just finished working on a 60 minute indie film called Tao of the Traveller. It's beautifully written and stylistically unlike anything i've seen. www.taotraveller.com if you're interested. It's just a small indie production... but check out the trailer if you like!
With Neighbours now in its 23rd season, do you have any thoughts on why the show has lasted so long?
It seems that it reflects whatever the current generation is going through/ questioning/ experiencing. That's a pretty powerful draw card. People enjoy seeing their own lives played out in front of them. It also, I believe, gives people tools with which to negotiate their own existence (sorry - I'm a bit of a philosopher).
To read a character biography of BB Larkin, click here...
Interview by Steve. Added on 12th May 2007