.
Interviews > Marcella Russo
Having joined Neighbours back in 2003 as Harold's feisty daughter-in-law Liljana Bishop, Marcella Russo recently filmed her final scenes and departed Australian episodes in dramatic style. Here, Marcella shares her thoughts on the role, Lil's exit and her plans for the future...
Can you give us some background on your career before Neighbours?
My career started in Adelaide - theatre, film and radio and also numerous bands. I came to Melbourne in 1995 to work in original bands - something that was very hard to do in Adelaide at the time. I also continued working as an actress - working across the board in television, radio, and theatre. I wrote and performed in two previous bands to Lucy De Ville - She Is Me and Swallow.
How did you get the part on the show?
It was a role that came up as an audition.
Had you watched Neighbours before you started working on it?
Ummm... no. I had actually never seen the show as it airs at a time that I was usually working.
Liljana was Ramsay Street's first Serbian resident, did you do any research into the Serbian culture and traditions?
My next door neighbour's mother is Serbian so I spoke to her several times and had a bit of look on the net. However, as the character had grown up in Australia there was not any need to research too deeply. Also, one of the writers on the show at the time had a Serbian background so I was also able to speak to her if any questions arose.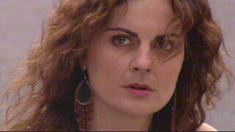 Liljana and David seemed to have a extremely stable marriage when they first arrived on the street. What are you thoughts on the break up of the couple. Did you feel it was slightly unrealistic, even by soap standards?
It's hard to play a long running character and not get attached and sometimes overly protective of them. However at the end of the day, the producers and the writers have the responsibility of creating the show and doing what they think is best . As an actor you have to try and put aside your feelings and perform the storylines as best as you can.
The Bishops went out in a rather dramatic fashion, in the form of a big plane crash. What was it like playing out those scenes?
I have a fear of flying and when I learnt that I was going out in a plane crash ... well, it was a little surreal.
What do you think accounts for the of success Neighbours over the past 20 years?
Not having been a watcher of the show prior to joining the cast it is a little hard for me to say. When I speak to fans of the show they often speak of liking the fun, domestic elements of the show and of being very attached to the characters, particularly the long running ones for example, our beloved Harold.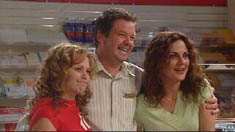 You are currently back working with Kevin Harrington, in the play The Trial of Adolf Eichmann. Can you tell us a little bit about the play?
It's a pretty wonderful piece written by Neil Cole. Kevin is playing Adolf Eichmann - in 1961 he was captured and brought to trial in Israel for war crimes. His defence was that he was just following orders and was there fore not responsible. The play explores his denial of responsibility for the events that took place and the effects that those actions had on two survivors - Kitia Altman (the character I play) and Arnold Erlanger (played by Lee Mason) It is beautifully written and directed , with a great cast. It has been an amazing experience performing this show in front of survivors, including Kitia and Arnold, all whom have been incredibly brave in coming to the show and facing their personal nightmares re-enacted and so very generous in their support.
What's next for Marcella Russo?
We are very close to finishing the album and are looking at a tour in Perth early next year with Lucy De Ville. Acting wise I will do what I normally do - which is see what happens : )
To read a full character biography of Liljana Bishop, click here
Interview by Karl. Added on 12th November 2005