.
Interviews > Wendy Stapleton
Wendy Stapleton is probably better known in Australia for her long standing music career. To Neighbours fans, love her or hate her, she's the Cabaret singing, Trixie Tucker! Wendy has had many other connections with the show over the years, from singing background tracks to the famous theme song. Wendy kindly took some time out to chat with us about her involvement with the series over the years...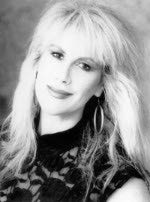 Can you give us a little background on your career before Neighbours?
I trained as a youngster as a classical Ballet, Tap, Acting and Singing, my first professional appearance was at the age of nine at Her Majestyís Theatre in Noel Coward's Sail Away. Then I performed regularly with J.C.Williamsonís for many years combining this with weekly performances on G.T.V.9ís Taraz show. At 16 I became a professional vocalist and I performed with the best of Australian Talent among them were John Farnham, Glen Shorrock Jon English, Joe Camillieri. In 1979 I signed with Mushroom Records and formed Wendy and the Rocketts, touring Australia and overseas with acts like Brian Adams, Z.Z.Top and Hall and Oats. I've also appeared in several episodes of Blue Heelers, Halifax F.P and Terence O'Connellís short movie You Donít Have To Say You Love Me.
How did you get the part on the show as Trixie?
Jan Russ (who is one of the most gorgeous people you could meet) rang me and asked me to do a screen test. I was absolutely convinced I hadn't done a very good test and was obviously gob smacked when she rang and said I had been chosen to be Trixie Tucker. Gary Conway, head director was also instrumental in the decision and he was great to me on the set. Being mainly known as a singer and having spent most of my life in front of a band, Gary took the time to explain the ropes of filming five episodes a week, quite a change from spending three days to do a three minute film clip.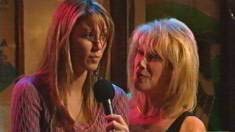 Did you have any input on the character?
Well in all honesty I think Trixie's fate was well and truly sealed before I hit the set, however things that happen day to day in real life have an impact on what happens in the studio and nobody could have been prepared for Delta's illness. Of course I had to decide how I would play Trixie, but the guidelines were there from the start. I hope I portrayed her as a warm and fun person, although not always on the same planet as everyone else in Erinsborough. Trixie's life had revolved around the theatre and I don't think she ever got her head out of that space, everything is a show right down to cooking a meal or vacumming the toaster! I hope she was perceived as being basically kind and generous, a little SCATTY maybe? At the end of the day her heart is in the right place.

Although your time with Delta was short, what was it like working with her and playing her on-screen mother?
Working with Delta was great. I found her to be a very natural and personable young girl who is really just the same as most teenagers in her hopes and wishes for her future. Of course there is the fact that she is on every magazine cover and radio station and T.V. so this probably makes it quite difficult to be "the girl next door". Playing Delta's mum was great fun because my own daughter thought I was cool, actually that is the only question I ever get asked by her friends "excuse me Wendy, what's Delta like?" She is delightful.

With the sudden departure of Delta how much of the original storyline was changed?
Yes, Delta's departure was sudden as you can imagine. Nobody was prepared for this shock, however I'm sure things happen to everybody at some stage that they are not prepared for, and so we all do our best to carry on. The scriptwriters must have gone into overdrive and therefore I simply did what was required of me from then on. I don't know how much it altered my original storyline as I was only a few weeks ahead at any stage. I'm sure we would have spent a few months having fun together before my destiny unfolded.

Delta has just announced that she would like to return to the show later in the year to give Nina a stylish exit, will we be also seeing a return from Trixie as well?
I have read that Delta is keen to return to the show to as you put it "give Nina a stylish exit " and I would love to come back for this. I guess we will have to wait and see. At the moment good ol' Trixie is probably still wandering around the streets of Hong Kong looking for a show.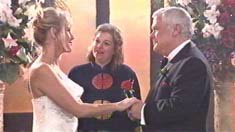 Can you tell us a little about the filming of Trixie and Lou's wedding?
Trixie's wedding to Lou was quite and extravaganza as you could see. It was filmed at Her Majesties Theatre in Melbourne, which was fantastic for me because it was where I appeared in my very first musical aged nine in Noel Cowards' "Sail Away". Almost all the cast were there, and there were just an amazing amount of people involved in this shoot. I think there were something like three or four crews working that day; starting at 5.30 a.m. and finishing at around 11.00p.m. That's a long time being a bride! Anyway it was great fun and I hope everyone enjoyed the episode.
After many years Lou was finally given a new lease of life with Trixie coming along. Did you think it was right to have them split up after such a short time?
I think Trixie has been great for Lou. He has had a lot of fun doing things he hadn't done for a long time and I think that has made people very happy for him. He has had a new lease on life, although Trixie could wear him out at times. It is incredibly sad that they split up so soon, but how do we know what's around the corner? I'm sure Trixie loves Lou and we all know that he loves her very much.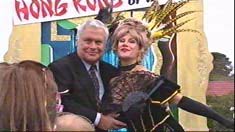 Have you kept in touch with any of the cast?
Before Christmas I caught up by phone with Tom's wife to organise a get together and I did catch up with Jackie (Susan Kennedy) on holiday at Christmas. The show that I am in with Debra Byrne and Nikki Nichols (Girls Girls Girls) keeps me very busy and away from Melbourne an awful lot and of course club work involves working weekends including Sundays, so to say that catching up with friends is difficult is an understatement. I will definately make a visit to the set soon to say hello to everyone. I have formed a club with my good musician friends and people from the Variety Club Australia where we get together the first Tuesday of every month for lunch to catch up on the entertainment industry whats what etc; and this year we have sponsored a young girl aged 13 to be taken under our wing and be given tuition in all forms of entertainment for one year. This award will be an annual event from now on at the Yearly Variety Ball.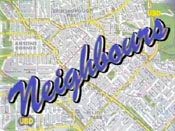 Way before your time on the show as Trixie you had a few other connections with the series, one of those was singing the 1999 - 2001 Neighbours theme with your husband, Paul Norton. Can you tell us how this came about?
My involvement with Neighbours goes back to almost the beginning in some way or another. As a young session singer I was hired to sing vocals on the Neighbours Christmas albums and as you already know I have been involved in the theme song which came about as a result of Chris Pettifer (Music Director) being involved in the same industry as my husband and myself . My husband (Paul Norton) songs recorded with Mushroom Records were used frequently for three or four years on Neighbours and Chris Pettifer was directly responsible for the music catalogue. Paul also was involved in audio (Boom Operator) when Kylie and Jason were on the show so there seems to be a thread of involvement for a long time with Neighbours.
Did you record more than one version of the theme?
I have performed on two versions of the Neighbours theme, firstly with Greg Hind doing his backing Vocals and of course the theme that Paul and I sang together. The first version was recorded at AAV Australia in South Melbourne and the second version at Chris's studio. The Christmas album was recorded at David Brigg's studio in Melbourne. David Briggs was the guitarist in The Little River Band and I also sang on Stefan Dennis's Album also recorded at AAV AUST. I can remember doing some stuff with Craig McLaughlan at AAV and I think the Neighbours cast disco version of the theme song was also recorded at AAV. A lot of this info is taking me back quite a few years I can tell you. I do remember having a lot of fun recording the disco version with the cast.
Interview by Karl. Added on 17th April 2004
To read a full character biography of Trixie Tucker, click here
Multimedia:
Mid 1992 - 1994 Opening Theme (512K)
Mid 1992 - 1998 Closing Theme (1380K)
1999 - 2001 Opening Theme (462K)
1999 - 2001 Closing Theme (1450K)
BBC 1999 - 2001 Closing Theme (718K)