.
Interviews > Kevin Summers
Australian actor has guest-starred in Neighbours in the 80s, 90s and in more recent times as Detective Alec Skinner. Here, he shares his thoughts on the drastically different Neighbours roles he's played, as well as his career to date.
Can you tell us a little about your career prior to your first appearance in Neighbours back in 1986?
I originally trained in the law but took a teaching degree also. I taught legal studies, history, English and drama briefly before working in theatre, stage managing and doing small parts, watching closely those performers who I respected. As larger stage parts came my way I started to do more television and had my first continuing role in a long running police series, Cop Shop.
How did your first Neighbours role, as criminal Alex Carter, come about? Do you remember much about your time on set back then, just as the show was really beginning to take off?
There was plenty of local television in the early 1980s and after playing a number of roles on Prisoner I became lawyer Ben Fulbright for most of 1985. Grundy then asked me to come on board Neighbours the following year. The show was just starting to take off, garnering big ratings. Kylie and Jason were all the rage, plus there was a core of experienced actors to assist and make sure the job was done. Also many of the crew - and directors - were from Prisoner, which made it pleasant for me. A number of performers from that time remain friends. We often work together in local theatre.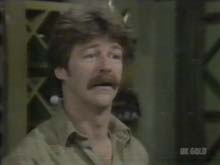 You've played several more Neighbours roles – including Detective Harris, Cliff Browning and Detective Goldstein - in the past ten years. What do you recall about these roles?
The Cliff Browning story may be of interest. There was a new girl doing the casting and I was asked to audition. I wasn't keen, given my long experience in the show, but all was resolved when the director of that block of episodes, Bob Meillon, whom I'd known for years, saw my name on the list of possibles and asked them to cast me. It goes to show the difficulties of acting - that often when new casting agents emerge, one has to remind them who you are and what you have done. It's difficult to keep cool when a sweet young thing professes total ignorance to your career. As to the Detectives - I have played a policeman so many times that the local force members often greet me, thinking I'm one of their number.
Since 2003, you've also been recurring as Detective Alec Skinner. How would you describe the character? Do you enjoy playing him?
These days, I play Skinner as a little tired and impatient - he's seen it all before, there are no surprises. I hope it manages to set a contrast to the bright and cheery souls of the place.
Would you be interested in joining the cast full-time, as Skinner or another character, if the opportunity were to arise?
I was close to becoming the head of the Scully family but lost out to Shane Connor. Oddly, I also just lost out for a similar role in Home and Away at the same time. The year 2000 was very frustrating professionally.
Was there anyone you particularly enjoyed working with during your various Neighbours stints? Have you kept in touch with anyone from your time on the show?
Apart from the theatre mates, I'm not really a "social actor". My friends come from all over the demographic map. Further, it's a given in this business that one becomes close to your colleagues while in a show but then may not see much of them later. Nature of the job.
How does Neighbours compare to other dramas you've appeared in, such as Prisoner, Stingers and Blue Heelers?
All of the shows are hard work. I struggle with lines when I don't have the actions clearly in my head - that's how theatre rehearsals work - and so I'm always putting in many hours of study. Lack of rehearsal time is a constant and adds to the pressure. This is the way on all productions. I'd kill for a decent process and be able to relax into a part but it doesn't happen that way.
Did you ever watch Neighbours before joining? Do you watch it now?
I often watch the show to see who's working. Who's in and who's out. I confess that at the moment I'm having trouble working out the younger cast members.
Apart from Neighbours, where has your career taken you in recent years? What do you have planned next?
These days I do a lot of theatre, though there's little money there. I also have had four of my plays performed, mainly to decent reviews. And I work as a freelance journalist in the area of politics from a left-liberal perspective. Fundamentally, I bag all parties where I see fit. I'm a regular contributor to the Opinion page of the Melbourne Age.
After more than 20 years, what do you think accounts for Neighbours' enduring success?
I have no idea. My writer-producer friends are always negotiating with networks for new shows and nobody seems to have a clue. No executive wants to take a risk and so empty copies are made and made again. And fail again and again. The answer, as a local race-caller used to state, is a pineapple. The show struck a chord - I can't say why.
Interview by Steve. Added on 29th April 2006