.
Interviews > Waiting Room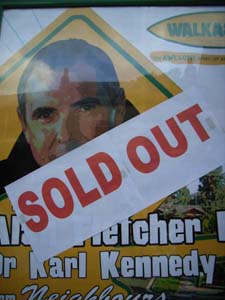 Whenever a Neighbours star lessens the distance between themselves and their UK fans by daring to visit, whether it be to appear in pantomime, or to thrash out some tunes in Alan Fletcher's case, thousands flock to catch a glimpse of them. Consequently, the UK tour of Alan's band Waiting Room couldn't be anything but a success, but no-one could have predicted just how big a success it would be. A thousand people were turned away from the first gig of the tour, and band members Chris Hawker and Tommy Rando were "flattered and overwhelmed" at the public response to their music. As Alan himself told Perfect Blend "It was awesome! I could not have predicted the response from fans to WAITING ROOM. Everywhere we went we were mobbed and cheered by thousands of fans. The best thing was that many people came to see Alan Fletcher the actor and went away singing the praises of the Band's music. Thanks to everyone who came to the gigs and bought CDs. Your support means I am days away from signing a two week tour for November."
Below, we report further on the bands response to the success of the tour and Kate talks us through her experiences at the Durham gig, while Billy, Claire, Jamie, Karl, Lucy and Mark look back at their fun-filled weekend in Portsmouth.
A Chat With The Band - Alan, Chris and Tommy
I was very fortunate to be able to speak to charming bandmates Chris Hawker and Tommy Rando before their Durham gig. All correspondence with Alan, unfortunately, was via e-mail. Hey, the man's in demand!
Kate: How did Waiting Room come together and start performing as a band?
Tommy: Chris and I had been playing together in Melbourne as a duo band. We're both guitar players and singers. We were doing a Valentine's Day gig in 2004 and Alan and his wife were there. Al approached us and asked if he could sing at our next gig and it all happened from there. Before we knew it, we were performing at the Neighbours nights at the Elephant and Wheelbarrow pub in St. Kilda every Monday, then touring the UK.
Kate: How did the UK tour come about?
Alan: When I was doing public appearances in Unis last December, the promoters were very excited to hear that I had a band and started to book the tour.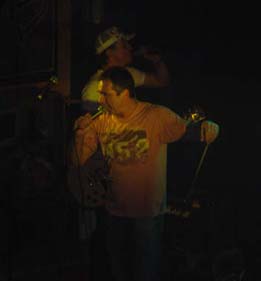 Kate: What are your thoughts on the huge reaction to the tour?
Chris: They had to turn away a thousand people from the first gig. We were blown away.
Tommy: We're flattered and overwhelmed at the response.
Chris: It's just overwhelming. And, erm, did we mention we were overwhelmed?
Kate: Why do you think you have such a massive student following?
Alan: I think universities in the UK have a very community feel and students treat Neighbours as a group experience. Dr. Karl seems to appeal to students here. I'm not sure I know why but I'm glad he does!!
Kate: How did you decide on the name Waiting Room?
Chris: We originally wanted Fletch but it had been taken.
Kate: What are your hopes for the album?
Chris: It's available at gigs and on our website. If we get good airplay, it could lead to a record deal. It's all about word of mouth and getting a label interested. We're booked to go on Radio 1 on Wednesday, so hopefully, Al's voice will hold out (Alan was suffering from laryngitis at the time).
Tommy: We wanted to put (the music) out there and see what people thought of it. Al's aim was never to be top of the pops. He's not Kylie. Al's always wanted to perform and he has a passion for music. He would tell you that himself if he was here.
Chris: We were originally going to make an EP but realised we had enough material for an album. Adrian Hannon, the album's producer, deserves a lot of recognition and John Reid - Elton John's ex-manager helped us a lot too.
Kate: One of the tracks on the album was co-written by Neighbours' Jackie Woodburne (Susan Smith). How did that come about?
Tommy: Yeah, Accidental Trespass. Jackie and Alan wrote the lyrics and we pieced the music together. It's a beautiful track.
Kate: Who are your main influences?
Alan: My major influences are bands like Oasis, Rolling Stones, JET, U2, Killers and solo artists like Elvis Costello, John Mayer, David Gray and John Hiatt.
Kate: What are your hopes for the future?:
Tommy: We've already been booked to come back in November. Before the tour, England was new to us. We'll see what happens when we come back – it's something we're really looking forward to.
Click here to read reviews on the Waiting Room tour
Interview by Kate. Added on 11th June 2005