.
Interviews > Marisa Warrington
Marisa Warrington burst onto our screens last year as the deliciously devious, yet quirky, Sindi Watts. She had appeared on the show twice before in guest slots in the late 1990s before first starring as Sindi, and is now set to reprise the role next year. We caught up with Marisa for a chat about her part in the Ramsay Street saga...
Can you give us a little background on your acting career?
I come from a theatrical family so I guess the idea of acting came as a natural progression. My father was an actor, then later on a director and scenery maker and mum was an opera singer. She still teaches students in the front room at home!! My brother's the black sheep, he works in a bank! I've been on stage since I was 7 and I haven't stopped. At 20, I went to the National Theatre Drama School, then concentrated on stage work. Most of the theatre work has been Shakespearean works, playing the likes of Juliet, Viola, Hermia etc. I went and studied with the Royal Shakespeare Company in Stratford in 2000, travelled around the UK and Europe. I worked as a temp in London while I took classes at the Actors Centre, and since then have worked with the Melbourne Theatre Company and the Australian Shakespeare Company to name a few. Apart from commercials, and until about 2 months ago, Neighbours was my only real TV experience. (I recently finished filming a guest on a cop show where I got to play a murderer... fun!!)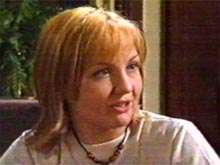 Prior to playing Sindi Watts on Neighbours, you also appeared on the show twice before. Can you tell us about those roles?
The only one I can remember is playing the character of Robyn Dawson (left).
Robyn was a character that had gone to school with Libby and they were supposed to be really geeky but since then Robyn had blossomed into the type of person Libby wanted to be. It was for one day of shooting but all I remember was being so incredibly nervous!
What are your memories of those earlier stints on the series? Who did you enjoy working with?
I got to work with Dan Paris (Drew) and Kym Valentine (Libby). They were sweet to me but I don't think they have ever had to work with someone so frightened in all their careers. The director David Myles smiled and said "you're doing well dear, but could you speak up". All I could hear was ringing in my ears. I remember sitting in Lou's Pub and being amazed thinking "Cool, I'm in Lou's Pub". I always remember the cast being lovely, but I know I must have been absolutely appalling!
In 2002, you first appeared as Sindi. How would you describe the character?
She first came on the show as a real manipulator of any situation. She was naughty but fun, and that hasn't changed. She got more and more dippy as the character came back, but I tried to keep her fun and full of life. She is very girly, loves dressing up and shopping. She is very into labels and image, but the seriousness with which she keeps these shallow ideas about people sacred is funny, I think.
Had things on set changed much since you had last appeared on Neighbours?
Every time I appear on the show, things change. The only things that don't are the sets! I think that I change each time I reappear - I get more confident with my work, the character and the shows directors, but that's only natural. New cast bring new energy and its a joy to meet new people, so its never a chore to go to work.
How did it feel to be invited back to reprise the role of Sindi later in the year, and this time, as a more prominent character?
Very grateful and very suprised!!! I got to work with more of a script and I got to put in some ideas which I found so much fun.
Who did you most enjoy working with, and why?
I don't have a favourite but I've loved making friends with everyone from Ian Smith (Harold) to Delta Goodrem (Nina) and quite a lot of the crew have become friends.
Can you describe a typical day on set?
There isn't really a typical day. Some days are rehearsal, some days are shooting. One day I start at 6am, the next day at 1:30pm. On a shooting day in the studio the routine would be to arrive at work, 10 minutes before requested time. Straight to wardrobe and get changed. Get checked by wardrobe and have a photograph taken. Then go straight to makeup to have hair & makeup done. Then I go to the green room where I try and grab the person I am working with and work on the scene before we shoot it.
Are you recognised in public as a result of starring on Neighbours?
Only very occasionally.
Have you made any friends out of your Neighbours experience?
Yes. I've made firm friends with some cast and crew. I still see Andrea McEwan -Penny Watts, my sister - for coffee and a laugh.
What have you been involved in since finishing on Neighbours?
I have just finished playing a murderer on Blue Heelers and I am always doing voice over work. At the moment I am featuring in a Moconna coffee advert with a cross dresser.
Are you a fan of Neighbours yourself?
I don't really watch much television. Of course since the show has been going for 18 years I've watched it every now and again. Now that I have met the cast and I am in it occasionally I watch it on a more regular basis.
Will we be seeing Sindi again?
Funny that, I think you just might. Things are being negotiated as we speak so Sindi will stride down Ramsay Street once more!
To read a full character biography of Sindi Watts, click here
Interview by Moe. Added on 27th September 2003