.


Interviews
> Reg Watson
In the year that his baby celebrates 20 years on Australian TV screens, making it the longest running drama in Australian television history, the creator of Neighbours, Reg Watson, talks us through his pivotal role in giving birth to one of the most successful TV shows of all time…
Prior to Neighbours, you had worked on several legendary series such as Sons & Daughters, Crossroads and Prisoner - can you start by taking us through your career leading up to Neighbours…
My first ever job was in a jeweller's shop in Innisfail. I remember the woman who ran it telling me, one day, that some people were coming in to choose an engagement ring and one old lady was a kleptomaniac - and I was to stand behind the counter and watch her carefully. During the animated discussions regarding all the diamond rings I saw a hand reach in to take one - and I slapped it! I always swore I'd use it one day in a TV show but I never did - but I never forgot the fright I got and the shocked silence from the people. From that I eventually went into theatre in Brisbane. I acted for the Brisbane Repertory Theatre (very badly) and then went on to directing. From that I went into radio in Brisbane and Charleville. (I loved Charleville). In those days we did everything from writing programmes and copy to selling and doing the shows on air. I then went to Britain where I worked for twenty years for ATV both in London and Birmingham. I produced and directed everything from advertising features, farming series, children's shows, spectaculars, Lunch Box and, drama. When I was producing Crossroads I met Reg Grundy and his wife Joy (who went on to play Rosemary Daniels in Neighbours) who were on their honeymoon. We became friends and for about three years he tried to persuade me to return to Australia. I came back in 1974.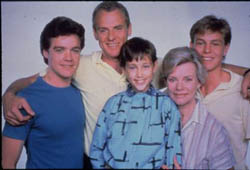 Where did the idea for Neighbours first come from?
When I went back to Brisbane to visit my relatives I was reminded how different life was to London and Birmingham. Over there, and also in Sydney, it was possible to live in the same street for years and never meet your neighbour. In Brisbane, twenty years ago, you knew almost everyone in your street and what a diverse, friendly lot they were! I was also aware of the lack of communication between parents and children - particularly teenagers. I thought how interesting it would be to have a family where the children could ask their parents ANYTHING and get an honest answer - hence the Robinsons.
Can you tell us about the creation of the original three families – the Ramsays, Robinsons and Clarkes?
I always seem to base characters on the first names of people I'd met. Jim Robinson was the name of a friend of my sister. Des was a teenage mate and Daphne was a girl I worked with in radio and so on. So, the names came first and then it was a matter of creating three very different families with stories with the potential to run for years. And so I came up with Max Ramsay, who thought he could run the street because it was named after his family, the Robinsons who were a 'typical' family and Des and Daphne - the dumped groom and the stripper who moved in with him. Casting is always a major problem and we were very lucky to find the actors we did.
Of those original characters, which ones do you think worked best?
I think they all worked perfectly - and I think the viewers agreed.
Is it true that you re-wrote the first scripts twenty times?
No. I don't know who thought that one up.
What are your thoughts on the decision by Channel Seven to cancel the series after only 170 episodes and the move to Channel Ten that followed?
I don't know why it was cancelled. I do know that Seven regretted the decision until they managed to get Home and Away. I found it interesting to revamp the serial for Ten. We jumped in time and that helped but, all in all, it was an exciting experience for us all.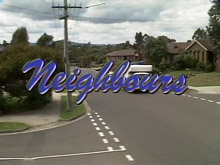 A number of changes were made to the series on Ten - new characters such as Madge, Mike, Clive and Zoe were introduced, plus a new Scott in the form of Jason Donovan, 'Ramsay Street' was extended to include more houses and the Lassiter's complex became a prime location. How important were these changes to the show's eventual success on Ten?
At the outset I told everyone concerned with the serial that Ramsay Street was a long street. The move to Ten gave us the opportunity to introduce new characters. We also inherited a complete exterior set from another drama and I revamped it and called it Lassiters. All these changes strengthened the serial.
Do you think the sudden departure of Francis Bell as one of the leading original characters, Max Ramsay, had an impact on the show so soon after the move?
The departure of Francis (Max Ramsay) didn't affect the serial because Madge took over beautifully.
When did you begin to realise the enormous impact the love affair of Scott and Charlene was having on viewers?
I always knew the Scott/Charlene story would work - and the wedding was planned to be the highlight. Thanks to Jason and Kylie it was an enormous hit.
How important a role do you think humour has played in Neighbours?
Humour was an important part of the success of Crossroads in Britain and it was natural for us to use it in Grundy serials.
What are your thoughts on the enormous success Neighbours enjoyed when it was first broadcast in the UK by the BBC in 1986?
Because I acted (once) for the BBC when I first went to England I was surprised when I heard they were interested in a soap opera from the antipodes. To their credit they quickly realized the potential when they got complaints that students were late for classes because they were spending the lunch hour watching Neighbours. And then, of course, they ran it twice a day.
The Neighbours theme song is famous the world over, particularly the original version sung by Barry Crocker. Given that Tony Hatch had also written the Crossroads theme, was it you who selected him to compose the Neighbours theme?
We had some great theme songs submitted and the Tony Hatch version was the best. He's a friend but I must admit that didn't influence me because choosing the right theme is vitally important.
When Channel Seven launched Home and Away in the wake of Neighbours' success in 1987, how much of a threat, if at all, did you see it as?
The people who devised Home and Away are friends of mine who worked with me for years. I congratulate them on the success of the serial.
When hugely popular characters, such as Charlene, Scott, Henry and Mrs.Mangel, left the series, did you think their exits would affect the show's popularity? What factors led to recasting characters, as was a more favoured option in the old days of the series?
Once the show is firmly established it's possible to carefully plan their exit to avoid damaging the serial. I always believed it was a pity, when actors chose to leave a serial that the character should go as well. A lot of time and money is invested in the character so we decided to recast if the character was important to the future of the storyline and the show itself. Mrs. Mangel was one character you couldn't re-cast. She was a one off.
Who have been your favourite characters and storylines over the years?
They're like your kids; you like them all for different reasons.
How important do you think the long standing characters such as Helen, Jim, Madge and Paul were to the success of Neighbours?
All the long term characters are important. It's a pity when the actors leave but careful planning by the writers can always fill that void.
Daphne's death holds a special place in the history of the show, as it was the first regular character to be killed off. What factors led you to kill of characters such as Daphne, Kerry, Harold, etc as opposed to sending them off to Brisbane or elsewhere like many of the other characters?
The actress playing Daphne was adamant she wanted the character killed off and we thought it would give us a powerful story for Des, Mike and the street itself. I was very happy with the way it worked. Kerry and Harold were killed off when I was working in America. I wouldn't have agreed.
Do you still watch the show now? If so, what do you think of it?
You've got to watch it because, unlike American soaps, the stories are fast moving and there isn't much repetition of dialogue.
What was the most rewarding aspect of creating Neighbours?
The most rewarding thing was working with talented writers, directors and actors you admire.
And finally, what do you think is the reason for its incredible 20 years of success?
In pitching the show to Seven and Ten I blithely said, "This concept can run for twenty years". I knew from the looks on their faces that they thought they'd heard it all before.
Interview by Moe. Added on 8th May 2005