.
Interviews > Marita Wilcox
Guest actress Marita Wilcox has had a long association with the residents of Ramsay Street. Back in the 80s, she worked as tutor to many of the younger stars and, more recently, she was the celebrant who married Lou and Trixie, and later, Valda and Charlie. Here, Marita discusses her various roles...
What were you doing prior to your work on Neighbours?
Prior to the roles on Neighbours - I have worked in TV, film and theatre for about 25 years as an actress, script writer, playwright, director and producer. I have appeared in several guest roles in Neighbours over the last ten years and in 1988 I worked on the show for 12 months as the tutor and chaperone for the school age actors – Kristian Schmid, Sally Jensen and Finn Greentree Keane. I also assisted them with learning lines, in fact I used to get a lot of the actors come to me to run lines – Craig McLachlan, Kylie Minogue, Jason Donovan – to name a few. At lunch times some of the crew and actors would join in with us and play basketball and other games. It was great fun back then and everyone was very much like family – sharing and caring.
How did your roles in the series come about?
Jan Russ contacted my agent to get me in for an audition because I was an actor not because I was a celebrant. In fact at that stage she did not know I also worked as a marriage celebrant. Over the years she has auditioned me for quite a few roles. She is fabulous, so switched on to the 'right talent for the role'; I have the utmost respect for her.
You played an important part in the 2003 season finale, as the celebrant at Lou and Trixie's unusual wedding. Can you tell us a little about the filming of that episode?
It had a great feel that day as it was one of those times when most of the cast could get to be together at the one time, and also they were getting ready to unwind for their holidays. The filming was special because it was at Her Majesty's Theatre and everyone was excited and proud to be in the grand old theatre and relished walking around the stage.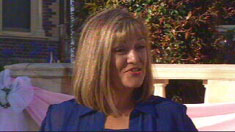 You returned six months later as a different celebrant, this time at the wedding of Valda and Charlie. What was that like to film?
Again for me it was lovely – but the cast and crew had been working very hard and were running behind schedule, so there was pressure on them to get things done. Some of them were very tired – (Joan Sydney's feet were killing her) The director (Adam Noel) was really pleased that I knew what to do as an actor but also as a celebrant and I did quite a lot of dialogue without the other cast present. Actually Adam contacted me some months ago to see if I could be his celebrant at his wedding. Of course I agreed and happily married him and his beautiful bride.
Having guest-starred on many other Australian drama series', how did Neighbours compare?
Cast and crew on all of the series I have appeared on have been terrific. But the cast and crew of Neighbours are really 'one of a bunch' some of them have been on the series since day one and I guess that I am closer to that series because I was 'crew' for 12 months.
Would you ever consider a regular role on the series?
Absolutey! I was cast in a role a few years ago (as a mother of a new young girl, Cheyenne Rivers, and the whole family where involved in the local football club) that may have led to being a regularly but it didn't happen and the family moved away.
Are you a viewer of the series yourself?
Yes! My daughters, Laura and Lucy are still addicted. When I worked on the show in 1988, the producers allowed them to have their birthday parties on set and in the canteen. Then when 'wardrobe' had their annual 'sell costumes' week, I bought all these fabulous clothes – Kylies PJ's, track suits etc, Annie Jones' dresses, etc. Well they wore them to rags!!! I still think "Why didn't I keep them for souvenirs?" – mementos!!!
What have you been doing since your guest stints?
I have done a few corporate training films, a nice role on Blue Heelers, a McDonalds Add (they lady with the colourful hair!!) Rewriting a play which has a writers' grant, doing a lot of weddings – particularly in the Arts and Entertainment Industry.
After 20 years, Neighbours is still hugely successful. What do you believe is the key to its success?
Good Australian series – relating well to the general public – it's wonderful that it has survived for so long and may it keep going for many more years.
Interview by Steve. Added on 20th August 2005