.
Interviews > Andrew Williams
It's been over 21 years since Guy Carpenter departed Erinsborough, now as Tom Oliver celebrates 25 years since the arrival of his on screen father, Lou and is joined by the Turner family, Andrew Williams talks to us about his career and his time on the show...
Can you tell us a little about how you got into acting?
Even before I left school, I was earning a living playing music as a singer, songwriter/musician. Then after turning 20 years old, while still continuing my music career, I did some modelling in Australia, Italy, France, Britain, Germany, Switzerland, and Japan. During this period, I did approximately 40 TV commercials. In 1990, I did a guest role as a musician on a comedy show called The Colin Carpenter Show.
How did the role of Guy Carpenter come about?
Apparently, the Neighbours producers liked what I did in the The Colin Carpenter Show, which was filmed at the same studios as Neighbours. My manager set up an audition, even though at the time, I had no plans to be an actor. I scored the role of Guy Carpenter and decided to accept this wonderful opportunity and go along for the ride.
Did you ever watch the show before you joined?
No, I've never been one to watch much tv.
Do you have any specific memories of being on set?
I have fond memories of working on the set. I do have some funny memories of filming outside on some really cold Melbourne winter mornings, pretending it was warm and summertime wearing very little due to Guy being a PE/swimming teacher. Very funny!
Is there any particular storyline that you enjoyed?
Enjoyed it all.
As a young member of the cast, were you given much support from the older cast members?
Yes, the older and more experienced actors were very helpful.
Out of all the other actors on the show, who did you enjoy working with the most?
Genevieve, who played Guy's Aunty Brenda. We had lots of scenes together and a lot of laughs.
How did your departure from the show come about?
I had the opportunity to play a more challenging character named Jack Brown on another show called E-Street, also to focus more on the songwriting aspect of my music career.
Where has your acting career taken you since your departure from Neighbours?
After Neighbours and E-Street and enjoying working on 2 pantomimes back home in the U.K (I was born in Wales), I went to Hollywood to work on the tv show Melrose Place and then did a bunch of guest roles on tv shows such as Everybody Loves Raymond.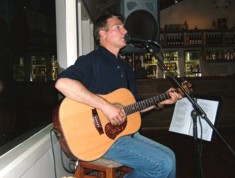 You're currently working on your music career, can you tell us a little about this?
I stopped acting in about 1998 to focus on my music, in particular my songwriting (acting was always a second job for me) and to have more time to study and practice my chosen spiritual path, which is Buddhism. I had been a practising Buddhist for many years. Shortly after this, I put the music career on hold, to concentrate solely on my spiritual path and went to live in a Buddhist Temple for over three years, where I became a teacher of Buddhism. A few years later, I came back to Australia to live, to be closer to my parents. I have now been teaching Buddhism for over 14 years and continue to do so. I also continue to use my singing, musical and writing skills in a positive way.
With Guy's father, Lou, now joined by his sister, Lauren, in the show would you consider making a return to explore that new dynamic?
I have given no thought to this. Just a great respect and appreciation of having had the opportunity to have had such a great experience.
What do you think is the reason for Neighbours' long running success?
People are able to relate to the characters and the storylines.
Interview by Callum. Added on 16th June 2013