.
Interviews > Jamie Wilson
He's guest-starred more than once on Neighbours, most recent in the recurring role of Jack Scully's slimy drug dealer, Trevor Daly. Here, Jamie Wilson shares his thoughts on his time with the show and his theories on its success...
What were you doing prior to your work on Neighbours?
I was working as a gym instructor/personal trainer/fitness instructor in a few gyms and as a disc jockey in the club/bar scene. I was also working a little as an actor on TV - I played a crim in Blue Heelers and in a CrimeStoppers ad, which aired for 4 years, and my small career as a TV crim began. Prior to that, I had been doing a lot of theatre, a few short films and an Aussie sci-fi indie feature film called Lost Black Earth directed by a mate of mine, James Cole, which coincidentally had Stefan Dennis (Paul Robinson) as the narrator and his brother Chris Daniels as a co-writer. I played the lead in this film but it never got a distributor. And prior to that I had been working in hospitality and entertainment while studying acting here in Australia and a little in L.A.
How did the role of Trevor come about? How did his reappearances in the show come about?
My role of Trevor Daly came out of nowhere. I had another role as Alan Watkins back in 2002 under the direction of Adrian Holmes and I had been an extra back in the early 90ís. Trevor started as one episode and turned into four episodes over 4 months - it was totally unexpected on my behalf. But one of the directors - Tony Osicka - did drop a hint on the first episode and three more eps were soon to follow. The irony was that Tony swore he saw an audition tape of me for Trev but it never happened - there was no audition. There was some confusion on the last ep as to whether I was "a" drug dealer or Trev the drug dealer but I took it as Trev since the episodes were so close to one another. My character came into the story through a crooked policewomen by the name of Olivia McPherson and her easily misled and naive friend Jack Scully. She was desperate for some fast money and got involved in crooked schemes with small time local crim Trevor Daly. She got a few extra bucks on the side but Trev was too smart for her and in the end he came out of it better than she did.
Can you tell us a little about your time on set?
Everything runs smoothly on set. You walk in the first assistant director meets and greets you, followed by the director. You do a walk-through with the other actors, run your lines, etc. They might re-block depending on the camera angles and the action taking place (itís usually different from rehearsals). One or two takes later and you're back in the green room gearing up for your next scene or signing off for the day. Itís the same on location except you wait in a bus or a trailer and itís more fun.
Were there any cast members you particularly enjoyed working with?
The cast and crew in general are very friendly. I used to talk a little with Ian Smith and Carla Bonner but you need to use a bit of etiquette on-set or location as everyone needs to focus on what they're doing. I worked with Carla, Blair, etc. Theyíre all quite friendly and professional but you have to be aware that they are playing principal characters so you need to give them some space, especially when there is an ensemble of characters or a rather dramatic or intense scene. I loved the catering - food is important you need fuel to act and the wardrobe and makeup department are fun to, especially on long location shoots. During my time on the show as Trev some of the crew referred to my character as the new regular crim on Ramsay Street, which was partly true at the time, but nothing more was to come out of it. Iíve had a few actor friends who also have had a similar experience on various shows around Melbourne, so I guess itís just the reality of being an actor. The important thing is not to give up your day job.
Would you be interested in making a permanent return to the series Ė as Trevor or another character?
It would be fantastic to be cast as a regular character on Neighbours. I think any actor would take up an offer like that. I certainly would imagine Trevor coming back as Haroldís long-lost nephew, who is a reformed crim wanting to go straight and ends up running the Coffee Shop. Crazy idea, huh?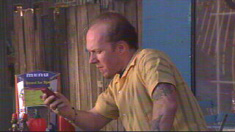 Youíve made other guest appearances in Neighbours before Trevor the drug dealer. What do you remember about those experiences of filming?
Alan Watkins was another shady character I played back in 2002. That was a location shoot in the Dandenong Ranges in Victoria. My scenes were with Carla Bonner, whose character goes to visit a mate of Mitch Foster Ė Alan - at his country property. He is hiding information from her on Mitchís whereabouts, as heís in trouble with the law, basically she keeps pestering him about Mitch and Alan doesnít want to talk about it at all. In the end she leaves not really knowing what to think. Once again, the crew were a lot of fun and of course the unexpected happens when filming on location so thereís more need to have a sense of humour or acquire one on these occasions and Carla was a true professional as usual.
Are you a viewer of the series yourself?
I have to say that I was a fan back in the early 90s. I personally found it more interesting to watch then, especially with characters like Paul Robinson, Joe Mangel and, of course, Des. Itís quite a different show now and fits in to more of the teen soapie category these days.
What have you been up to since your stint on Neighbours?
Before, during and after Neighbours I was making a documentary titled Burgermen, Which was about a hamburger shop in Melbourne, that took me 3 and a half years all up. It was my first film. There have been a few acting roles in short films - one of which I made myself and I am currently developing another doco about a night club promoter. I seem to be heading more into film-making these days and picking up work making promotional videos and ads, weddings etc. I still work as a gym/fitness/personal trainer and as a dj on occasions - it pays the bills. I would like to be making docos as a living for a while and possibly move into short films and feature films at a later stage. Going back to LA is also on the cards. As far as acting is concerned, itís out of my hands Iím sure more roles will come my way and you never know whatís around the corner. Maybe Trev will make a comeback as a priest!
After 20 years, Neighbours is still hugely successful. What do you believe is the key to its success?
I think the secret to Neighbours success over the years lies in the fact that it doesnít try to be something it isnít. Violence, sex and bad language were never shown on Australian TV, but not any more, except for Neighbours which remains the same as it did 20 years ago. Itís still quite humble really and I think itís an overview of middle class suburban life in Australia. At the end of the day I think there is still a market for this kind of entertainment, which is refreshing.
Interview by Steve. Added on 13th August 2005