.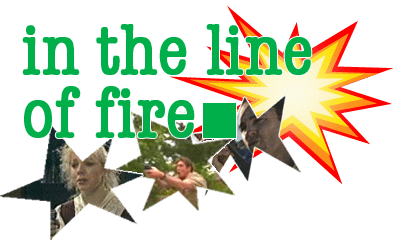 Features > In The Line Of Fire by Moe
The 2006 season finale saw Ramsay Street favourite Toadfish Rebecchi become the most recent recipient of an unwanted bullet in what is fast becoming Australia's most dangerous suburb. It was the third shooting to rock the once sleepy cul-de-sac in a 2006, but shootings have been taking place on Neighbours longer than you might think…

Paul Robinson


Paul was the first Neighbours character to be shot way back in 1985 and the effects of this experience are still being felt 22 years on as the entire episode led him to become bitter and hard hearted. After discovering that his wife Terry was responsible for the murder of Charles Durham and had framed his friend and neighbour Daphne Lawrence for the crime, Paul confronted Terry at their home, No 30. When Terry initially tried to deny any involvement, Paul produced the gun he had found in her handbag and placed it on the table in front of her. Terry confessed her part in proceedings but pulled the gun on Paul when he went to call the police. When he refused to put the phone down, Terry shot him in the shoulder before fleeing Ramsay Street. Fast forward 21 years and Paul found himself in the line of fire once again, and in keeping with the tradition of it being a family member pulling the trigger, it was his crazed son Robert who shot at him from the bushes in the grounds of Lassiter's. However, on this occasion, Paul knew what was coming and had prepared for the event by wearing a bullet proof vest and surrounding himself with undercover police in a ruse to smoke out Robert by pretending to remarry his mother Gail.

Kerry Bishop


Although there have been a number of shootings in Erinsborough through the years, few have been fatal. Sadly in the case of Kerry Bishop in 1990, there wasn't a happy ending. Having been asked by her friend Amber Martin to join a protest against off-season duck hunting down at the wetlands, a heavily pregnant Kerry was caught in the path of a stray bullet and collapsed, unconscious, in husband Joe's arms. She later died in hospital.

Caroline Alessi


One half of the famous Alessi twins, Caroline, was caught up in an armed robbery in her office at the Robinson Corporation in 1991. When criminal Vince McCann was sitting outside the pub and overheard Caroline mention to Paul that she was about to go and collect the takings from the safe in the office, he followed her in and pointed a gun at her, demanding that she hand over the money. She found herself being shot when her boss Paul walked in and attempted to tackle Vince, causing the gun to go off. Paul was knocked to the ground in the scuffle while Vince grabbed what he could of the money and ran. Luckily, Caroline suffered only a minor injury to her arm but clever Paul used the incident to his advantage by defrauding his insurance company and claiming the thief had got away with more money than he had. Unfortunately it backfired when Vince read about Paul's claims and started blackmailing him over it.

Brad Willis


When Bob Landers, the desperate escaped convict father of the late Todd, showed up on Ramsay Street for the final time in 1992, he was in an emotional state. Having just lost Todd, Bob arrived at No.30 to see Phoebe Bright, who was carrying Todd's child, and he held her at gunpoint while sending her guardian Dorothy Burke off to get him some cash to aid him in a life on the run. When neighbour Brad Willis learnt of the situation, he raced into No.30 to try and save Phoebe, but got shot. Luckily, there was no serious damage done and Bob was arrested by the police.

Michael Martin


During a stint in juvenile detention, Michael Martin found himself pitted against bad boy Darren Stark, who did his best to push Michael over the edge at every opportunity. When Darren was released, the first thing he did was seek out Michael's sister Debbie and claiming to be Michael's best mate from prison, started seeing her. Darren gradually led Debbie down a dangerous path, culminating in an armed robbery at a petrol station. But Debbie's ex-boyfriend Rick Alessi had caught wind of Darren's plan and after springing Michael from the detention centre, the two headed straight for the petrol station to prevent the robbery. But things got messy when they intervened and Darren pulled his gun on Michael, shooting him through the lung. Although Michael was in a critical condition initially, the bullet had gone straight through and he made a full recovery.

Lou Carpenter


When the Kennedy clan moved into Ramsay Street in 1994, they made an immediate impression on the neighbourhood when eldest son Malcolm started playing around with a shotgun in the garage, hoping to impress classmates Danni Stark and Rupert Sprod following a debate on gun laws in their lesson earlier that day, and accidentally shot neighbour Lou Carpenter in the knee. While easygoing Lou accepted that it had all been an accident, his feisty partner Cheryl Stark didn't agree and she threatened the Kennedys with criminal charges. And to make matters worse, the new family found themselves plastered all over the local newspaper, the Erinsborough News with the headline 'Lawless teen in shooting scandal', a position they would find themselves in a few more times in the years that followed.

Cody Willis


Brad's younger sister Cody was living at No.30 in 1996 when the house was rocked by its third shooting. Unlike the previous occasions, there wasn't to be a happy outcome this time around. Cody and her flatmate Luke Handley had reluctantly agreed to let the police use No.30 as a base for a stakeout operation to catch some local drug dealers who had a stash hidden in a car they had sold to Mal Kennedy next door at the Kennedys. After two days, the drug dealers finally arrived on Ramsay Street, but a shootout broke out between them and the police which resulted in a shot being fired through the window of No.30, hitting Cody. Having been hit in the stomach, Cody was rushed to hospital for emergency surgery but tragically, after an initial recovery, suffered an embolism and died.

Katya Kinski


After a lengthy break from shootings, 2006 saw Erinsborough overcome with gun crime. First up was the aforementioned shooting of Paul Robinson by his psychopathic son Robert, and a few months later, Robert's ex-girlfriend Katya was in the firing line, although it was another of her dodgy ex's who pulled the trigger. Due to a drug problem in her past, Katya had committed robberies and car thefts, all egged on by Guy Sykes. As Katya moved on, qualified as a nurse and reunited with her estranged family, Guy continued down the same path and saw a chance to make some easy money by blackmailing Katya with a DVD of her breaking the law. Having finally had enough, Katya took the gun she kept for security and arranged to meet Guy, pretending to be about to hand over the money, but actually preparing to dispose of him for good. The plan backfired when he realised what she was doing, and a struggle ensued, during which Katya was shot in the stomach.

Toadfish Rebecchi


Loveable Toadie found himself shot in the back quite literally on Christmas Day 2006 when he was held hostage by Guy in No.32 with Steph Hoyland, baby Charlie, Katya and her little brother Zeke. After Guy took his eye off Toadie for a few seconds and threatened to shoot Zeke, Toadie used the opportunity to jump on him and knock him – and his gun – to the ground. Everyone scrambled to get out of the house while Toadie held Guy down, but when Toadie made his way out to the driveway, Guy shot him through the window and Toadie collapsed in Karl Kennedy's arms. He was rushed to hospital where he slipped into a coma, but eventually recovered and found love with Steph in the aftermath.