.
Features > Neighbours at the Logies 2005
In a night that belonged to Network Ten, Neighbours was inducted into the Logies Hall of Fame at the 47th TV Week Logie Awards on Sunday May 1st, Australian television's biggest and most prestigious awards show. In a ceremony at Melbourne's Crown Palladium, the series was honoured with the special award to mark its twentieth anniversary. And in tribute, the cast took to the stage to perform a special musical number which featured elements of the theme tune as well as Ian Smith (Harold Bishop) rapping about the success of the show in Australia and overseas. There was further celebration as Natalie Blair, who plays Carmella Cammeniti on the show, picked up a Logie for Most Popular New Female Talent. Natalie had previously admitted that she had been hugely excited by merely being nominated for a Logie.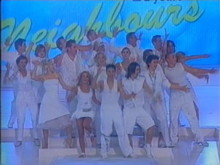 .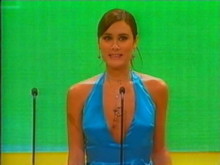 While Ben Nicholas (Stingray Timmins) failed to win the Most Popular New Male Talent award, there was a slight Neighbours connection, in that Home and Away's Chris Hemsworth – whose brother Luke Hemsworth played Nathan Tyson on Neighbours in 2001 – was the winner of the category. And in another Neighbours link, The O.C., which stars former Ramsay Street veteran Alan Dale (Jim Robinson), was chosen as Most Popular Overseas Programme.

Screen Captures Click on the thumbnail to see a full-sized image

Multimedia All video files are presented in Windows Media format. To download a file, right click, save target as... on the appropriate text hyperlink.
Natalie Blair on the red carpet
Kimberly Davies on the red carpet
Stephanie McIntosh on the red carpet
Madeleine West on the red carpet
Kimberley Davies presents the award for most popular Australian drama
Natalie Bassingthwaighte and Craig McLachlan present the award for most outstanding children's programme
Ben Nicholas loses out for the most popular new male talent award
Natalie Blair accepts her award for most popular new female talent
Natalie Bassingthwaighte and Craig McLachlan's "Grease" performance
The cast celebrate 20th years of Neighbours with a special song and dance number

Many Logies Ago...
Throughout the show's history, Neighbours and its stars have been the recipients of a number of coveted Australian Logie Awards, each voted for by readers of TV Week magazine. Here's a brief run-down:

1986: Most Popular New Talent - Peter O'Brien (Shane Ramsay)

1987: Most Popular Actor - Peter O'Brien (Shane Ramsay); Most Popular Actress - Kylie Minogue (Charlene Mitchell)

1988: Gold Logie, Most Popular Personality - Kylie Minogue; Most Popular Actor - Jason Donovan (Scott Robinson); Most Popular Actress - Kylie Minogue. Jason Donovan dedicated his award to the terminally ill Myra De Groot (Eileen Clarke), who attended the ceremony just six weeks before her death.

1989: Most Popular Actor - Craig McLachlan (Henry Ramsay); Most Popular Actress - Annie Jones (Jane Harris); Most Popular Drama Series - Neighbours

1990: Most Popular Personality - Craig McLachlan; Most Popular Actor - Craig McLachlan; Most Popular Actress: Rachel Friend (Bronwyn Davies); Most Popular Drama Series - Neighbours

1991: Most Popular Drama Series - Neighbours

1993: Gold Logie, Hall Of Fame - Reg Grundy (Grundy Television Founder)

1998: Most Popular Female New Talent - Brooke Satchwell (Anne Wilkinson)

1999: Most Popular Male New Talent - Daniel MacPherson (Joel Samuels)

2003: Most Popular Female New Talent - Delta Goodrem (Nina Tucker); Most Popular Male New Talent - Patrick Harvey (Connor O'Neill)

Screen captures and video encoding by Troy