.
Features > Neighbours at the Logies 2003
Sunday May 11th 2003 saw Neighbours stars Delta Goodrem (Nina Tucker) and Patrick Harvey (Connor O'Neill) win the female and male awards respectively for Most Popular New Talent at the 45th TV Week Logie Awards. Michelle Ang (Lori Lee) and Jay Bunyan (Jack Scully) were both nominated but missed out on the award. Past Ramsay Street resident Peter O'Brien (Shane Ramsay) scooped an award for Most Outstanding Actor in a Drama Series for his role in the primetime drama White Collar Blue.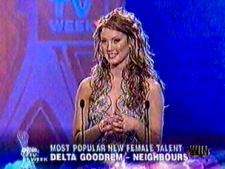 .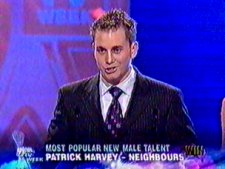 In her acceptance speech, Goodrem thanked the production team, as well as other members from the cast and crew. She said, "Thank you so much for giving me this award. It's such a special moment for me." She went on to say, "whatever your dreams may be, it can happen."
Harvey said he was honoured to be accepted into the Australia television industry as a foreigner. He thanked casting director Jan Russ who "finally took notice of him after the fourth audition".
Later in the night, Goodrem sang her hit singles Lost Without You and Born To Try in front of Australia's leading television celebrities.

Multimedia
Delta Goodrem accepts her award Realvideo 2950kb
Patrick Harvey accepts his award Realvideo 1830kb

Many Logies Ago...
Throughout the show's history, Neighbours and its stars have been the recipients of a number of coveted Australian Logie Awards, each voted for by readers of TV Week magazine. Here's a brief run-down:
1986: Most Popular New Talent - Peter O'Brien
1987: Most Popular Actor - Peter O'Brien; Most Popular Actress - Kylie Minogue (Charlene Mitchell)
1988: Gold Logie, Most Popular Personality - Kylie Minogue; Most Popular Actor - Jason Donovan (Scott Robinson); Most Popular Actress - Kylie Minogue. Jason Donovan dedicated his award to the terminally ill Myra De Groot (Eileen Clarke), who attended the ceremony just six weeks before her death.
1989: Most Popular Actor - Craig McLachlan (Henry Ramsay); Most Popular Actress - Annie Jones (Jane Harris); Most Popular Drama Series - Neighbours
1990: Most Popular Personality - Craig McLachlan; Most Popular Actor - Craig McLachlan; Most Popular Actress: Rachel Friend (Bronwyn Davies); Most Popular Drama Series - Neighbours
1991: Most Popular Drama Series - Neighbours
1993: Gold Logie, Hall Of Fame - Reg Grundy (Grundy Television Founder)
1998: Most Popular New Talent - Brooke Satchwell (Anne Wilkinson)
1999: Most Popular New Talent - Daniel MacPherson (Joel Samuels)
Story by Aaron and Karl. Screen captures and video encoding by Colin Angelino