.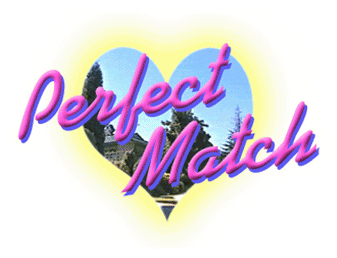 Features > Perfect Match By Steve
With Valentine's Day on Monday, we thought it would be a great time to look back on some of Neighbours' most famous love stories. Over the past twenty years, there have been many love affairs in Ramsay Street, and here, we look at some of the couples who really captured the viewers' imaginations…

Scott and Charlene


One of the first Neighbours couples to really grab the viewers' attention, Scott and Charlene first met when he caught her attempting to break in to the Ramsay house. It wasn't long before they were a couple, and their huge popularity meant that the writers constantly threw obstacles at them. Problems with both of their families, as well as from several third parties, including Warren Murphy, Sue Parker and Steve Fisher, kept the fans hoping that their relationship would survive. Although they argued like cat and dog, and frequently split up over a small misunderstanding, their love for each other always pulled them back together. Scott and Charlene's 1987 wedding remains one of the most popular episodes of the show ever screened and, despite the fact that neither character has been seen since 1989, news still filters back to the street via Charlene's stepfather, Harold. It seems that, despite the odds, Scott and Charlene are still together, and have two children, Daniel and Madison.

Des and Daphne


Des and Daphne were Neighbours' first big 'will-they-won't-they' story. After meeting in the first episode, in which Daphne was the stripper at Des' buck's night, she moved in and they started to develop feelings for each other. After spending most of 1985 avoiding the possibility of romance, they finally kissed and, when the show returned in 1986, they were planning their wedding. This went spectacularly wrong when the bridal party was kidnapped by a bank robber, and Des, thinking he'd been jilted for a fourth time, called it all off. Before long, Daphne was engaged to Shane Ramsay and Des was being conned by his ex-girlfriend, Andrea. However, it wasn't long before their old feelings returned and, a few months later, they were married. At the end of 1986, Daphne announced her pregnancy and she gave birth to Jamie nine months later. It seemed like everything was perfect – until a tragic car crash left Daphne in a coma, as she returned from her father's funeral. Some weeks later, Daphne passed away, leaving Des to cope alone for a couple of years, before making a fresh start with a woman named Fiona. In 2003, viewers were able to revisit the Clarke family when a letter from Daphne to Jamie was found under the lino at number 28.

Madge and Harold


After going to school together in Queensland, Madge and Harold were reunited in Erinsborough, where she'd been living, when her children decided to contact him. Harold was in the area on business and, before long, they were picking up where they left off and engaged. They were married the following year and viewers loved the odd pairing of fussy Harold with forthright Madge. After three years of happy marriage, tragedy struck the Bishops when, after deciding to sell up and travel around the country, Harold was swept out to sea whilst standing on some rocks. Madge moved on, almost becoming engaged to another old flame, and Harold's rival, Lou Carpenter, before deciding to return to Queensland. However, even death wasn't enough to keep them apart, as, in 1996, Harold was found working in a Salvation Army shop in Erinsborough, under the name of Ted, and it was explained that he'd suffered amnesia and had been living in Tasmania. Madge returned and the couple managed to pick up where they'd left off, renewing their wedding vows and moving back into number 24. After another few years of happiness, fate pulled them apart once more, when Madge tragically died of pancreatic cancer.

Paul and Gail


Paul Robinson and Gail Lewis first met when he worked as an air steward and she was his senior. She married Jeremy Lord and he married Terry Inglis, and that seemed to be the end of it. However, with Gail divorced, and Terry dead, Paul was shocked when Gail walked through his office door, applying for the job of Lassiter's events organiser. It wasn't long before she was promoted to being Paul's number two, and their feelings seemed to be growing beyond business and friendship. However, as they'd both been so badly hurt in the past, neither was prepared to admit it. When Paul realised that some lucrative Japanese clients prepared to deal with family businesses, he suggested that he and Gail get married for convenience. Soon afterwards, they realised that they were in love and renewed their vows. Problems weren't far away, as they struggled to conceive, turning to IVF for help. As Gail found out that she was expecting triplets, she realised that Paul was becoming obsessed with work. The final straw came when he left her father's wake early to return to the office, and she walked out on him.

Brad and Beth


Over the course of two years, Brad Willis and Beth Brennan met, fell in and out of love several times, got accidentally engaged and had three weddings. They only really got together when his girlfriend, Lucy Robinson, left the country and even then, it was quite difficult to tell how long it would last. Beth lost her virginity to Brad and later mistakenly thought he was proposing, when in fact it was simply a friendship ring. Brad decided to continue with plans for the wedding anyway, but his doubts soon began to surface and he ended up having an affair with Lou's newly-arrived daughter, Lauren. It wasn't until the wedding day that Beth finally twigged that her best friend and her fiance had been sleeping together. Brad tried to have a relationship with Lauren, while Beth moved on to Philip Martin, who'd recently split up with his wife, Julie. It seemed that Brad and Beth were destined to be together and, before long, they were reunited and the wedding plans were back on. This time, interfering family members got in the way and the couple decided to have a quick wedding before disappearing to Perth, where Beth had found work. However, their families managed to track them down as they were on the coach and convinced them to return home and be married. They didn't let on about their wedding earlier that day, in the registry office, and they finally left Ramsay Street for good after their third wedding.

Lou and Cheryl


Never the most conventional of couples, it took quite a long time before Lou Carpenter realised he had feelings for Cheryl Stark, who had been pursuing him for months. But when she made a very public marriage proposal and he admitted he didn't want to marry her, she left town. Cheryl returned a few months later, bought number 22 and set about showing Lou that she'd moved on. But Lou and Cheryl soon found themselves back in each other's arms, and Cheryl discovered she was pregnant. The birth of Louise cemented their relationship, but they opted not to get married. They were soon surrounded by various members of Cheryl's family, and Lou became mayor of Erinsborough. Things were fine for most of 1994 and 1995, although the odd long-lost child/wife of Lou's turned up occasionally to put the cat among the pigeons. In 1996, things began to fall apart when Cheryl went to South America to help her son Brett, who was being accused of drug trafficking. Cheryl ended up being taken hostage by rebels in Ecuador, returning a month later, a changed woman. She admitted that she'd found comfort with fellow hostage, Charles, and became estranged from Lou, who opted to leave town. A few months later, Cheryl was knocked down by a car and killed, with Lou returning in time for the wake. A few years later, it was revealed that Louise had been the product of an affair Cheryl had had, leaving Lou questioning exactly how happy his time with her had really been.

Philip and Julie


Philip and Julie's romance dated all the way back to the first few months of the show, when vindictive Julie Robinson met her new boss at the bank, Philip Martin. He was married to the obsessive Loretta back then, but before long, she died in a car accident, which left Philip paralysed, and Julie left town with him. Seven years later, they were back, not only played by different actors, but Phil had regained the use of his legs. For two years, they then had one of the most volatile marriages Ramsay Street had ever seen. Her interfering nature often proved difficult for Philip to cope with, but when she found out that she had been the product of a rape, it almost proved too much for the marriage. Although they split up for a while, they managed to work things out and were happy for a while, until it all started to fall apart again. This time, it looked like it was curtains for them, but fate stepped in and made the final decision when Julie fell from a tower while drunk on a murder mystery weekend. She later died in hospital and although Philip had a few more relationships afterwards, Julie was never far from his mind.

Anne and Billy


Anne Wilkinson and Billy Kennedy were the first young couple to really capture the viewers' imaginations in a few years. Anne moved to Ramsay Street to live with her mother, Ruth, and she and Billy were soon trying, and failing, to get together. When they eventually did become a couple, the happy periods didn't last for too long, before they'd split up over something ridiculous. By the end of 1997, it seemed that they'd been beaten by their biggest threat yet, Caitlin Atkins, who shared a kiss with Billy, witnessed by Anne. Fortunately, they got back together once again, but the next big problem came at the end of 1998, when they slept together for the first time. Anne overheard Billy playing down the incident, so she sped off in the car and nearly killed Joel Samuels in the process. 1999 saw the relationship fall apart once again, as Billy struggled to cope with his jealousy of Anne's new friends as she began university and got a waitressing job. They were reunited at the Millennium street party at the end of the year and, before long, Billy was being offered an apprenticeship by carpenter Greg Mast. This involved moving up to Queensland, and being apart from Anne. However, as most Neighbours fans had come to realise, this was one couple that it was impossible to keep apart and so, a month later, Anne surprised Billy by transferring to Dawber University and they had a romantic reunion.

Karl and Susan


When they first arrived in Ramsay Street, back in 1994, Karl and Susan Kennedy had a very strong marriage. Ten years later, they're divorced. That's what living in Erinsborough will do for you. Having moved from the country, the Kennedys were making a fresh start and, for a few years, things were fine. Apart from when Karl kissed a patient, but that came to nothing in the end. However, when he kissed his secretary a couple of years later, it proved to be the biggest challenge the marriage had seen. Karl spent many months battling his feelings for Sarah Beaumont and when Susan found out, it looked like it would be the end. However, she agreed to take him back and, after some counselling, they seemed to be stronger than ever. Their next big test came when Susan slipped in the kitchen, banged her head and suffered retrograde amnesia. Unable to remember why she'd ever loved Karl, she filed for divorce, but, a last-minute change of heart led to them renewing their vows. Once again, everything went back to normal… enter Izzy Hoyland. As Karl battled with alcoholism, Izzy wormed her way in as his new confidante and he realised that he no longer loved his wife of nearly thirty years. Divorce followed, and the pair managed to move on. Susan had a brief affair with a priest before declaring, with a new air of dignity about her, that she no longer needed a man in her life. Karl, meanwhile, became involved with Izzy, who fell pregnant to another man, but claimed it was Karl's. The old friendship and feelings still rear their head from time to time, but it's going to take a lot for Susan to take Karl back.

Libby and Darren/Drew


Having survived ten years in Ramsay Street, Libby Kennedy was lucky enough to have two men in her life who could be considered her 'perfect match'. She met her first true love, Darren, back in 1996 and the couple experienced many ups and downs, particularly from her father, who disapproved of Libby getting involved with a reformed criminal. After cheating on Libby more than once, the relationship ended badly, with Darren opting to leave town altogether. Soon after he left, Drew Kirk arrived on the street. He soon fell madly in love with Libby, but it was a long time before she realised it, or even reciprocated his feelings. After two marriage proposals, she finally accepted and they were married in early 2001, with their baby, Ben, arriving at the end of the year. Six months later, Drew tragically died in a riding accident, leaving Libby to cope alone for a couple of years. Just as she was wondering if she'd ever meet anyone again, Darren returned to town to win her back. It seemed like he'd failed when, following some local burglaries, Libby wondered if she could really trust him and he left Erinsborough once more. A few months later, he decided to give it another try and Libby packed up her belongings and left town to be with him.

Steph and Max


Another long 'will-they-won't-they' romance began when single father Max Hoyland moved into Ramsay Street. He'd walked out on his children following the sudden death of his wife and left them in the care of his mother, Rosie. It was clear from the start that he and neighbour Steph Scully were meant for each other, but it took a few months before he asked her out on a date. There were a few false starts and, whenever it looked like they were about to get together, something got in their way. However, it wasn't until Steph left Erinsborough to go travelling that she realised what she was missing and returned to Max's open arms. Everything was going reasonably well, until Steph was diagnosed with breast cancer and walked out on Max, unable to reveal what was really wrong. After this glitch, they got back together and finally ended up getting married, despite the problems they were experiencing with the issue of children – Steph wanted them, Max didn't. In the end, he agreed, but they found that they had problems conceiving and turned to IVF. Which is where we leave them now. But if past couplings are anything to go by, Max and Steph's lives won't be easy if they choose to remain on Ramsay Street.