.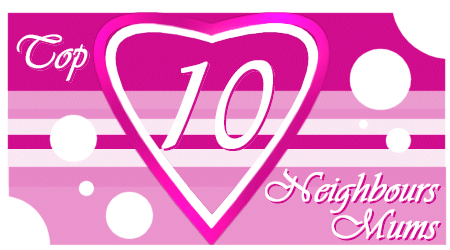 Features > Top Ten Neighbours Mums By Ryan
Neighbours has always been known as a family show, in terms of viewing and characters. With Mother's Day in the UK this weekend, what better time to look back at some of the most famous matriarchs to grace Ramsay Street? Here's our Top Ten…

1. Helen


Dear old Mrs D may be a controversial choice for the top spot, seeing as one of her daughters died before the show began and the other only popped up for a few weeks a year. But Helen was a mum in every sense it mattered to grandchildren Paul, Julie, Scott and Lucy, and later to Julie's daughters after her tragic death. In fact, Helen was like a mum to half of Ramsay Street at some point. When she sadly passed away in 1997, it was as if the street itself had lost its mother.

2. Susan


While the Kennedys raised a few eyebrows with their family meetings, it was soon clear what a great mum Susan was. Always ready to listen to her kids, she offered advice when it was needed, but never interfered, and always treated Mal, Libby and Bill like adults. She was also a great diplomatic influence when the kids clashed with stricter dad Karl. While her brood have now grown up, Susan is set to do it all again with a new set of stepchildren.

3. Madge


It's hard to believe now, but this legendary Ramsay Street mum didn't always have the best relationship with her kids. Given how unreliable their dad Fred was, Madge was perhaps over-strict with Henry and Charlene, and they rebelled big time. But Madge was a mum who learned from her mistakes. Although she never stood for nonsense, she learned to listen to her kids, and as a result, they developed a closeness many a parent would envy. When she later became foster mum to Paul and Tad, Madge had a softer approach – but the boys always knew not to mess with her.

4. Cheryl


Cheryl never had it easy with her kids – Danni constantly rebelled, while Brett felt smothered by his mother's love. But no one could deny Cheryl was always ready to fight for her children, and woe betide anyone who hurt them. Cheryl took son Darren back in after his time in jail, fought off daughter Janine's abusive boyfriend, and even got herself kidnapped saving Brett from drug dealers. Tragically, Cheryl's love for her kids cost her her life, when she died saving toddler Louise from an oncoming car.

5. Daphne


Daph deserves a special place on our list for being the first woman to give birth on Neighbours. Sadly fate stepped in and robbed her of her chance to bring baby Jamie up, but the short time she had with him was enough to show us she'd have done a great job. Daphne was also Ramsay Street's first 'modern mum', determined to combine running the coffee shop with raising her child.

6. Dorothy


Like her good friend Helen, Dorothy wasn't a mum in the conventional sense, but underneath her firm exterior, the Erinsborough High principal was a woman who could offer genuine love and support; first to niece and nephew Lochy and Ryan, and later as a surrogate mum to Phoebe and Toby. Dorothy taking Phoebe to get an abortion remains one of the show's most controversial yet touching moments.

7. Pam


Although youngest daughter Cody often gave Pam the run-around in her early years on the street, Pam was largely free from teen traumas due to her kids being that bit older. As such she was different to many Neighbours mums in that viewers got to see her relate to her children as adults. Although all four were very different, Pam formed close bonds with each of them. Pam also knew how to give as good as she got; who else would learn a teenager's secret language to find out what they were up to?

8. Ruth


Divorce is tough on kids, so Ruth could well have ended up with two tearaway teens on her hands. Yet Lance and Anne were probably two of the nicest, most well-adjusted kids ever to live on Ramsay Street, and much of that was down to the love and support of their mum. Ruth also formed a unique bond with Ben, the son she gave up for adoption, and dealt admirably with a difficult stepdaughter in Hannah Martin.

9. Lyn


Lyn hasn't always been the perfect mum, with a tendency to interfere at times – particularly when it comes to the complicated love lives of her children. Remember the tough time she gave Lori and Connor when they dared to fall for Scully kids? But like Madge, Lyn learnt from her mistakes, and if nothing else, there's always been plenty of love in the Scully household. With eldest daughter Steph expecting, we reckon Lyn will make the perfect doting gran.

10. Liljana


Considering how David Bishop spoilt his little princess Serena, it was up to Lil to try and bring her daughter into line. Although Serena felt let down by Lil's affair with Paul Robinson, she knew deep down how much she loved her. But possibly Lil's finest moment as a mum was when she gave her daughter's love rival Carmella the slap she so richly deserved.