.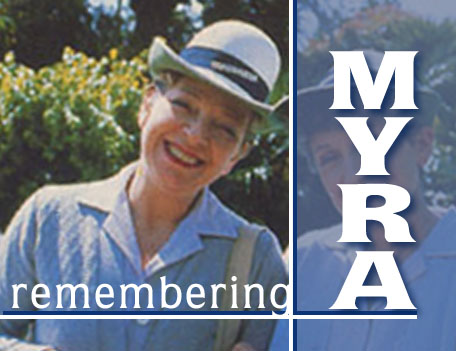 Features > Remembering Myra by Moe, Ryan, Rhys and Steve
Anne Haddy is remembered as a legend by Neighbours fans for her devotion to the show and the character of Helen Daniels in the face of her rapidly declining health, and rightly so. However, ten years earlier another actress showed the same dedication; an actress who deserves praise for both her battling spirit and her immense talent. On the 20th Anniversary of her death, join us as Perfect Blend pays tribute to Myra de Groot.
Joining the series in its twenty-first episode, Myra de Groot was only intended to appear as Des Clarke's meddling mum Eileen for a week. But it wasn't just Eileen who was used to getting her own way – the woman behind her could be pretty tenacious too. de Groot saw the potential in Eileen, and wrote up an expanded character outline for the producers. The rest is history; three years and a move of network later, Eileen and Myra were still a big part of the show.
Strictly speaking, Myra de Groot was never a full-time member of the Neighbours cast; after a career that included appearing in West Side Story on Broadway, she was keen to be able to combine the role of Eileen with theatre, and opted to appear only semi-regularly. In practice however, Eileen was very much part of Neighbours, and Myra would always appear in official cast pictures and other publicity material – not to mention working tirelessly to promote the series when it moved from Seven to Channel Ten in 1986.
Eileen is best remembered by many fans as a comedy character, and some of her finest funny moments are recalled later in this tribute. But this only made Eileen's more dramatic moments all the more memorable. In an interview with Perfect Blend, long-serving scriptwriter Ray Kolle recalled de Groot's improvisation of the scene where Eileen was jilted by her ex-husband Malcolm as they were due to remarry: 'We'd plotted it so that the character was tearful and devastated. Myra decided that Eileen's overwhelming feeling would be rage that this man had done it to her again… instead of simply bursting into tears of self-pity, Myra upturned a coffee table and flung it across the room. It was a shocking, but wonderfully dramatic moment that I have never forgotten'.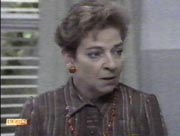 Soon after Eileen's traumatic jilting came another crisis for the Clarkes, when Des's beloved wife Daphne was left in a coma following a car crash, tragically dying some weeks later. These emotional storylines made it a busy time for de Groot, who was still managing to appear in musical theatre at night after filming difficult Neighbours scenes during the day. In the light of this gruelling schedule, she was not overly concerned initially when she began experiencing back pain. However, her symptoms steadily worsened, leading to the diagnosis of cancer in early 1988. Dedicated to the last, Myra made one final appearance as Eileen in the episode following Daphne's death, after which it was explained she had been admitted to hospital with a nervous breakdown. Eileen later accepted (off-screen) Malcolm's peace offering of a ticket to Europe, where she met a new man and remarried.
For viewers familiar with Eileen's fussing ways and old-fashioned dress sense, it was easy to assume de Groot was a pensioner too. In fact, Myra was a cruelly young 51 when she passed away on April 4th 1988; a vibrant woman who, in contrast to her buttoned-up character, made her final public appearance in sequins and a fur coat at the 1988 Logies, despite being confined to a wheelchair. When Jason Donovan won the Silver Logie for Most Popular Australian Actor that night, it was his much-loved co-star he dedicated the award to. Twenty years on, it's time for another tribute to this much-missed actress. We hope you enjoy it.

RUNNING - AND RUINING - THE COFFEE SHOP


After Des and Daphne got married while she was away on a cruise, Eileen was on hand to settle them into married life when they were forced to return early from their honeymoon after Des injured his back. And when she discovered her unit had been broken into while she was away, Eileen moved into the Clarke household while she waited on new furniture to arrive. Within days, Des and Daphne were being driven up the wall and they decided to head off and continue with their honeymoon - leaving Eileen in charge of the Coffee Shop and their 16-year-old ward, Mike Young. Aside from treating 'Michael' like a little boy while she was taking care of him, Eileen put her own stamp on the Coffee Shop - and alienated most of Daphne's customers by lecturing all the school kids who frequented the place at lunchtime and after school each day in manners. If she saw them slouching in their chairs, she was quick to straighten them up, and if she heard them listening to imappropriate music on the juke box, Eileen was pulling the plug and bestowing the virtues of the music she used to listen to in her day. Eventually, the school kids had enough and egged on by editor of the school newspaper, they boycotted the shop completely and when Daphne returned from her honeymoon, she was stunned to find ana rmy of protesting school kids outside the Coffee Shop waving placards. And when she tallied up the shockingly takings from her time away, Daphne flipped out and sent Eileen packing - from both the Coffee Shop and the Clarke household. But Eileen wasn't going to leave her beloved Desmond without a fight and she used the fact that she was still waiting on a cheque from the insurance company to refurbish her unit as an excuse to stay on a bit longer. However, she was exposed as telling fibs when Mrs Mangel blurted out that a delivery man with a van full of her brand new furniture was waiting for her outside - and a fuming Eileen had no option but to leave the newlyweds in peace... for a little while, at least.

POISONING THE NEIGHBOURHOOD


When Eileen decided to use up some leftover salmon and make a mousse to sell in the Coffee Shop, during another of her many stints running the business, she sold a few and gave the last few to Neddy, a stray cat who'd been hanging around the shop for days. When Neddy then turned up dead, and Mrs Mangel, who'd taken some of the mousse her for her and Len, was suddenly taken ill, Eileen started to panic that her mousse had caused an outbreak of food poisoning and she was going to destroy Daphne's business. Neddy was given an impromptu burial by Des in the grounds of Lassiter's, but the panic was over when it was revealed that Nell simply had a bout of appendicitis. Neddy was then dug up and a trip to the vet clinic revealed that the cat had died of natural causes. Eileen breathed a sigh of relief and moved on to cause chaos elsewhere.

SING-A-LONG WITH EILEEN


When Eileen decided to hold a 'Sing-a-Long With Eileen' concert for the senior citizens, she made plans to visit Clive for one of their singing lessons, hoping to get some tips of fine-tuning her dulcet tones for her big public performance. During her practice session at Clive's place, Onward Christian Soldiers, flat and off-key, echoed around Ramsay Street, but despite Clive's best efforts to be diplomatic, Eileen failed to take the hint and continued preparations for her concert. After roping in her good friend Leslie to play piano for her, she took to the stage at the community hall for a rehearsal, proceeding to deafen any of the local senior citizens whose hearing was still intact. Fortunately for all involved, Eileen's bag was snatched as she left the hall and, as she screamed at the thief, she lost her voice completely, forcing her to pull out of the concert. Indeed the singing lessons with Eileen proved to be one of the most memorable times on the Neighbours set for actor Geoff Paine, who played Clive, who ironically told us that "In fact, I can't play keyboards and Myra had a great voice" in a 2003 interview.

THE LASSITER'S VIDEO


When Gail Robinson decided to make a video of a day in the life at the Lassiter's Hotel Complex to sell the place to the American tourist market, Eileen proved to be a handful by involving herself in practically every aspect of the production. Thinking herself to be something of an expert in the field (her stints in the local musical society evidently being the only qualification neccessary), Eileen gave each staff member tips on how to conduct themselves in front of the camera. Further headaches were caused when Eileen took to 'accidentally' wandering into the backgrounds of all the shots. When this was pointed out to her, she argued she was merely adding authenticity to the film. The piece de resistance, however, was when it finally came for Eileen to appear for real, as one of the staff members at the Coffee Shop. Just as Gail yelled 'action', Eileen froze in terror - crippled with stage fright, she was unable to utter a single word.

EILEEN'S BREAKDOWN


After allowing herself to be taken in by her ex-husband Malcolm once again and agreeing to remarry him, Eileen was mortified when he jilted her on the wedding day and fled town. Humiliated in front of the entire community, Eileen retreated into a state of depression and spent her days moping around the Clarke household in her dressing gown. Des finally started to realise something was wrong when she flung her wedding cake, which Des had been trying to discreetly remove from the house along with all of the unopened wedding presents, onto the floor, smashed it to pieces, and sobbed in her son's arms. In some of Myra's finest moments on Neighbours, Eileen broke down as she talked of how Malcolm had disposed of her as some old shoe and screamed that he had no right to put her through this. The emotional ordeal took its toll on Eileen and although she came through the other side, the tragic death of Daphne in a car crash resulted in a relapse and she was sent into a rest home before leaving Erinsborough for a new life in Europe. This final arc in Eileen's most dramatic storyline in her three and half years on Neighbours was neccessatated by Mrya's ill health and subsequent death, which sadly deprived the great Eileen of an on-screen send-off.

Myra was an exceptional person, she was loud and brash with a heart of gold. I first met her in New Zealand, where we did a play together while I was living over there, and from that time we became friends - she was such a talented performer/artist. We worked together on a few other shows after that, before I time on Neighbours. She could sing "Send in the Clowns" and ask the Director when he wanted the tear drop to fall! She loved her time on Neighbours as the role she played she brought so much fun to it, how can you forget the bowling ladies, Myra, Anne Charleston (who she was great friends with, on and off screen) and Vivean with the driving lesson and backing into the fire hydrant with water spurting everywhere!!
Myra had thoughts of being an opera singer - but then she took up smoking and that was the end of that ambition! Her credits would literally fill a book! On a whim she travelled to the US where she also worked successfully in TV and theatre - playing the receptionist in Bewitched where she met her husband Patrick, and they were married in LA, she had two children to him. In 1983 Myra and her family moved to Australia (they had been in NZ also where she was working in film, tv and theatre for a few years, and where I first met her). She travelled to Bali many times... loved it... she found some peace there.
Myra's dedication and love of her craft that she happily passed onto young performers was extraordinary - with the inevitable cigarette (that never seemed to leave her hand) she would hold court surrounded by actors hanging off her every word, with that husky voice, racking cough, loud laugh and the many expletives that would "pepper" the conversation at very regular intervals - were so much of this energetic and vibrant woman who lived and loved life to the very fullest, whether with her commitment to her family or with her amazing theatrical performances.
I remember Myra coming to myself and the Producer of the show at the time (Marie Trevor) telling us that she had the cancer and they had only given her 3 months… we had to start writing her out immediately as she was to go into hospital straight away.
When Myra was in Peter Macullum hospital dying, The media climbed up the fire escape and sneaked into her room, to try and find out just how sick she was (this distressed her immensely).
She was such a constant support and mentor to the younger cast - and that night at the Logies when Myra was allowed out of the hospital when she was dying of cancer to attend, and Jason Donovan on winning his Logie dedicated it to Myra that night. She loved playing Eileen and would always be on the "look out" for any outrageous outfits or jewellery for her character to wear, she was also a very private person, and would never talk much about her past life - I think there were a lot of big secrets out there, we will never know about her.

I first saw Myra in the Sydney production of Torch Song Trilogy and I was delighted when she was available to play Eileen in Neighbours. She had a ball with the character and made life hell for poor old Des and many of the Ramsay Street residents. We were all shocked when she announced her illness and missed her very much when she died. She was a fun person but a serious actress, and I can't believe it was twenty years ago that she left us.

Publicity photographs and headshots from Myra's career. Click on any picture to enlarge.