.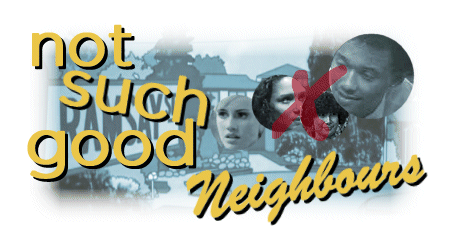 Features > Not Such Good Neighbours by Ryan
Not every neighbour becomes a good friend... we take a look at the Ramsay Street residents that didn't quite make the impact planned.

Joanna Hartman


When Kimberley Davies became the biggest star in Neighbours in the mid nineties, producers decided two beautiful blondes were better than one and created a long-lost sister for her character Annalise. However, neither the character of Jo Hartman or actress Emma Harrison had any of the charm of Annalise/Kimberley, and proved unpopular with viewers. When Cody Willis described Jo as 'inane, vacuous and a waste of space', many fans cheered in agreement. In a desperate attempt to make her interesting, Jo was married off in a lavish wedding ceremony, but by not making her husband Rob a cast regular, producers only further isolated the character. Jo and Rob were promptly dispatched to London, but she received a surprise reprieve, only to leave once and for all just months later, never to be heard of again. Even her own sister didn't ask her to be in her documentary...

Lisa Elliot


Kate Straub was cast as nervous young teacher Lisa Elliot after being spotted in the audience of a television show. Unfortunately, it seems no one bothered to check if her acting talent matched her looks. Granted, the character was introduced in a transitional period for Neighbours, and was hardly given earth-shattering storylines, but Lisa still stood out as the worst of a bad bunch. Just six months after arriving, Lisa resigned from her job at Erinsborough High after it was revealed she didn't even read her students' work, and disappeared off to Tasmania. When former housemates Ben and Sarah noticed the dumb skinny blonde in the corner that didn't say much was actually a mop, they realised Lisa had left.

Eddie Buckingham


'Blesh moi soul, it's Murry Poppins!' No, Dick Van Dyke didn't move into Ramsay Street, but he'd have been preferable to insufferable 'chirpy Cockney chappie' Eddie. Eddie was a souvenir of Madge and Harold's trip to London, but soon both they, and the viewers, were wishing they'd gone for a St. Paul's cathedral snow globe instead. After a few months on the street that included a particularly painful stand-up routine in The Waterhole, Eddie was given that most ignominious of soap exits and left to care for a sick relative, leaving only his muffin recipe behind for the Bishops to remember him by.

Nick and Caitlin Atkins


Ben Atkins' bratty little sister was a champion swimmer, but should have won a medal for being irritating. Breaking up Ramsay Street's golden couple Billy and Anne was never going to endear Caitlin to viewers, but if the character had come in, caused trouble and moved on, it might have worked. Instead Caitlin hung around for months being generally obnoxious, as viewers willed her to drown in an Olympic-size pool somewhere. Things only got worse when her brother Nick, who managed to be both irritating and dull, came along. When they were eventually sent back to live with their mother – who must have done something awful in a previous life – Caitlin painted 'never forget Cait and Nick!' on the street. By the end credits, we already had.

Lauren Carpenter


Her entrance as the mysterious blonde on the horse was great. Her first big storyline – the famous love triangle with Brad Willis and Beth Brennan – ensured she made an impact. But that was were it all went wrong. Viewers couldn't accept that Brad would cheat on sweet, beautiful Beth with whiny, spoilt Lauren, obviously over-indulged by dad Lou to make up for the absence of her mother. Brad and Lauren's relationship petered out, and after a tedious religious cult storyline and a damp squib of a romance with Wayne Duncan, Lauren got back on her horse and rode out of Ramsay Street.

The Lim family


After it was pointed out that Ramsay Street was the least ethnically diverse cul-de-sac on the planet, Neighbours producers came up with Chinese family The Lims. So, just how do you tackle the sensitive issue of racial diversity in late 20th Century Australia? You have Julie Martin accuse the Chinese family of eating her daughter's dog of course – not to mention liberal Wayne Duncan suddenly becoming a dyed in the wool, 'they come 'ere and take our jobs' racist. Poor plots and even poorer acting made the Lim family one of the biggest embarrassments in the show's history. Within six weeks they'd packed up and moved to Eden Hills, to be missed by absolutely nobody on or off screen.

So that's when good neighbours become good... for nothing. Still, look at it this way; maybe the occasional Sally Upton or Claire Girard can make us appreciate the likes of The Robinsons, Madge and Harold and Karl and Susan even more.