.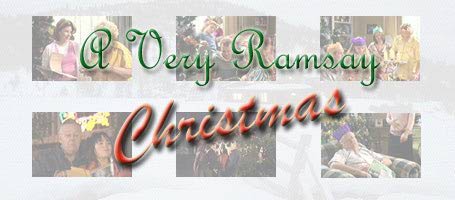 Features > A Very Ramsay Christmas by Steve and Moe
Traditionally, in Australia, Neighbours is taken off air for several weeks in December and January, as the summer non-ratings period begins. This means that the show isn't screened on Christmas Day, but the writers have still found plenty of sneaky ways to bring the festive season to Ramsay Streey a month early. In more recent years, the show has run right up into the first couple of weeks of December, meaning that only a little time travel is necessary for the residents to be shown tucking into their turkey. Christmas was shown all but one of the years from 1986 until 1991, but then things died down a little. Christmas Day was shown for the first time in 1991, then not again until 1996, with everyone gathering for a barbie at number 24. In 1999, Christmas was skipped completely and never mentioned, although everyone gathered for a street party to celebrate the Millennium. Then, in 2003, Christmas returned to Erinsborough with a bang, as the residents went to town with light displays, and has, so far, been shown every year since. Here's a look back at what went on when the Neighbours celebrated Christmas…

1986


The first time Christmas was celebrated by the folks of Ramsay Street began as a rather understated affair. Christmas was building up, but a feud between the Ramsay and Robinson families got out-of-hand. When Mike and Shane started fighting over Jane Harris, it developed into a fight between the two families, and it was decided that it should be resolved in a boxing ring. The hall was decked in Christmas decorations (even though the episodes were shown in November) with the excuse that it was being used afterwards for a children's party. At the beginning of the boxing match, referee Clive was knocked out and, presumably due to being surrounded by tinsel and baubles, he had a dream that all of the Ramsay Street residents were pantomime characters. The dream included Clive as Santa, Mike and Shane as Tweedle Dum and Tweedle Dee, and Jane as the angel on top of the Christmas tree, who they were fighting over. Meanwhile, as Clive and Paul were involved in a love triangle with Susan, Paul appeared halfway through the dream (complete with black cloak and handlebar moustache) and stole Susan away from Santa. By the time Clive woke up, some festive cheer had reached the feuding locals, and they managed to resolve their differences, with youngest Robinson, Lucy, holding the hand of oldest Ramsay, Dan, as they left the hall.

1987


The second featured Christmas on Neighbours was a wonderful celebratory affair. In an only-in-Neighbours-land episode, the residents of Ramsay Street gathered in a festively decorated Waterhole to mark the holiday season and the engagement of Jim Robinson and Beverly Marshall. Almost all the cast were present, with the notable exceptions being Charlene and Jane, as all sorts of festive fun and frolics occurred. Amidst all the hijinks which included Harold kissing Mrs. Mangel under the mistletoe, was the more serious business of Gail and Paul's marriage breaking up. Luckily, Scott managed to persuade the two that they belonged together just as Gail was about to leave for the airport and a job with Rosemary in America. The Waterhole band then finished off the holiday period as the credits rolled and everyone kicked up their heels and dosey-doed around the pub.

1988


Since newcomers Todd and Katie Landers were going to be spending Christmas at home in Adelaide, the residents decided to have an early Christmas to show the youngsters how Ramsay Street liked to celebrate. Celebrations around Lassiter's also got underway, but Harold had to pull out of playing Santa at the last minute, when he hurt his back moving furniture. Aunt Edie stepped in as a last-minute replacement, but Joe was unaware, and when he took Toby to visit Santa, he decided to wind up "Harold" by tickling his tummy and sitting on his knee. Later on, everyone gathered at number 26, where a few awkward glances were shared between Edie and Joe, whilst a couple of other friendships were repaired. After an incident involving Toby eating garlic before kissing Katie in a school play, she had punched him and the pair hadn't spoken, while a fight over Nick had led to Sharon pushing Lucy in the pond at Lassiter's. They all managed to make up, while Toby admitted to Joe that he didn't want to go back to Noelene's after Christmas. The day ended on a very happy note when Sharon arrived with Bouncer pulling a sleigh full of presents for everyone. To top it all, Jane and Mark announced their engagement, and everyone sang 'We Wish You A Merry Christmas'.

1989


Although it was a month early, the residents decided to celebrate anyway, as so many of them would be going off to other places for the actual festivities. Many of the residents had good cause to celebrate, as Hilary found romance with school principal Mr Muir and Madge and Harold won the lotto. Things weren't quite so jolly for poor Beverly though, as she found herself being blackmailed. Having been looking after baby Rhys, his young parents Adam and Debra saw an opportunity to make some money when they realised how desperate Bev was to keep the child. By the end of the episode, everyone was gathered at number 24 to sing some Christmas carols, but Bev turned up late, and it was clear that she was in no mood for celebrating.

1991


An action packed Christmas for the Robinson family both in Erinsborough and up north in Queensland. While the Robinson's Christmas Day lunch was tragically interrupted by a nasty accident in which Glen fell off the roof of Lassiter's Hotel while fixing a Christmas banner with Todd, Lucy looked like she was headed for peril up in Surfer's Paradise when a strange man appeared in the holiday home she was spending the holidays in with Brad Willis and Josh Anderson. There was some Christmas joy for one neighbour, however, when a lonely Toby Mangel received a surprise visit from his step-grandma Madge, as well as a nifty new computer from Joe and Melanie.

1996


After a few years break, Christmas returned to Ramsay Street in a big way. The whole cast featured in the final episode of the year as all the Ramsay Street residents gathered at the Bishop house for Christmas Day lunch. After months of tension, Philip Martin and Ruth Wilkinson finally gave into the attraction they so blatantly held for each other and kissed while fetching some food supplies from the Robinson house. Love also looked set to blossom between Billy Kennedy and Anne Wilkinson after Lance and Toadie sent each of them Christmas presents from the other. Meanwhile, Karl was delivered a massive headache when he searched frantically for a turkey at the last minute and could only get his hands on a live one, which Toadie christened Murray. And old rivals Harold and Lou donned their Santa Claus outfits and battled it out for the honour of playing the Christmas Day St. Nick, and the affections of Madge.

2003


After another break of several years, Christmas hit Ramsay Street once again. The street was kitted out in spectacular lights, as newcomer David Bishop encouraged everyone to get involved. Things went well for various residents, as Harold spent the first year with his estranged son and family, while Lyn spent the day with her newly-found mother Valda. Steph also celebrated recovering from breast cancer with her new man Max Hoyland and his family. Elsewhere, Karl wasn't such a happy bunny as his marriage crumbled around him and Susan left to spend Christmas with the family in Adelaide. Boxing Day was even more eventful, as the residents gathered as Her Majesty's Theatre for the wedding of Lou Carpenter and Trixie Tucker. However, the day took an unpleasant turn when Harold suffered a stroke and collapsed in the car park.

2004


The following year, Boxing Day saw another wedding. This time, Karl was about to marry his girlfriend, Izzy Hoyland, proving what a busy year he'd had, as the previous Christmas had seen the beginnings of his marital problems with Susan. Unfortunately, the wedding didn't go ahead as Izzy did a runner, only to return and patch things up with Karl a few hours later. The day proved to be one of the busiest in Erinsborough's history, as Jack Scully also left for America on that day. The drama continued at the Scully house when Lyn's father, Charlie, passed away with Steph by his side. As Steph adjusted his pillows, Charlie's son, Michael, walked in with Lyn and Steph suddenly found herself accused of murder. The biggest shocks of the day came that evening, as fires were deliberately lit and the pub and Coffee Shop, leaving Max, Sindi and Stuart all injured. As the crowd gathered to see what damage had been done, an old, familiar face appeared - Paul Robinson...

2005


After a year that had seen death, destruction and a plane crash, the residents were relieved to celebrate a trouble-free Christmas. The Timmins boys were released from prison to celebrate with their family, Lou dressed up as Santa and Boyd found out that he'd got good enough grades to go to medical school. And with the grieving Kinski family packed off to Shepparton, even a power outage couldn't dampen spirits. Paul and Izzy finally managed to get on the good side of their neighbours by providing a free Christmas lunch in a function room at Lassiter's. Only Harold was looking on the negative side, as he grieved for his family and shot a few evil glances in Paul's direction...

2006


It was another year of high drama on Ramsay Street, topped off with a Christmas Day that ended with a favourite character fighting for their life. The day started well, with most of the residents enjoying Christmas with their family and friends, before heading out onto the street for a barbecue and cricket match, organised by Janelle, who then went on to make a speech about the past year and her hopes that they all might be able to get along in the new year. As the residents gathered, Katya Kinski was watched from afar by her former criminal accomplice Guy Sykes, who believed that she had been stealing cars for him and still owed him $10,000. As the party ended, Katya headed over to 32 Ramsay Street to visit her ex-boyfriend Ned, but found only Steph, her baby Charlie and friend Toadie there. They were soon joined by Guy, brandishing a gun and demanding his money and, when Katya's younger brother, Zeke, turned up, he was quickly pulled into the siege, which ended with Toadie being shot in the back and left a big cliffhanger to kick off 2007.

2007


2007 saw several neighbours come and go, but as Christmas arrived, old faces and new pulled together to put up the traditional Christmas lights. And as journalist Riley Parker wrote a story on Harold's annual light display, war broke out as Rosie Cammeniti and newcomer Rebecca Napier set about organising everything so their efforts were also up to scratch. Pleased to see some festive cheer in the street, Harold even allowed Rebecca to make the annual speech, and she thanked everyone for making her and her son, Declan, so welcome, before the houses, complete with glowing santas and kangaroos, were illuminated. Sadly the good mood wasn't to last long, as the year ended in tragedy when several Ramsay Street youngsters were trapped in a roof collapse at an illegal rave.

2008


2008 was a slightly less tumultuous year than 2007, but the neighbours all still enjoyed the excuse to band together and switch on the Christmas lights. Aspiring singer Ty Harper's song It's Christmas featured heavily in the festivities, whilst cynical young Callum Jones finally got to experience a magical Christmas, as, on Christmas Eve, several residents were gathered in the street and witnessed a mysterious light show in the sky. Christmas Day saw each household celebrate in their own way - the Parkers and Kennedy-Kinskis gathered for family lunches, whilst Paul took daughter Elle, their lodger Donna and the girls' boyfriends out for a slap-up meal. Elsewhere, Harold, suffering from cancer and in the middle of chemotherapy treatment, found himself invited to everyone's houses for lunch. Having struggled through the meal, he took his frustrations out on his friends as they gathered to unveil the new name of the General Store - Harold's. As Harold then joined Lou and the Parkers for a game of cricket, the drama for the day came as Susan confronted Samantha about her interference in Libby and Dan's relationship.

2009


2009 had its fair share of drama, with the death of newlywed, and new mum, Bridget Parker, and a dramatic comeback for Lyn Scully in the midst of Paul and Rebecca's wedding. The build-up to Christmas this year saw Lyn and Rebecca competing with their respective businesses, Harold's Store and Charlie's, to see who had the most Christmas spirit, with Lyn as the ultimate winner. But it was Rebecca who got the last laugh, when Paul surprised her with a wedding ceremony and a celebrant dressed as Santa, making up for the first one, which had been gatecrashed by Lyn with the news that she and Paul were still married. After watching the wedding go ahead this time, Lyn later admitted to Susan that she was still in love with Paul. Other dramas occurring during Erinsborough's festive season included a drunken one-night stand between Steph and Dan - her best friend's husband - before he finally left town for good, kickstarting some big stories for Steph, which would see her in prison before the end of 2010. Donna was also cheating, when she kissed mystery man Andrew during schoolies week, only for him to turn up during Paul's wedding, with the announcement that he was Paul's son.

2010


The residents of Ramsay Street had only just moved on from the dramatic exits of Ringo and Steph, so nobody was in much of a mood for celebrating in 2010. There was more competition as Karl and Susan competed to be crowned Citizen of the Year - with last-minute entrant Lou ending up as winner. Elsewhere, Sonya's younger sister Jade burst into town, with Sonya worried that her big secret - that she was really Callum's mum - was about to be revealed. Donna was also in for a shock, when she found out that she'd been accepted into a prestigious fashion school in New York, and found out that Ringo had sent in the application for her, before his death a couple of months earlier. At 26 Ramsay Street, the Christmas lights had only just gone up, when Lyn noticed that some of them were faulty - but, desperate to find a way to pay for an appeal for her imprisoned daughter Steph, she considered burning down the house in an insurance job, but changed her mind at the last minute. Unfortunately, Lyn's step-granddaughter Summer found the faulty lights hidden away and put them back up. And as Summer's love triangle with Andrew and Tash was heating up, so was the Scully house, as a fire broke out. Summer and Andrew had fallen asleep after a secret rendezvous in her bedroom, and Tash came looking for them - noticing the smoke, she went in, unaware that her boyfriend and best friend were in bed together inside the house. As the fire raged out of control, Tash's father Michael rushed in to help - and those left outside were in for a huge shock when the roof at the back of the house collapsed, leaving the fates of Michael, Tash, Andrew and Summer unknown...

2011


As with 2009 and 2010, we saw the Ramsay Street residents once again preparing for Christmas in 2011, but not the big day itself. There was another big secret in danger of being exposed this year - Michael Williams finally told his daughter Tash that her mother Helena had drowned whilst trying to save her, though he failed to mention that, at the time, he'd been in his van, cheating on Helena with her sister, Emilia. There were happier times for Jade and Kyle, as she made plans to leave town and he raced into the city to stop her bus from going. After thinking that he'd missed her, Kyle was in for a surprise when Jade walked up to him, having decided not to leave after all, and they shared a kiss, with the backdrop of a brass band playing Christmas carols on Federation Square. After a difficult year, Susan and Karl's marriage seemed like it was over, but they found themselves with time to talk things through when she became trapped in a storage shed. With Karl struggling to move on from his married life, he was left shocked when Susan announced that she was going to make things easier for him by moving out. After an equally difficult year, things were a lot better for Toadie and Sonya, who came together as a family with Callum and Jade, to celebrate Christmas and both ended up dressed as Santa at the Charlie's Christmas party. The big drama came when Chris Pappas suddenly collapsed - after being attacked a few days earlier, X-rays showed that he had a cracked rib, which could puncture his lung at any moment - and Rhys Lawson faced a race against time to find him and save his life...

2012


2012 was another year when we saw the dramatic build-up to Christmas Day, though never made it as far as seeing the residents celebrating. The housemates at number 26 did, however, have an early Christmas dinner, so that they could celebrate together before going to visit their families for the festive season. The event brought more flirting between Kyle and Georgia, which was brought to an abrupt halt when Georgia's boyfriend Scotty turned up. There were love dramas next-door at number 28 too, as Susan's sister Carmel set her sights on her ex-brother-in-law Karl, whilst across the street, there was tension between the Robinson and Kapoor families, as the fallout from Paul and Priya's affair continued. As both Vanessa and Sonya went into labour, the big end-of-year cliffhanger arrived, as Vanessa gave birth and, caught up in the emotion, accepted a marriage from proposal from ex-boyfriend Rhys Lawson, witness by Lucas, the baby's father, who'd been secretly in love with Vanessa for months. Sonya's labour was a little slower, but no less dramatic, as she suddenly had to be rushed to hospital, with both her life and that of the baby in danger...