.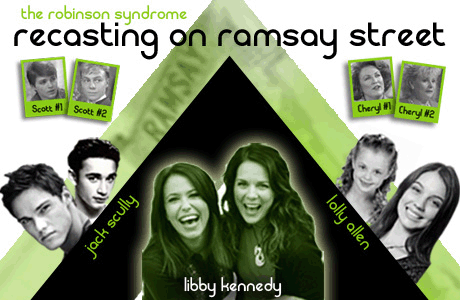 Features > Robinson Syndrome - Re-casting on Ramsay Street by Steve and Moe

Occasionally in long-running soap operas, a character is so essential to a storyline or family that re-casting the role is the more viable option when an actor decides to leave. Neighbours has been no exception. Over the years, both central and more peripheral characters have been recast and here, we take a look at the phenomenon that at times, could almost be dubbed, 'Robinson Syndrome'...

When Neighbours was cancelled by the Seven Network in 1985 after only 170 episodes and picked up by Channel Ten, it gave producers an opportunity to re-cast the role of Scott Robinson. Darius Perkins had proved to be a problematic actor, and it was decided that it would be best for all concerned if Scott was played by a different actor when it returned on Channel Ten. The part went to Jason Donovan, who had previously auditioned for the role of Danny Ramsay in the original series. In order for the changeover to be less noticeable for viewers, Scott wasn't immediately seen on screen when Neighbours began on Channel Ten, and by the time he finally did turn up - in a hospital bed after going missing on a school trip - Darius Perkins had been forgotten. Indeed, Jason Donovan - and Scott - went on to become so successful and beloved by viewers in the late 1980s, it was hard to imagine the character being played by anyone other than Mr. Donovan.


| | |
| --- | --- |
| | |
| Darius Perkins | Jason Donovan |

When young actress Kylie Flinker decided to leave Neighbours to concentrate on her schoolwork in 1987, the producers opted to send her character, Lucy, youngest member of the Robinson clan, off on an extended trip overseas. While Lucy was supposedly travelling around Europe, Neighbours casting directors were busy searching for a new actress to play Lucy. They found their new Lucy in the form of 14-year-old Melbourne born Sasha Close. Lucy returned to Erinsborough after a few months away looking taller and a couple of years older than when she had left, but before too long, Sasha had made the role her own.
However, further changes to Lucy's physical appearance were about to occur. Although Sasha reappeared as Lucy on a semi-regular basis in later years, Lucy was re-cast for a third time in 1991 when producers decided to bring the character back permanently. And so, when Lucy was expelled from her prestigious boarding school and showed up on the Robinsons' doorstep, she arrived with blonde hair in the shape of Melissa Bell. Melissa played the part of Lucy for over a year, before leaving to join the cast of E Street. The character of Lucy did return to Neighbours on two more occasions - in 1993 and in 1995 - and luckily, Melissa was available, meaning a fourth face for Lucy wasn't necessary.


| | | |
| --- | --- | --- |
| | | |
| Kylie Flinker | Sasha Close | Melissa Bell |

Another Robinson re-casting, Dr. Beverly Marshall had been tending to the medical needs of Ramsay Street residents for two years when actress Lisa Armytage decided to leave the series to spend more time with her family. But because Beverly had only recently married Jim Robinson, it was decided the character should be kept in the series. And so, dark-haired Beverly was packed off to Perth for a medical conference before returning to Erinsborough several weeks later sporting a blonde hair do, courtesy of new actress Shaunna O'Grady.


| | |
| --- | --- |
| | |
| Lisa Armytage | Shaunna O'Grady |

Re-casting children in soaps has always been a much easier and less noticeable practice. So when young actor Finn Greentree-Keane left Neighbours to concentrate on his studies, his character Toby Mangel was sent off to Darwin to live with his mother. Off-screen, however, casting director Jan Russ was busy auditioning young actors to take over the role. She didn't have to look far, as Ben Geurens, who had previously appeared on the show as a stunt double for Lochy McLachlan, turned out to be perfect for the role. Only weeks after leaving for Darwin, Toby returned, played by Ben, after the death of his mother. Ben remained in the role until 1992, although with Toby's younger sister recently revived on the series, surely its only a matter of time before Toby will be receiving a new face for the third time...?


| | |
| --- | --- |
| | |
| Finn Greentree-Keane | Ben Geurens |

By the time Julie Robinson returned to Ramsay Street with a new face in 1992, poor old Jim Robinson must have been well and truly immune to his children's physical transformations. The remarkable thing about Julie's transformation was that the new actress, Julie Mullins, had an astonishing grasp on the character, who had last been played by Vikki Blanche in the early days of the series in 1985. Julie Mullins resembled Vikki, had similar mannerisms and played Julie almost exactly as she had been played back in 1985, thus meaning this spot of re-casting was possibly the most effective ever seen on a soap.


| | |
| --- | --- |
| | |
| Vikki Blanche | Julie Mullins |

Cody Willis was the first member of the Willis family to be seen on Ramsay Street, when she began dating Todd Landers. After the Willis clan moved into the street and became more central characters, it was ironically Cody who didn't hang around for very long. Amelia Frid, who played her, wanted to concentrate on her studies and quit the role - leading to Cody jetting off to the States as part of a student exchange programme. Cody's siblings Gaby and Brad took her place at the Willis dinner table for the next few years, and it was only after they began to fly the nest that Cody returned home. However, dark haired Cody had now become flame haired and husky voiced - Peta Brady had taken over the role.


| | |
| --- | --- |
| | |
| Amelia Frid | Peta Brady |

Nobody ever would have thought a larger than life character like Cheryl Stark could be played by anyone other than Caroline Gillmer. But Prisoner legend Colette Mann stepped into the role full of gutso and energy when Caroline was suddenly taken ill as filming of the 1995 season finale episodes was taking place. With Cheryl featuring in one of the major end of year storylines, it would have been impossible for the character to be written out while Caroline recuperated and so, Colette happily stood in. Although she was only around for a few weeks, Colette's interpretation of Cheryl was widely acclaimed, as she perfectly captured many of the character's well known traits.


| | |
| --- | --- |
| | |
| Caroline Gillmer | Colette Mann |

After several years without any main characters being recast, 2002 saw the Scullys welcome their son Jack home from England. Paul Pantano had played the Scully's only son the previous year for a five week stint, largely to cover several cast absences during the annual pantomime run in the UK. When casting director Jan Russ was in New Zealand at the end of 2001 holding auditions for the role of Max Hoyland, she also stumbled upon up and coming Kiwi actors Jay Bunyan and Michelle Ang. She immediately signed them up for roles on Neighbours, with Jay being cast in the role of Jack Scully and Michelle as his girlfriend Lori Lee.


| | |
| --- | --- |
| | |
| Paul Pantano | Jay Bunyan |

Other characters, usually minor, have been re-cast over the years. They include Todd's villainous dad Bob Landers, Drew Kirk's little brother Dougal, Lassiter's receptionist Prue Watkins, Lance Wilkinson's old flame Julia Burrows, Tad's mother Coral Reeves, Tad's half-brother Tim Bailey, Stephen Gottlieb's parents, Dave and Sally, and Dee's mum, Magda Bliss.
Young characters are normally played by a variety of babies or child actors. Jamie Clarke was played by S.J. Dey, Ryder Susman and finally, twins Nicholas and James Mason. And in late 2003, he briefly returned to the series played by Angus McLaren. Sam Cole was played by Scott Wealands and Thomas Hamston, and Louise Carpenter was played by Tessa Taylor for the first two months of her life before Jiordan Anna Tolli made Lolly her own for the next seven years.
When it's decided to bring back previously seen supporting or minor characters for a permanent residency in Ramsay Street, its often necessary to find a new actor for the role. While in the case of David Bishop, Kevin Harrington was available to reprise the role he had played 14 years earlier, the likes of Philip Martin, Debbie Martin, Darren Stark and Sky Mangel all had to be recast, with Ian Rawlings making Christopher Milne's Philip his own, Marnie Reece-Wilmore becoming Mandy Storvik's Debbie, Scott Major's Darren being brought to new heights by Todd MacDonald and Stephanie McIntosh taking over the role of Sky from Miranda Fryer.


| | | | |
| --- | --- | --- | --- |
| | | | |
| Jiordan Anna Tolli | Ian Rawlings | Todd MacDonald | Stephanie McIntosh |
Next character set to be recast is Libby's son Ben Kirk, who has been played by little Noah Sutherland since birth in 2001. With Kym Valentine (Libby) on maternity leave, Neighbours producers have decided to take the opportunity to re-cast the role of Ben, with a new young actor, Sean Berends in the role. And so, we can look forward to a more central and talkative Ben in the next few months...