. Features > Remembering Reg Watson by Mark
"What are you gonna do about those bloody neighbours of yours?" It was episode one and a hot-headed late-night telephone call from Max Ramsay to his next-door neighbour Jim Robinson complaining about the noisy bucks party two doors down set the tone for what was to come. This was a show about a group of ordinary families who all lived on the same street and really just wanted to have a nice happy life, get on well with each other and have a good night's sleep.

"Anything that happens in an average street will happen in this serial," Reg Watson told James Oram in his book Neighbours: Behind The Scenes. "I came to the conclusion that the 'heavy' in Neighbours is life itself and once you accept that, it opens up everything - that's the one 'heavy' we face from the day we are born. The show's simplicity is where its strength is."
When he created Neighbours in 1984, Reg had already had success in serial drama with hits such as Prisoner, The Young Doctors, and Sons & Daughters under his belt, not to mention the successful English soap opera Crossroads, of which he was the founding producer. As Head of TV Drama at the Grundy Organisation, founded by the pioneering Reg Grundy, with whom he enjoyed a life-long friendship, Reg was asked to devise a new serial drama for the Seven Network. Having worked in the UK on Crossroads, Reg had identified the strength of rival soap Coronation Street and had begun to develop the idea of Neighbours in his head back then.
"I wanted to show three families living in a small street in a Melbourne suburb, who are friends," he told James Oram. "Humour was to play a big part in it and the other important thing was to show young people communicating with older people." And so, The Robinson and Ramsay families were born - multigenerational households where the teenage boy (Scott Robinson) was comfortable asking his grandmother (Helen Daniels) about her first sexual experience. "Normally, we would have her throw the paintbrush down and say, 'Look, I don't want to discuss this'," Reg recalled in Reg Grundy's 2010 autobiography. "But we went the other way and she discussed it with him very sensibly because he was now the same age as she was back then and wanted to find out whether she thought it would be okay to have sex."
The perfect blend of characters was created by Reg and his team in those early years of Neighbours. As Reg recounted to us in 2005, the original twelve characters consisted of "Max Ramsay, who thought he could run the street because it was named after his family, the Robinsons who were a 'typical' family and Des and Daphne - the dumped groom and the stripper who moved in with him. I think they all worked perfectly and I think the viewers agreed." While some of the cast were relatively unknown, some of the early Ramsay Street residents were played by actors who had appeared in some of Reg's previous hits such as Alan Dale from The Young Doctors and Anne Haddy from Sons & Daughters. "Casting is always a major problem," he recalled. "And we were very lucky to find the actors we did."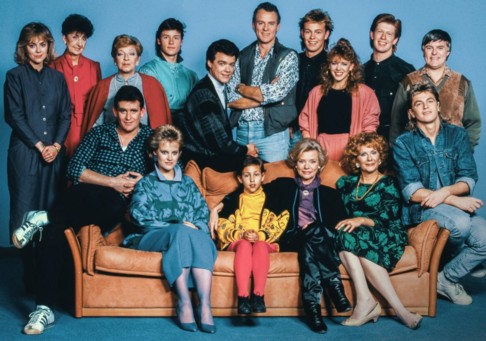 The move to Channel Ten after the first year provided an opportunity to extend the scope of the series - more locals began to appear on screen, such as the iconic busybody Mrs Mangel, who Reg described as a "one off," and Max's fiery sister Madge who he felt "took over [from her brother] beautifully." The community became larger, with new locations such as the Lassiters Hotel complex becoming a central part of the series. The suburb got a name, 'Erinsborough,' around this time and teenage sweethearts Scott and Charlene fell in love and got married. The BBC started screening the series in the UK and numerous Logie Awards followed. It truly was a golden period for Neighbours but also for Australian television. This simple little series, created in the mind of a quiet man from a cul-de-sac in Queensland, became a worldwide phenomenon, appearing on the cover of TIME magazine, achieving viewers of 20 million in the UK alone and launching the careers of Kylie Minogue, Jason Donovan and Guy Pearce.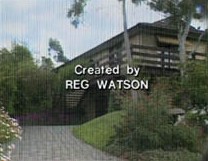 The characters created by Reg Watson remain household names to many 35 years later. He constructed a community that felt real and relatable to TV viewers around the world. Working class people and their problems were put into a comforting middle class setting. Established characters came and went (many to Queensland, in a nice nod to Reg's home state). Residents grappled with problems made up from life's minutiae, balancing light and shade, and experiencing the bittersweet drama of trying to live life in all its' ups and downs. The show spoke to a notoriously difficult age group - children and teenagers - and in doing so, got their parents to follow.
Reg remained with the series as executive producer until 1992. In retirement, he remained private and only occasionally gave interviews about the global hit he had created. On the 30th anniversary of Neighbours in 2015, he quipped "I'll have to stop pretending I'm thirty!" His passing is the end of an era in Australian TV drama but the shows he created and produced remain beloved by millions of viewers around the world. 35 years later, the line 'Created by Reg Watson' continues to flash up on television screens at teatime. New generations of Robinson and Ramsays are playing out their daily dramas on the quiet cul-de-sac that has been home to Neighbours for so many years. He really did find the perfect blend.

Actors & Crew

Biography: Reg Watson
Read more about Reg's life and career



Interview

Interview: Reg Watson
In 2005, Reg spoke to us about his career and Neighbours