.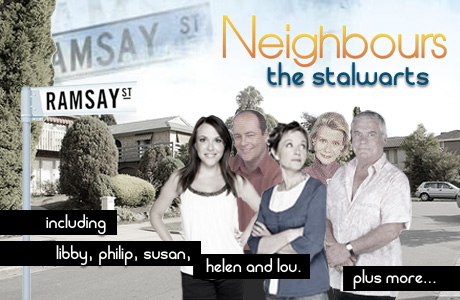 Features > The Stalwarts by Moe
As Harold Bishop - one of the great Neighbours stalwarts - departs the show, it's hard to believe that for a character originally intended to appear in just a handful of episodes way back in 1987 would have had such a lasting presence in Ramsay Street . How long a new character will stay is never certain – the likes of Nick Atkins and Lisa Elliott didn't make it past a year, while Lou Carpenter first appeared in 1988 and is still knocking around.
Remarkably, after 24 years and over 200 regular characters, only a handful have become true Neighbours stalwarts. Yes, characters like Scott and Charlene, Joe Mangel, Annalise Hartman and Izzy Hoyland are considered "Neighbours legends" but they're a long way off stalwart status. So what constitutes a stalwart? It's a character who has lived on Ramsay Street, and therefore in our living rooms, for a lengthy period of time during which we got to experience a good chunk of their lives and loves. It's a character who had a constant presence in the series in the midst of an ever-changing cast. And it's a character who we've come to know and love so much that when the time finally came (or will come, in some cases) to say goodbye, it was like saying goodbye to a friend. Which is what Neighbours is all about – neighbours becoming good friends….

HELEN DANIELS


It's a cliché by now, but Helen Daniels was everybody's favourite gran and the original Neighbours stalwart. Played by Anne Haddy for the first 12 years of the series, Helen was a constant presence not only in the Robinson household but throughout Erinsborough – always on hand with a casserole and a friendly word of advice when things got tough for her family and friends. And we shared her ups and downs – the kidnappings, the bigamist husband, the strokes, the deaths of her beloved Jim, beloved Todd, barmy Julie… Helen stood out amongst the stalwarts as she was the last man standing from the original Neighbours line-up by the time of her death in 1997, and the end of an era was touched upon on screen with a special end credits featuring the piano version of the Neighbours theme tune and stills of Helen and her loved ones throughout the years. Sadly, she was pretty much forgotten about once her ashes had been scattered across Lassiter's Lake, with only the odd mention from her dwindling family and best buddy Madge. But in recent years, there've been more references to her with grandson Paul back on Ramsay Street and even a philanthropic organisation named after her. And throughout the 20th Anniversary reunion episodes in 2005, Helen's absence was both noted and felt, on and off screen.

JIM ROBINSON


Poor old Jim, he must have really felt tired of always coming second to Helen. Whether it was in end credits billing or notching up the record for Second longest serving original character... Anyway, good ol' Jimbo spent the first eight years of Neighbours as the head of the Robinson household. While Helen was the one who consoled the many youngsters who made No.26 their home over the years, Jim was usually the one who had caused them to seek comfort in the first place by grounding them or banning them from seeing their significant others. But you could never deny that Jim was always justified in his stern disciplining and he was a decent old dad who set the standard for the Philip's, Karl's and Max's that would follow. When he croaked it in 1993 by succumbing to a heart attack on the Robinsons kitchen floor, a nation wept. Luckily, we've got to keep up with him via The OC, 24, The West Wing, Ugly Betty, Lost and every other US TV series Alan Dale has appeared in since then.

PAUL ROBINSON


Another Robinson stalwart, bad boy Paul was dubbed the JR Ewing of Neighbours in the 1980s when the show was at its peak. Always prone to shafting a neighbour to cut a business deal or stealing someone's girlfriend (not to mention twin sister), Paul also had a caring side and stayed on in Ramsay Street with his beloved gran and dad long after the other original Robinsons had moved on. After seven years, Paul made a fresh start in Hawaii with third wife Christina and baby Andrew, but his presence remained on the show, as he still owned Lassiter's Hotel (workplace to half of Ramsay Street) and No.22 and was forever 'seen' on the other end of a phone to the remaining characters. He even returned in 1993 for the 2000th episode, although seemed to guarantee that his time on Neighbours was truly at an end when he stitched brother-in-law Philip up for fraud and had to flee Australia for a life on the run in Brazil. But what many thought impossible happened, and Stefan Dennis delighted many a longtime fan by reprising the role of Paul in 2004 – 11 years after he'd last been back in Erinsborough and long after the final remnants of the Robinson dynasty had left Ramsay Street. A very different Paul reappeared, however, with blackmail, theft, arson and even murder being the order of the day. However, some glimmers of the old Paul remained – particularly when it came to his family and the return of second wife Gail in 2006 reawakened his former self for a time. However, after his psychotic son ran riot in the overly dramatic Erinsborough of recent years and Paul's dark side went into overdrive, it looked like there was no going back. Until a previously undiscovered brain tumour proved a convenient get out of jail card and thankfully Pantomime Paul is no more.

MADGE BISHOP


The no-nonsense gravel voiced legend who put the Ramsay in Ramsay Street, Anne Charleston joined the cast as Madge Mitchell, nee Ramsay and later Bishop, in 1986 when Neighbours debuted on Channel Ten and she stuck around past the Millennium before dying in her beloved Harold's arms in 2001. Initially something of a snob who was constantly at odds with brother Max, Madge soon dropped the pretension as the truth emerged about her failed marriage to wayward Fred and the arrival of her tearaway daughter Charlene and jailbird son Henry. Madge made a place for herself in the thick of the community when she became barmaid at The Waterhole pub and later, running the Coffee Shop with Harold. And together with Helen, Madge made up one half of one of Neighbours' longest running friendships and a week didn't go by without one of them popping into the other, normally via their back door, for a cup of tea and a chat. After Helen's death in 1997, Madge carried on as the sole surviving matriarch on the show and since her own death in 2001, Ramsay Street has been crying out for someone of her ilk ever since.

HAROLD BISHOP


The fuddy-duddy who everyone came to love, Harold Bishop has become a national, some would say international, institution since first arriving in Erinsborough in 1987. If there's one character you can refer to in general conversation without mentioning Neighbours, it's Harold Bishop. Initially something of a strict disciplinarian (he was strongly opposed to the idea of Charlene marrying Scott, and took a while to accept the fact that daughter Kerry had a child out of wedlock), Harold mellowed considerably throughout the years – particularly whenever he had a stroke or went through the grieving process and lashed out at those around him. In fact, the amount of personal tragedy Harold has been through brings home what a stalwart he is – in his 20 year stint on Neighbours, Harold lost his daughter Kerry, beloved wife Madge, son David, daughter-in-law Liljana and granddaughter Serena, as well as going missing, presumed dead, for five years himself. After the departure of granddaughter Sky and greatgrandaughter Kerry, Harold's family unit consisted solely of love rival turned best friend Lou Carpenter, and together they made up one of the show's greatest double acts until Harold finally hung up his tuba, apron and garden shears after over two decades at the heart of Erinsborough. Not since the death of Helen in 1997 has the street seemed so empty. All together now: "Aww."

LOU CARPENTER


For a character that was introduced in 1988 for a two week guest stint, Lou Carpenter has probably appeared in more episodes of Neighbours than any other character. Returning as a regular in 1991, Lou's been around ever since and has stood proud as one of Erinsborough's mainstays throughout various eras of the show. A larrikin and loveable rogue, Lou has been through the mill – he never quite got his beloved Madge up the aisle despite several attempts, he loved and lost the Madge-alike Cheryl Stark, saw his estranged kids come and go, had a liver transplant, lost his fortune on more than one occasion and discovered that the daughter he doted on, little Lolly, wasn't actually his. Nonetheless, Lou smiled throughout and his comic partnership with Harold Bishop, the man he fought Madge for, has consistently been a joy to watch.

PHILIP MARTIN


After the death of Jim Robinson, Neighbours was badly in need of a reliable father figure and luckily, didn't have to look far. Jim, it seemed, had been training his son-in-law Philip Martin to take over the mantle. Bank manager Phil had first appeared in the series' first year before whisking Julie Robinson off to the country to marry her. They returned seven years later with the Martin kids – Debbie and Hannah, and later, Michael - in tow and established themselves as the next generation of Robinsons in Ramsay Street. Although Julie died within two years of their return, Phil stayed on in the show, echoing Jim even further by developing just as close a bond with grandmother-in-law Helen as Jim had. Phil's life wasn't without its ups and downs – he was framed for fraud by brother-in-law Paul, had to cope with a psychotic son and bulimic daughter, and suffered some psycho sexual problems when he forayed into the world of chick lit and became known as Phillipa Martinez. Throughout all his years on the show, Phil watched youngest daughter Hannah grow from his little 'Button' into a young woman and he eventually found love again with Ruth Wilkinson. It was with Ruth, Hannah and Ruth's kids Lance and Anne that Phil spent his final years in the show before relocating to Darwin after seven years on Ramsay Street. The 20th anniversary celebrations in 2005, of course, wouldn't have been complete without Phil there and he effortlessly slipped back into life in Erinsborough during his brief return.

HANNAH MARTIN


Arriving on Neighbours as cute, pig-tailed 'Button', Hannah Martin literally grew up on Ramsay Street. Within her first few months in Erinsborough, Hannah survived attempts by her slightly unhinged older brother Michael to spike her fruit juice with vodka and a kidnapping attempt by mum Julie's former boss. And things didn't let up for the next 7 years – some might say Hannah was responsible for the death of original Neighbours stalwart Jim by running him around the garden despite the fact he had just had heart surgery. By the time Hannah left Erinsborough in 1999, she had become a young woman, albeit with a decidedly dodgy haircut, and spent an ambiguous final night on Ramsay Street up a tree with her boyfriend Paul McClain. And when we next saw Hannah, participating in the 20th anniversary video in 2005, she had blossomed even further and had thankfully rediscovered her curly hair.

KARL KENNEDY


So well known by viewers around the world by this point, Karl Kennedy is simply known as Doctor Karl and despite being introduced a decade into the show's run, and past its high ratings days, it would now be hard to think of Neighbours without Karl or, indeed, the rest of the Kennedys. Introduced to a frosty audience in 1994 by taking over No.28 from the popular Doug and Pam Willis, Karl, his wife Susan and kids Mal, Libby and Billy, had to work hard to prove themselves as worthy of the viewer's affections. Karl, in particular, was a pretty unpleasant character in his early months on the show – he was rude and unfriendly towards his new neighbours and even threatened to dig up the tree the Willis family had planted out the back of No.28 for baby Zac. A kiss with sexy receptionist Sarah in 1997 thrust Karl centre stage and he has remained there ever since, through the various dramas in his professional career, the lives of his children and his love life. Karl has also been blessed with the attributes of many a Neighbours stalwart – wonderful idiosynrcasis including a legendary reputation for being something of a skin flint, a deluded appreciation of his own musical abilities and a penchant for romantic liaisons with his wife in the unlikeliest of Erinsborough locations. A blockbuster long-running story arc with Izzy Hoyland proved a winner but every Neighbours fan knew Karl would always end up with Susan again and they are now on marriage number three – with no signs of ever parting again.

SUSAN KENNEDY


The latter day matriarch of Ramsay Street, Susan crept in under the radar when the Kennedy family moved to Erinsborough from the countryside in 1994 and at first appeared a pretty unremarkable run of the mill mum-type character with an incredible mane of hair. But played by the incredible Jackie Woodburne, Susan became much more than your average Neighbours character – she became a legend and although a lot younger than Helen, unquestionably stepped into her shoes as the soul of the street from the noughties onwards. Despite being a teacher and later prinicpal at Erinsborough High, no student would find her hard to approach – in fact, Susan opened her home and her arms to many a teen in trouble over the years. She can always be relied upon to lend a shoulder to cry on in times of need and has continued that great Ramsay Street tradition of showing up on a neighbour's doorstep with a dish of casserole at just the right moment. She has also mastered the art of forgiveness to a stunning degree – hubby Karl has cheated on her so many times, it's hard not to have lost count. But the allure of that winning and always entertaining banter between them must have proved too irresistable to let go of. Besides, Karl surely knows by now that if he fools around just one more time, Susan will undoubtedly treat him to a repeat performance of that slap.

LIBBY KENNEDY


A true soap stalwart has to have experienced a hefty amount of heartache and trauma through the years and Libby Kennedy has suffered through a whopping 14 years of it. Arriving in Ramsay Street as a bookish, slightly dorky teenager, Libby quickly developed into a beautiful young woman who turned the heads of many locals. Her turbulent relationship with bad boy Darren Stark has been on/off pretty much since she finished high school and never quite seems like it has played out its final act while the love of her life, hunky mechanic Drew Kirk, provided Libby with some of her finest stalwart-esque moments – a fairytale wedding, the birth of baby Ben against all the odds and the tragedy of becoming a widow in her early 20s. When she left Erinsborough for a new life in Shepparton, we all knew deep down she would eventually be back and Libby has now re-established herself in Erinsborough with her third love beginning with the letter 'D'.

TOADIE REBECCHI


Often in soaps, its the characters who start off with no expectations or grand plans attached to them that go on to become true stalwarts. Jarrod 'Toadfish' Rebecchi is one of them, originally appearing in a few scenes in 1995 as little brother to the then more integral Stonefish and schoolmate of Billy Kennedy but slowly building to true cult status as 'The Toad'. Toadie came into his own when his brash, but memorable mum Angie moved up north and left him in the care of the Kennedy family while he finished school. Toadie's on-screen chemistry with Karl ("The Doc"), Susan and Libby was always enjoyable to watch – and still is all these years later. We've witnessed him as he journeyed through being a class clown with a slight tearaway streak to a uni student, lawyer, widower and now parent to Callum, a Toadie in the making if ever there was one. And although his responsibilites may have grown and he can often be found in the thick of high drama as opposed to hijinks in the House of Trouser these days, Toadie's ability to bring a smile to our faces has never faded.

LYN SCULLY


The fussy mum to the Scully brood, Lyn made an instant impact, for better or worse, upon her arrival in Ramsay Street ten years ago when she unwittingly insulted all around her and her three girls, 'Steffy', 'Flick' and 'Chelle', caused no end of trouble around town. But Lyn soon won the hearts of the residents and the viewers. Her friendship with next door neighbour Susan was the most durable since Madge and Helen's in the show's early days, and was mirrored by the friendship between their daughters, Steph and Libby. Lynnie found herself going through a great deal of trauma through her time on the street – a late in life pregnancy followed by a bout of post natal depression, the at once unthinkable end of her marriage to Joe and the shocking discovery that her meddlesome aunt Valda was actually her mum. After an ill-judged second marriage to Paul Robinson lasted only hours, a devastated Lyn retreated to her hometown of Shelly Bay but she has since visited Ramsay Street stronger and tougher – and just as fussy.

STEPH SCULLY


A refreshing character when she arrived in Ramsay Street along with the rest of the Scullys in 1999, Stephanie Scully was a breath of fresh air then and still is a decade on. Her tomboy streak and no nonsense attitude sets her apart from other women of her age and as best friend Libby or forever put upon mum Lyn will no doubt testify, Steph is just the type of person you want in your corner fighting for you when the going gets tough. Steph has had her fair share of drama herself, of course. Her teenage sweetheart Woody was an early source of drama as he persuaded Steph to live a life on the run with him only for him to 'die ' in an explosion and then turn up on her doorstep, alive and well, a few months later. Steph quietly and bravely hid her love for Libby's fiance and later, husband Drew, even after his tragic death, and she battled breast cancer while also giving birth to baby Charlie. Her marriage to Max Hoyland initially looked set to last forever, but ultimately echoed the collapse of her own parents' marriage, and Steph found her perfect match in the shape of Toadie. A stint running Charlie's Bar put her in the thick of the action and now she's back where's she happiest – covered in grease and tinkering with engines. Although she probably wishes Drew was there with her.