..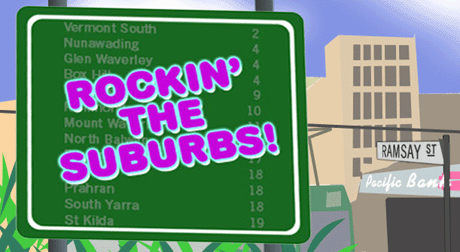 Features > Rockin' The Suburbs by Emily

Whenever people ask me what the place is like where I grew up in Melbourne, I tell them that it's like Erinsborough. I'm not trying to perpetuate a myth of life in Australia: the place I grew up in is, literally, Erinsborough...

I grew up in a suburb called Ringwood North, located in Melbourne's Outer East. It is only kilometres from the suburbs where Neighbours is filmed at Global Studios in Nunawading, and is the neighbouring suburb to Vermont South - the home of Pin Oak Court, which serves as Ramsay Street. Pin Oak Court is fairly representative of a suburban street in Melbourne – brick houses, backyards and two cars in the driveway.

It's a scene that I found stifling and dull before I left for the UK but now, I appreciate it for its uniqueness: living in a detached, four-bedroom house with a backyard and sounds of kookaburras (Australian native birds for those of you unfamiliar with them) in the morning sure beats living in a one-bedroom shoebox in London, the value of which could buy one of those Ramsay Street abodes.

Of any area in Melbourne, the outer Eastern suburbs are the heart of Neighbours; in every episode, there is at least one location that I can name. (see list below) When I was at secondary school at Our Lady of Sion College in Box Hill, way back in 1989 to 1994, the bags from the school –a fetching maroon colour - were used for the Erinsborough High 'students'.

Kristian Schmidt, who played Todd Landers from 1987 to 1992, attended the same boys' school that my brother went to – Whitefriars College in Donvale, a bushy suburb not far from 'Ramsay Street'. It was not an uncommon sight to see Kristian on the train or very occasionally at a party that one of my friends' older brothers was having in the local area. (Looking back, it must have been hard from Kristian having people continually shouting out, "Hey, it's Todd from Neighbours".)

Later on, in my first journalism post in 1997, I had the pleasure of visiting the Neighbours set at Global Studios to interview Ryan Moloney for a feature on 'A day in the life of Toadie'. (By the way, Ryan hails from the outer Eastern suburb of Wantirna so he probably didn't find it a stretch to get into character!)

Funnily enough, I was never a regular Neighbours viewer in Australia but since living in the UK permanently since 2002, I have found that it provides a daily dose of suburban nostalgia and I will now happily admit that I am hooked. I think it was the whole Karl Kennedy and Izzy Hoyland 'will they, won't they' storyline that reeled me in. (I've also visited Alan Fletcher's home when I went to interview his wife, Jennifer Hansen, a high-profile newsreader on Network TEN, which is also home to Neighbours.)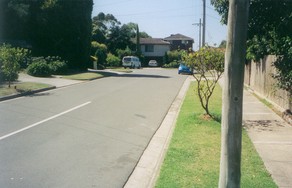 The creator of Neighbours, Reg Watson, who worked for Grundy Television, based the series on the neighbourhood of his childhood, which is they type of lifestyle that most Australians experience; Australia is one of the most urbanised nations of the world with 87 per cent of the national population living in urban areas and 63 per cent in her capital cities so, Neighbours is far more representative of what 'Aussie' life is life than the usual scenes of the vast, unforgiving outback seen in films and tourism campaigns. According to Australian television history website, television.au, "…the perennial sunshine, cheerful characters and leafy streets of suburban Ramsay Street are instrumental in its appeal to UK viewers…" who have been an instrumental factor in the show celebrating its 20th anniversary in March, 2005.

Visit these locations for a slice of Neighbours life...
Blackburn South
Erinsborough High (Blackburn English Language School, Eley Rd)
Box Hill
Court (Box Hill Town Hall, Whitehorse Rd)
Drew and Libby's Flat (6 Alexander St)
Erinsborough Court (Box Hill Town Hall)
Swimming pool (Aquatic Centre, Box Hill Pool, Surrey Park, Canterbury Rd)

Burwood East
Community Hall (East Burwood Recreational Reserve, Burwood Hwy)
RSPCA and Animal Emergency Centre, Burwood Hwy
School Sports Day (Bill Sewart Athletics Track, Recreational Reserve, Burwood Hwy)

Chirnside Park
Hotel - Jack and Izzy's night of passion (The Sebel Lodge Yarra Valley, Heritage Ave)
Doncaster
Rosie Hoyland's Church (Holy Trinity, Church Rd)
Forest Hill
Erinsborough Dingoes (Nunawading Football/Cricket Oval, Mahoneys Rd)
Lassiter's Interior (Brand Receptions, Mahoneys Rd)
Salvation Army Store (Brentford Square, Canterbury Rd)
Shopping Mall (Forest Hill Chase Shopping Centre, cnr Mahoneys and Canterbury Rds)
Soccer pitch (Nunawading City Soccer Club, Mahoneys Rd)
Swimming pool (Nunawading Aquatic Centre, Husband Rd)

Glen Waverley
Summer and Declan's date at the movies (Village Cinemas, Century Walk, Springvale Rd)
Tad confronts Doula (Mountain View Hotel, 186 Springvale Rd)
Keilor
Ben's racetrack crash (Calder Park Raceway, Calder Hwy)
Melbourne
Hotel - Dee and Toadie celebrate their engagement (Hyatt Hotel)
Lou and Trixie's wedding (Her Majesty's Theatre, Spring St)
Ringwood East
Erinsborough Hospital (Maroondah Hospital, Mount Dandenong Rd)
Jamie Clarke's birth (Ringwood Lake, Maroondah Hwy)
Vermont South
Ramsay Street (Pin Oak Court)
Beverly Marshall's house (Huskey Court)