.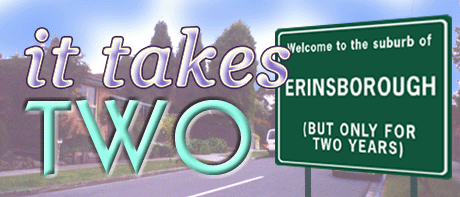 Features > It Takes Two By Steve
This weekend marks the second anniversary of the launch of Neighbours: The Perfect Blend. Yes, 24 months of bringing you news, interviews, magic moments, biographies and much more, relating to Neighbours, past and present. So we got to thinking about some of the Erinsborough locals who were around for only a couple of years – what did they achieve in that short space of time? This feature profiles the lives, loves and legacies of those characters…

Shane Ramsay


An original Neighbours character, Shane only stuck around for two years before leaving the show for pastures new. His short time on the show saw the characters survive a car crash, as well as being accused of manslaughter following another car accident which saw the death of Jean, the girlfriend of Shane's Uncle Tom. Part of the original Ramsay family, Shane also watched his parents and brother gradually disappear until he was left with a completely different branch of the Ramsay family – the Mitchells. Romance was yet another sore point for Shane, who went through several girlfriends, but never seemed to find the right one. Terry Inglis revealed to him that it was her ex-husband who had caused the accident that ended his career. Daphne and Shane went out several times, even becoming engaged, but she was always drawn back to her true love, Des Clarke. Mad Beth Travers held Shane hostage in her cellar, whilst his closeness to Jane Harris was scuppered by her boyfriend, Mike. Shane rarely got a decent break during his time on the show, but Peter O'Brien was certainly one of the show's earliest heart-throbs and his character was almost always in the thick of the action.

Nell Mangel


One of Neighbours most remembered characters, so it's surprising that she was only around in the street for a couple of years. Still, it was enough time for her to poke her nose into the affairs of all of her neighbours, as well as going through two husbands and surviving a heart attack and a bout of amnesia. Her husband Len moved with her to Ramsay Street, but was never seen by the viewers, and by the end of the year, he was gone. Her feud with neighbour Madge Ramsay was legendary, whilst the reappearance of her estranged son Joe was one of her final storylines before she finally found happiness, marrying John Worthington and leaving for England. Regardless of her evil streak or the short period she spent in Ramsay Street, Nell Mangel is still remembered fondly to this day and the Mangel name lives on in 2005 in the form of Sky, the adopted daughter of Joe.

Sharon Davies


Trouble-making teenager Sharon Davies made her personality clear from her very first episode, as she attempted to leave the Coffee Shop without paying her bill. Over the course of her two years in Erinsborough, she seemed to skip from one scheme to another. Whether it was dressing up as an old lady at an auction, to prevent her Aunt Edie from buying 30 Ramsay Street, or setting up her own café as a rival to the Coffee Shop, trouble had a habit of following Sharon wherever she went. Sharon only had one serious relationship during those two years – with Nick Page. She and Nick had an on-off relationship for quite a while, but the couple were never going to be as popular as Scott and Charlene, or Mike and Jane, whose teen romance mantle they assumed. Once Nick, as well as Sharon's sister, Bronwyn, had left town, there was little for Sharon to do. After hanging around in the background of everyone else's storylines for a while, she left to join her sister in New Zealand.

Beth Brennan


Beth Brennan met some of the younger residents of Ramsay Street when they were holidaying in Surfer's Paradise. Shortly after this, she turned up in Erinsborough and made herself at home in the Robinson house, having escaped from an abusive stepfather. Most of Beth's storylines revolved around her on-off relationship with neighbour Brad Willis, and the various romances that came in-between. Her string of unsuitable boyfriends included middle-aged neighbour Philip Martin, who was in the midst of a messy separation from his wife, Julie, and… middle-aged Rod Baker, who Beth became engaged to, but whose sexual advances left Beth realising that she wasn't completely over her past. In her second year in the show, Beth had three weddings – all with Brad as the groom, the final one ending with her leaving Erinsborough for a new life in Perth. Beth was a hugely popular character, as was her portrayer, Natalie Imbruglia, who went on to make a return guest appearance in 1994 and launched a successful music career later in the nineties.

Mal Kennedy


Arriving with the rest of the Kennedy family in late 1994, Mal was the first member of those original five to spread his wings. Mal had an interesting couple of years living in Ramsay Street, managing to accidentally shoot Lou Carpenter during his first few weeks. He then started seeing wild child Danni Stark and lost his virginity to her. The pair looked like becoming a Scott and Charlene for the nineties, with their families feuding over whether they should be together, and their move to number 32 to get away from it all. They went through a lot together, but finally drifted apart and moved on. After leaving school, Mal became a local handyman, taking over Sam Kratz' business and found a new love in the form of Catherine O'Brien. He had a brush with death when an accident while renovating the pub left him with a crushed windpipe and his father had to save his life. This led to his decision to leave Australia and go travelling in Europe, early in 1997. Despite her brief affair with Darren, Mal agreed to take Catherine with him and the pair later settled, and married, in London.

Joanna Hartman


Her half-sister, Annalise, had already been a Ramsay Street resident for a couple of years when Jo turned up. Between mid-1995 and mid-1997, Jo came and went several times, but managed to fit in several storylines in-between. Tracking down Annalise to Ramsay Street, Jo managed to move in and make a nuisance of herself, before setting up a business with her sister, then dating her sister's ex-fiancé Mark for a while. A year after arriving, she married older, and richer, man Rob Evans and it looked like that was the last we'd hear from her. Marital problems brought her back to the street, where, like many before her, she drifted around, clearly unsure about what exactly she was doing. Her crush on Mal Kennedy wasn't reciprocated and she even found it difficult to find anyone who wanted to live with her, so it came as a relief when Rob called from London, asking for a reunion. This time, she didn't come back.

Teresa Bell


Although she was a regular Neighbours character for two years, living on Ramsay Street for 18 months, you'd be forgiven for thinking it was less. Her first few months in the show saw Tess fleeing from an abusive husband, Brendan, before almost getting involved with him again. Brendan then died in an accident involving Libby Kennedy and Steph Scully. Then, Tess did very little for a year, before finding herself in a love triangle with best friend Dee Bliss over Dee's boyfriend Darcy Tyler. Tess and Darcy stayed together after the secret affair became public and almost got married, until Tess did a runner at the last minute. Despite a year of no storylines to speak of, Tess still managed to fit in a couple of big storylines and a fairly memorable departure.

Jack Scully


After a very brief appearance in 2001, Jack Scully became a regular character at the end of 2002. His two years as a Ramsay Street resident mostly consisted of drifting from one girlfriend to the next, all of whom he considered to be his "true love". He may have arrived with Lori Lee close behind him, but within a couple of months, he was cheating on her with Nina Tucker. Once he'd won over Nina, he realised that the relationship wouldn't be complete unless he cheated again, this time with Edwina Valdez. Having lost both Nina and Edwina, he moved on once again, with Izzy Hoyland, but she gave him a taste of his own medicine when she made it clear that she was only using him for sex. A few months later, Jack decided to swear off the women, a situation which ended with him turning to drugs. Finally, completely rehabilitated, it was only appropriate that Jack should leave Erinsborough to be with a woman – Nina Tucker. His true love, apparently.