.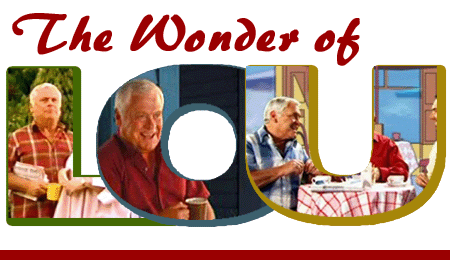 Features > The Wonder Of Lou by Callum, David, Moe and Steve
It's hard to imagine Ramsay Street without loveable larrikin Lou Carpenter, his dirty laugh and his money-making schemes, and this weekend marks 25 years since he first made an appearance on Australian screens. Back then, he was to make a brief appearance as a thorn in Harold's side, and all these years later, he's one of the street's longest-serving residents and had just been joined by his daughter Lauren and her family. Here, a few of the PB team offer up some of their favourite of Lou's stories, whilst Neighbours cast and crew share their memories of working with Tom Oliver…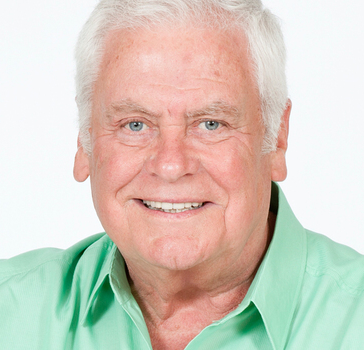 David: My favourite Lou story would have to be his very first. Back in 1988 Lou Carpenter made his debut for an all too brief six episodes but it was one of the most memorable and important guest stints in the history of Neighbours. Lou burst in on the lives of Madge Ramsay and Harold Bishop years after they had all known each other at school in Queensland. Lou and Harold had been love rivals for the affection of Madge yet both had lost out when Madge had chosen to marry Fred Mitchell, so when Lou discovered that Madge had later divorced Fred and was now on the verge of marrying Harold Bishop, he rushed down to Erinsborough to win back the one that got away.
Lou being the flamboyant, smooth talking charmer that he is, made quite the contrast to stuffy and conservative Harold.
In just a matter of moments, Lou had managed to derail the couple's relationship by greeting Madge with a kiss, giving her family presents and teasing Harold with his old nickname for him - "Jelly Belly". Madge's daughter Charlene was quickly convinced that her Mum should consider changing suitor, and Harold became enraged with jealousy on discovering that Madge had seen Lou a few times on her last visit to Brisbane. After a little more teasing and a mild threat of a smack on the nose from Lou, Harold decided to get physical with his love rival by learning karate. Following one lesson, Harold put his skills in to action when he heard Lou promising Madge a new and better life with him. The pair were soon stood outside The Waterhole pub with a confident Lou rolling up his sleeves before being suddenly knocked to the ground by a surprise punch from saintly Harold Bishop! Former school bully Lou had managed to stir up emotions in Harold which had never been seen before but Madge was unimpressed by the sight of two middle aged men fighting over her and when they both turned up on her driveway brandishing flowers of apology, she greeted them both with the contents of a bucket of water. The spectacle of Harold and Lou brawling like children and then being comically doused lived long in my memory and made it one of Neighbours most iconic episodes. Lou was then later caught flirting with another woman and Harold and Madge reunited by setting a date for their wedding. Lou left the scene giving his old school friends his blessing.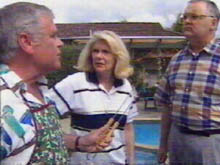 That may have been the last we'd have seen of Lou Carpenter, but in 1991, Harold was washed out to sea leaving a distraught Madge in need of a shoulder to cry on. So by early 1992, the producers had remembered the unforgettable Lou and he was back full time as Madge's new companion. Things didn't quite work out for Lou and Madge (which was just as well since Harold was still alive!). Madge moved back to Brisbane, but four years later, returned to Erinsborough following the discovery of amnesiac Harold. The trio of Lou and the Bishops continued to use their fantastic character history and onscreen chemistry through the late '90s until Madge's sad death in 2001, making them one of Neighbours' most cherished friendships.

Steve: Lou has been involved with many delightful women, and a few not-so-delightful ones, during his quarter of a decade in Erinsborough, but my favourite was his relationship with Cheryl Stark. They were a couple for less than three years, but they managed to cram in plenty of stories - one of my favourites being his secrecy over the news that he had a long-lost daughter, Ling Mai. Cheryl and Lou's relationship was strong, but the seeds of doubt were planted by Annalise and Cheryl started to believe that her beloved 'Louis' was cheating on her. This led to some great scenes as Lou updated his wardrobe and had his post redirected to Philip's newsagency, with Cheryl getting the wrong end of the stick about the whole thing. When she followed Lou and spotted him with a young Asian woman, she was convinced that her suspicions had been correct all along, until Lou informed her that it was actually his daughter. Not the most original of soap stories, certainly, but in the hands of Lou and Cheryl, it was one of the most watchable stories in Neighbours' difficult 1995 season. Despite all the drama, Lou and Cheryl's relationship had plenty of humour and banter too, with Tom Oliver and Caroline Gillmer bringing something special to even the most mundane of scenes. It was a huge loss to Neighbours, and to Lou's character, when Cheryl died in 1996, but it's always been nice to see the relationship revisited in recent years, such as when Lou found out that Cheryl had been cheating on him and that Lolly wasn't actually his daughter - an unfortunate story for Lou and Cheryl fans, tarnishing their time together, but necessary to write out young Jiordan Tolli, at a time when Neighbours seemed to be shunning recasts - and a few visits from Cheryl's son, Darren. Although he's certainly had a few interesting girlfriends since then - the remarkable Russian, Mishka Schneiderova immediately springs to mind - none have quite measured up to the formidable Ms Stark.

Callum: It might be hard for newer viewers to imagine, but Lou Carpenter was once at the heart of the Erinsborough community, be it as Mayor of Erinsborough or through one of his many businesses over the years, Carpenter's Cars, Little Tommy Tuckers, Carpenter's Mechanics, Lou's Place and Bishop and Carpenter's General Store, as well as owning both Number 22 and Number 30 Ramsay Street. Lou's fall from grace in 2004 was hard to watch as without a family or a home of his own, Lou's place on Ramsay Street seemed precarious to say the least and it was fitting that the end of 2004 saw Lou's Place (the pub) destroyed by fire. Like a phoenix, of course, Lou rose from the ashes, laughing his way through, but his new business, the General Store always seemed much more Harold's domain, even after Harold had sold up. 2010, saw a glimmer of hope for Lou as he bought back the car lot - under the name of Erinsborough Motors, however he soon closed the business following a health scare and a brief partnership in Dial-A-Kyle saw Lou resort to embezzlement. Although I agree with Tom Oliver that Lou's days in big business are long gone - I don't think he's quite ready to sit around Number 32 just playing doting granddad to Mason, Amber and Bailey. Whilst the beauty of Tom Oliver as Lou is that he can play dramatic storylines as well as comedy, we need that baseline of comedy to make the drama work so well. Now that Lauren is back and Lou finally seems to have a place on Ramsay Street again, as the head of the Carpenter/Turner family, it seems the time is right for Lou and Lauren to go into business together - with Lou's endless scams and schemes bound to drive Lauren to despair, it would only make for great viewing. Despite everything, Lou is one of those characters that epitomises everything Neighbours should be, he's been a constant source of drama, comedy and even romance. We've laughed together at the best times and cried at the worst, and whenever Tom returns from one of his breaks, there is always that feeling of greeting an old friend when Lou appears back on our screens, and I hope we continue our friendship for many years to come.

Moe: Lou Carpenter has defied the odds and managed to stay a part of Ramsay Street despite losing loved ones, businesses and homes. He has been a mayor, an air hostess and a gigilo. He's shared screen time with more characters than any other in the history of Neighbours. And just as it was starting to look like he was reaching the end of his shelf life, along comes a new generation of Carpenters to give him a whole new lease of life. Not bad going for a character who was only ever intended to spend no more than a couple of episodes in Erinsborough way back in 1988. While he has had several memorable on-screen partnerships with the likes of Lauren, Annalise, Cheryl, Mishka and Lolly, Lou will always be part of the holy trinity from Brisbane. His bickering with Harold Bishop for the hand of Madge Ramsay eventually led to an enduring banter that lasted for years. Even after Madge had left the equation, Lou and Harold entertained viewers with their rivalry, their put downs, their friendship and their loyalty - becoming Ramsay Street's very own Odd Couple. The sight of Lou standing alone as the last figure on the cul-de-sac as Harold pulled out of the street for a new adventure was a classic Neighbours moment and marked the end of an era, and yet the begining of a new one. Lou struggled to find a place in the community for quite some time and it began to feel as though he should follow Harold up north where most of his friends and family were based by that stage. But he stuck around and gradually became a part of a family again when he became legal guardian to the Ramsay kids. He subsequently found a new home with Lucas and Vanessa across the street but it is only now that he has his beloved daughter Lauren back in town, with a family of her own, that Lou has a firm footing in Erinsborough once more. And long may it continue. Lou - and that mischevious cackle - have become good friends with everyone who watches Neighbours.

Cast and Crew Tributes
Some of Tom's current and former Neighbours colleagues pay tribute…
I remember my time on Neighbours with great fondness. In any job it's the kind folk you remember the most. Tom Oliver was one of those people. I was only there for under a year, and we didn't have many scenes together (except for a storyline about Marco and younger brother Rick (Dan Falzon) involved in Lou's used-car yard), but I do recall Tom's warmth and generosity on and off set. He made everyone, even those of us that were just starting out, feel incredibly welcome. And occasionally, when I've needed a jovial big-hearted character in one of my books, I've thought of Tom.
Felice Arena (Marco Alessi)
Lou Carpenter. A great Aussie bloke. Lucky enough to benefit and borrow from the extensive personality of Tom Oliver the player. I've always had the feeling that neither of those two have ever really played by the rules. That being said Sarah always felt safe around Lou. He was a father figure to her. His final gift was organizing a beautiful horse drawn carriage for Sarah's Wedding. Poor Lou had no idea Sarah was actually running away from an intense love for her boss Doctor Kennedy. But he meant the best for her. Ever the ladies man Lou was never backwards at coming forwards. And he has had quite the bevvy of beauties over the years. A better Neighbour you couldn't wish to have.
Nicola Charles (Sarah Beaumont)
The fact that in real life, Tom Oliver could not be more generous, gracious and giving is a testament to his skill in bringing cheeky old scammer Lou to life. Both Tom and Lou are absolute icons of the industry and writing for them was an honour, a privilege and a responsibility we did not take lightly. To know that at any point we could call upon Lou to bring both deeply felt emotion and solid gold comedy was a gift we were eternally grateful for. Happy Anniversary Tom - Neighbours is forever richer for having you around!
Emma Gordon (Scriptwriter, Storyliner, Script Producer)
I worked very closely with Tom while I was on the show. Connor and Lou were involved in loads of things like brewing beer, some dodgy schemes, most of which Connor took the blame for when they failed and just generally havin a laugh.
I learnt alot from working with him over the years, through his professionalism and talent and was lucky enough to attend the National TV awards in London with him where we had a great laugh and he even managed to get us flown first class, it was the first and- to this date, the last time I have ever done that and for that I am eternally grateful.
All in all... I love the man... Good on ya Tom xo
Patrick Harvey (Connor O'Neill)
Lou Carpenter is a gift to Neighbours. Not because Tom Oliver has created one of soap's best-loved rogues, though he has done that. Not because with Harold he formed perhaps the greatest and most enduring friendship in Neighbours' history - though he did that. And not because Tom can handle anything a script department throws at him from broad slapstick madness to heart-wrenching drama, though absolutely and without question he can do that. No, Lou Carpenter is a gift to Neighbours because he brings to Neighbours that most precious element of a soap's relationship with its audience: continuity. Turn on the telly to see Lou, and you know immediately that you're in Erinsborough, among friends, amidst 25 years of Carpenter History. And that is priceless.
Peter Mattessi (Scriptwriter, Script Editor)
I not only had the privilege of writing for Tom over the years, but I also worked on set in rehearsals with him for a couple of years as the script department representative. I always knew Tom was on the way in because you heard him first. That deep booming voice humming, whistling or laughing and it never failed to put a smile on my face. A lovely, generous, talented gentleman to work with and a cheeky, fiercely loyal character who is fun to write for. Congratulations Tom and thanks for the laughs on and off screen!
Emma J Steele (Scriptwriter, Story Department Liaison, Storyliner, Script Editor, Script Producer)
Even though it was a while ago now & I worked with Tom for quite a short time, I do recall fondly that he was such a nice man. Very generous with sharing his vast experience with the younger actors. I wish Tom all the best & congratulations on such a marvelous achievement.
Andrew Williams (Guy Carpenter)

To read our new interview with Tom Oliver, click here. The interview contains a slight teaser.