.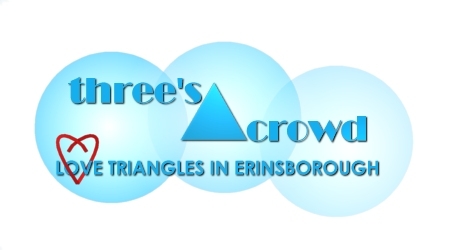 Features > Three's A Crowd by Moe and Steve
This week marks the third anniversary of Perfect Blend. But three isn't always the magic number, especially when it comes to Ramsay Street relationships. Neighbours is well known for its complicated love triangles and here, we look back at some of our favourites…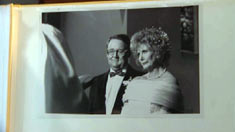 Harold, Madge and Lou
Neighbours' lengthiest love triangle if ever there was one. This began back in Brisbane in the 1950s when Madge, Harold and Lou all went to school together. Throughout their school years, Madge was torn between two very different men – the nerdy, stuffy Harold and the popular, outgoing football captain Lou. Harold and Lou were forever at odds over Madge, and Lou was particularly nasty towards Harold by labelling him Jelly Belly. It was a shock for both men when Madge chose neither of them and opted to marry Fred Mitchell instead. But the triangle wasn't to end there. 20 years later, Madge was living in Ramsay Street with her teenage daughter Charlene, her marriage to Fred over, when Harold re-entered her life. They eventually became engaged, and all was going well until Lou arrived in Erinsborough only weeks before the wedding. Declaring his love for Madge, Lou asked her to marry him and return to Brisbane with him, where he was a successful – and wealthy – car salesman. But Harold was having none of it and in an unlikely move, resorted to fist fights with Lou in order to secure the hand of Madge. Madge married Harold in the end, and Lou retreated back to Brisbane. But the triangle wasn't to end there. Madge and Lou met again when Madge was in Brisbane a few years later caring for her sick father. Lou had recently split up from his second wife, and Madge was on hand to comfort him. She even extended an invitation to him to come and stay with her and Harold in Erinsborough after she left Brisbane. But the idea horrified Harold so much that he had a heart attack and Madge wisely called off the visit from Lou. But the triangle wasn't to end there. One of the three found themselves permanently out of the equation when Harold went missing at sea and was declared dead. Lou coincidentally returned to Erinsborough around this time and comforted Madge in her darkest hour. After a respectful period of mourning, Madge agreed to marry Lou and they began preparations for their wedding. But Madge had doubts when she believed Harold's ghost was haunting the house to voice his disapproval, and the final straw came when Madge started to doubt Lou's fidelity. Madge decided to leave Erinsborough and return to Brisbane – but she and Lou parted friends. But the triangle wasn't to end there.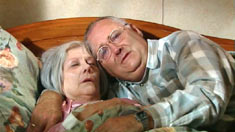 4 years later, Harold resurfaced in Erinsborough alive and well and Madge jetted back down to be reunited with him. Harold had lost his memory, however, and it took a lot of counselling and prompting from Madge to help him regain it. And it was actually a dinner at Lou's that brought everything flooding back, as Lou had made jelly for dessert and upon seeing it, Harold remembered the relentless teasing he had had from Lou at school. Madge and Harold's reunion wasn't without some hitches, and when Harold appeared a little unsure about getting back with Madge permanently, Lou was on hand once again to offer Madge an alternative marriage. But Harold eventually came round and the couple renewed their vows. The triangle finally came to an end in tragic circumstances. Madge was diagnosed with cancer and with only weeks to live, Lou penned an emotional letter to her in which he expressed his love for her and described her as 'the one that got away.' Madge thanked Lou for the letter as she entered her final hours, and Harold was by her side when she finally died. Although Madge is no longer around, Lou and Harold have become closer than ever since her death – they have lived together, gone into business together and Harold eve donated a kidney to Lou. And the one thing that they continue to have in common is their love for Madge.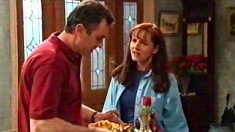 Susan, Karl and Sarah
Susan and Karl Kennedy's marriage had weathered several storms during their three years in Ramsay Street, including his stalker, Sandy Morris and his attraction to terminally ill patient, Kate Cornwall, not to mention disagreements over having another baby. However, in late 1997, one kiss between Karl and his receptionist, Sarah Beaumont, triggered their biggest crisis to date. The feelings between Karl and Sarah simmered for several weeks and, although they agreed not to take things any further, they were constantly thrust together in many unlikely situations. The situation was only aggravated as Susan spent the weeks living away from home in Wangaratta, where she'd become principal of the high school. As the months went on, Sarah found it more and more difficult to fight her feelings for Karl, eventually confiding in housemate Ben and, following his departure, Toadie. As Sarah fled Erinsborough down the coast to a caravan park, a guilty Karl found her and brought her back. As they returned, Karl's car broke down and the couple ended up spending a night at a motel – whether they slept together that night was never confirmed. The problem was that Toadie was also good mates with Karl's son, Billy, and before long, word of the secret emotions had got back to Susan. The revelation led to one of the 90s' most famous scenes as Susan delivered a slap to her husband and threw him out of the house. By the end of 1998, the Kennedys were reunited in time to celebrate their 25th wedding anniversary, but having Sarah next-door meant that the problem would never go away. In 1999, Sarah's problems with a stalker led to her using Karl as a shoulder to cry on, but it seemed that her engagement to Dr Peter Hannay would finally take her away from Erinsborough and out of Susan and Karl's lives. On her wedding day, Karl shared yet another kiss with Sarah before she left and the tension was back at number 28, as the Kennedy marriage broke down once again. Susan almost cheated with her old friend Martin Chester, but when Karl went missing, presumed dead, in the bush, she realised that her feelings for him were still very much alive. They reunited in time for the street's millennium party and had a couple of happy years together, before Susan's infamous retrograde amnesia led to a third brush with divorce for the Kennedy couple. After renewing their vows, 2003 saw the arrival of superbitch Izzy Hoyland, who managed to do what Sarah had failed to – she split up Karl and Susan permanently, and they finally got that divorce.
Darcy, Dee and Toadie
When Dr Darcy Tyler came to Erinsborough, he had been involved with Alice Jamison for seven years, but the attraction to blonde nurse Dee Bliss was obvious. After working at the hospital with Dee for a few weeks and attending the hospital ball with her, he left for the country, but returned some weeks later to locum for his uncle, Karl Kennedy. As his relationship with Alice fell apart, Darcy and Dee were free to get together and had a few months of happiness before he ruined it all. His affair with Dee's best friend, Tess Bell, was the end of their time together but the nightmare continued for Dee as Darcy planned his wedding to Tess. Fortunately, Tess had second thoughts and left the country before marrying him and Dee started to move on with her ex-boyfriend, Joel Samuels. However, Dee continued to be haunted by Darcy, as she found out that she was carrying his child, which she later miscarried, then Joel left town. Her one true friend throughout the whole ordeal was housemate Toadie Rebecchi. Toadie himself had been through several unsuitable relationships and, when he and Dee got together, many thought that they were mismatched. They proved everyone wrong and were happy for a few months, until Darcy decided that he wanted her back. Darcy too had survived a few bad pairings, including one of his patients, Penny Watts, and older woman, Chloe Lambert. After splitting up with Chloe, Darcy decided that Dee was his one true love and set about sabotaging her relationship with Toadie. Quite remarkably, his plans worked and he slowly drove a wedge between Toadie and Dee, causing them to split up. However, other areas of Darcy's life were falling apart as he got into heavy gambling debts and ended up robbing Susan and Karl, his own family, to pay them off. As he was revealed as a thief and sent to jail, he also admitted his machinations to Dee and Toadie, who were finally reunited and planned to marry. Tragically though, having finally got Darcy out of their lives, their wedding day came to an abrupt halt when, driving away from the ceremony, a distracted Toadie drove the car over a cliff edge, into the sea. Although he survived, Dee's body was never found.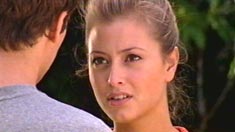 Steph, Marc and Flick
Stephanie Scully's luck with men was well known in Erinsborough for being on the bad side. After dating a couple of criminals and falling in love with her best friend's fiance, Steph's next man was the deputy manager of Lassiter's hotel, Marc Lambert. It was a whirlwind romance, which quickly led to talk of marriage, but the problem came in the form of Steph's younger sister, Flick, who had been working alongside Marc at the hotel. Flick and Marc found a mutual attraction and plenty of flirting at work, but she was shocked when she finally got to meet her sister's new fiance and realised who she was. In the heat of the moment, Flick and Marc shared a kiss but they decided not to take things any further, neither of them wanting to hurt Steph in any way. As preparations for the wedding grew, Flick found it more and more difficult to be around Steph, leading to her mother, Lyn, becoming suspicious. It was only when Flick rescued Lou Carpenter and Rosie Hoyland from a burning church that she came to the conclusion that life was too short to be so unhappy. She and Marc confessed their love for each other, but with the wedding only days away and Steph believing that she was pregnant, he was forced to cut his ties with Flick. As the wedding day dawned, Steph realised that her pregnancy had been a false alarm and, during the ceremony, she noticed the way Marc was looking at bridesmaid, Flick. The truth suddenly dawned on her and chaos ensued as Flick disappeared to Sydney and Steph threw Marc's engagement ring back in his face. Marc chose which sister he really wanted and followed Flick to Sydney. He continued to pursue her back to Erinsborough and she finally gave in and agreed to give a relationship a try, but the situation, and Marc's possessiveness, proved too complicated. Marc eventually left for London, while Flick and Steph patched their relationship up, after several months, before Flick left for New York.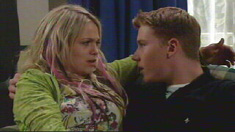 Serena, Boyd and Sky
Cousins Serena Bishop and Sky Mangel couldn't have been more different from each other, with superficial Serena mainly concerned with her appearance, and the opinions of others, and free-spirited Sky more concerned with not fitting in. However, the girls still had a close friendship and managed to find one thing in common – Boyd Hoyland. As Sky befriended new student Lana Crawford, it was the beginning of a turbulent time for her relationship with Boyd. When Lana admitted that she was gay, Sky started to question her own sexuality, using Lana to test her feelings and losing both her best friend and her boyfriend in the process. As the end of the school year came around, Serena was also single, having split up with boyfriend Stingray Timmins, then survived a disastrous flirtation with Luka Dokich, before finding out that he was her half-brother. Whilst planning the end of year party together, Boyd and Serena ended up sharing a kiss but, although Serena was thrilled with the secret relationship, Boyd's heart wasn't in it. Realising how many lives she was about to destroy, Serena decided to do the right thing and she managed to get Sky and Boyd back together in time for Christmas and the brief relationship managed to stay a secret for a while. That was, until Boyd, seriously ill and suffering from a brain tumour, mistook Sky for Serena and ended up blurting out everything. It brought about the end of both Sky and Boyd's relationship and Serena's newly-found reunion with Stingray.
Also...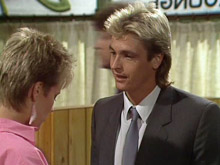 The early years in Erinsborough saw Des Clarke and Shane Ramsay fighting for the affections of café owner Daphne Clarke. She was back and forth like a yo-yo between the two men, becoming engaged to Des twice and Shane once, before marrying Des in July 1986. A night trapped out in the bush saw another love triangle develop in 1986, as Shane once again caused trouble by getting too close to Jane Harris. Her boyfriend, Mike Young, wasn't too thrilled and the two men ended up in the boxing ring to decide who could date her. She ended up back with Mike but it wasn't long before they'd drifted apart. In the same year, Susan Cole found herself torn between two men – funny, reliable Clive Gibbons, who she was fond of but didn't love and Paul Robinson, her boss who she had plenty of chemistry with. In the end, having destroyed Clive by cheating on him, she left town. Jane found herself in another love triangle in 1987 when she helped tutor Scott Robinson, the husband of her best friend, Charlene, through year 12. They must have enjoyed their previous love triangles, as Jane, Des and Mike found themselves in another one by 1989, with Des and Jane engaged, and Mike finding it difficult to see his best friend and his ex together. Meanwhile, Lucy Robinson developed a crush on number 26's lodger, Nick Page, but also made herself an enemy in the form of his girlfriend, Sharon Davies.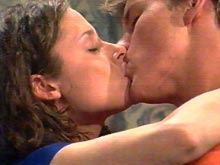 The 1990s saw plenty more love triangles in Erinsborough, as Brad Willis found himself caught between Lucy Robinson and Beth Brennan. No sooner had Lucy left to be a model and Brad had settled for Beth, than Lauren Carpenter turned up and took Lucy's place as the third wheel. Before long, Cameron Hudson had also joined in as he found himself dating Lauren. He clearly didn't fancy fighting over her, though, and took off once he realised she was more interested in Brad. Brad's parents, Pam and Doug, also had to contend with several interlopers, including the fanatical Jill Weir and Pam's brief liaison with neighbour Jim Robinson. The younger characters were still the focus of most love triangles in the 90s, however. Mark Gottlieb and Annalise Hartman's relationship was never far from a third party, as Gaby Willis almost stole Mark away, then Annalise fell for Sam Kratz. However, it was Mark who ended up leaving Annalise – to devote his life to God – leaving her free to get together with Sam. Annalise was never entirely content with just one man in her life, though, and by the end of 1995, she was cheating on Sam with student Stonie Rebecchi. The youngsters continued to dominate the love triangles in the 90s and in 1997, swimmer Caitlin Atkins succeeded – briefly – in breaking up love's young dream, Billy and Anne.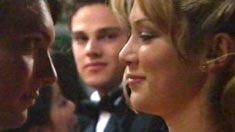 In more recent times, Harold's foster sons, Paul McClain and Tad Reeves found themselves at the centre of more than one love triangle, regularly falling out over girls including Simone King and Larissa Calwell. With Madge gone, Harold and Lou had to find someone else to argue about and they did, with the arrival of Reverend Rosie Hoyland. Although she dated Lou for a while, her feelings for Harold were also strong and, in the end, she left them both alone when she went to do aid work in Papua New Guinea. Less of a love triangle, and more of a love square, came about in 2003 when Jack Scully and Nina Tucker cheated on their respective partners, Lori Lee and Taj Coppin, during rehearsals for a play. Within a few months, Jack and Nina were together and, despite a few ups and downs, ended up happy together, living in Hollywood. The past eighteen months saw Toadie Rebecchi pick the wrong woman again, as he found his girlfriend, Sindi Watts, had been secretly seeing his best friend, Stuart Parker. Toadie eventually gave them his blessing and they ended up married, though Sindi's mental problems meant that it would be a short marriage with Sindi sectioned in the middle of the honeymoon.