.
Interviews > Chris Toohey
After appearing for a couple of episodes in 2005 as Jake Rinter, Chris Toohey returned to Neighbours in 2007 as troublemaking student Justin Hunter. After nearly two years in the recurring role of Justin, Chris chats to us about his time in Erinsborough...
Had you done much acting before your first Neighbours appearance as Jake in 2005?
I grew up on the stage singing with the National Boys Choir and performed in a number of operas and musicals. This was a natural progression into screen acting that came in a number of guest roles on Australian TV.
How did that first role come about? Was it just a typical audition for you?
Yes it was just a typical audition with a video camera and a mark where to stand, as typical as can be. I thought I had done quite poorly so it was a surprise when I got the call from my agent a week later!
You returned in 2007 as Justin Hunter. Did you have to audition again? Were you aware when you got the role that Justin would be a recurring character?
I did have to audition again much the same way; although when I walked out of the room I felt I had done a better job during that audition than last time. Whether I did or not, they gave me the part anyway!
At the time I wasnít aware of how long I would be on the show, I definitely didnít think I would be on for this length of time! It was definitely worth turning up to that audition! Itís a great experience!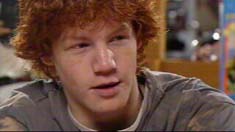 Has there been anyone youíve particularly enjoyed working with during your two stints on the show?
Over both roles it would have to be Matthew Werkmeister, heís such an energetic and funny guy. During my Justin character though it would be Sam and James, theyíre just two, nice, down to earth, regular guys that anyone can get along with.
My favourite on the show would have to be Steve Bastoni; Iíve worked with him before alongside Ben Nicholas in OLIVER! The Musical. He would have to be one of the funniest guys I have ever met!
Have there been any scenes or stories that youíve particularly enjoyed filming?
The most enjoyable stories to shoot were during the car racing and the Dingoes footy team. The car racing with James was great because we had a Honda Prelude; Iíve always been a fan of the model. The stunties were driving around in it showing off all day! I thought I was a pretty good driver, until I saw their precision driving, absolutely amazing.
The footy scenes were great fun because I love the sport. Eloise was a great sport about having to take the stunt hits each time, a couple of times I thought I had accidentally knocked her too hard, but she'd get straight back up as if nothing had happened. It was also fun because between takes and resets we would kick the footy around with the extras!
What's it like to work alongside such an established cast?
There is such an array of established Australian actors on the show that its quite daunting the first time you walk into the green room. Theyíre all so accommodating though that your soon just one of the gang! Itís almost hard to get a word in with everyone trying to introduce themselves and have genuine conversations with you. A great bunch of people to work with.
Youíve been appearing on and off as Justin for nearly two years now. Would you ever be interested in joining the cast full-time?
Yes I would be interested, but unfortunately that decision isnít up to me!
Have you ever been a Neighbours viewer yourself?
Yes I used to watch it every now and then, Neighbours was always on before The Simpsons when I was growing up! I was a huge Simpsons fan!
What do you enjoy doing when youíre not filming Neighbours? Do you ever find time for other acting roles?
Like my character Justin, I also play amateur Aussie Rules football; I also play a little indoor soccer too! I still find time for small roles on both the big screen and small screen, but no opportunity where my passion lies, in live theatre.
As Neighbours enters its 25th year, do you have any thoughts on why the show has lasted so long?
I believe that the shows enduring success lies in the depth and colour of the characters portrayed in the show, which have a universal appeal to all audiences. This is reinforced by the talent and diversity of Australian actors, both past and present, which have featured in the show over the years. Not only with their acting ability, but what they have accomplished outside of Neighbours.
Interview by Steve. Added on 10th January 2009