.

Features > The Story Of 'Unforgettable' by Moe
Not since Angry Anderson's Suddenly way back in 1987 has Neighbours featured such a catchy, memorable and.. well.. Neighbours-esque song as Unforgettable, the little ditty Ty Harper knocked up for a performance at the Erinsborough High Year 10 Formal in 2008. Following it's debut in episode 5456, Unforgettable featured consistently on Neighbours for the next 12 months. Here, we look at the story of the song that, for better or worse, truly is.. Unforgettable.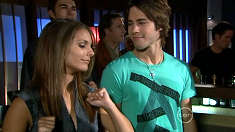 When it was announced in late 2007 that singer Dean Geyer had been cast as aspiring singer Ty Harper in Neighbours, the sceptical viewer could have been forgiven for thinking it was just another cynical ploy on the part of the producers to sign up a flavour-of-the-moment celebrity. After all, Neighbours had previously found plum roles for Big Brother contestant Blair McDonough, former Miss Universe Erin McNaught and another former Australian Idol finalist Dan O'Connor. When Dean had himself competed in Australian Idol in 2006, there was no denying he was a great singer and had a bright future in the music business ahead of him. He came third place in the competition and was signed up by Sony BMG, touring Australia as a support act for The Veronicas and releasing a debut album, Rush, which included the hit single If You Don't Mean It. However, with no acting experience, he was going to have a tough job ahead of him as a regular cast member on Neighbours. But Dean put his head down and spent several months at acting workshops and vocal coaching before filming his first scenes as Ty in early 2008. He debuted on Australian screens on March 27 of that year and was eased in gradually so as not to throw him in at the deep end with heavy scenes and storylines.
But there needn't have been any fears as Dean proved himself to be a competent acting talent and quickly made Ty a fan favourite as he quietly fell under the spell of local teen Rachel Kinski. Although Rachel was heavily involved in an illicit relationship with her teacher at the time of Ty's arrival, she befriended the singer and was gradually talked into lending her vocals to some of Ty's songs. Rachel's confidence grew as she spent more time working with Ty and they eventually came up with a song together called Unforgettable which they planned to perform at the upcoming school formal. However, Rachel was lacking in confidence and in the lead-up to the big night, kept insisting she wasn't going to perform. But at the formal, Ty – who had been playing all evening with his band Nothing Doin' - shocked Rachel by announcing to the assembled crowd that they were about to be joined by a special guest vocalist and summoned Rachel up on stage. With no alternative but to sing, Rachel threw Ty a look and belted out Unforgettable, dedicating it to her late mother, from whom she had got her love of singing. The students and parents at the formal were all taken aback at how beautiful Rachel's voice was and she was lavished with praise afterwards, leading her to forgive Ty for putting her on the spot.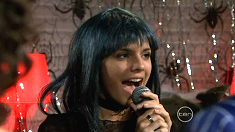 Caitlin Stasey had been playing Rachel since the age of 15 in 2005 and it came as quite a surprise, on screen and off, to see the young teen perform with such flair and with such a great voice. However, it wasn't her first foray into singing – when she was 10, Caitlin had travelled the world as a member of the Australian Girls Choir. She was considerably anxious about the filming of the formal scenes. "I'm actually pretty nervous," she told the official Neighbours website at the time. "This is the first time I've actually had my voice on TV, which is kinda scary." Caitlin found herself looking to Dean for support ahead of the big scenes - "We had to record the song [prior to filming the formal scenes] and he was so patient with me because I have no rhythm or anything...I could be tone deaf or whatever. He's been great, he's been so lovely to work with."
Dean wrote Unforgettable specially for Neighbours and the school formal scene. It took him only 20 minutes to write the track. "I kinda wrote it from the perception that it was about someone being away from you, or you could take it as if they had passed away or just moved away to another country, and kind of longing to tell them they mean a lot to you.. like you've almost taken them for granted," he told neighbours.com. Caitlin expanded: "It wasn't written for Rachel's mother, but it's kind of about loss."
The block of episodes that Unforgettable debuted in coincided with a dramatic week on Neighbours as Bridget Parker's bad boy boyfriend Chris Knight was left for dead by Lassiter's Lake and a murder hunt kicked off amongst a core group of characters. Unforgettable was used heavily in promos that week on Channel Ten to mark the episodes and what was billed as 'an Unforgettable week on Neighbours'.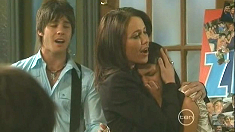 A few months later, Ty and his band were called upon to provide the music at Declan Napier's 18th birthday party and Rachel was again summoned to the stage by Ty for a rendition of Unforgettable. This time around, though, her performance sparked jealousy in the eyes of her boyfriend Angus, who had just been released from a brief stint in prison on account of his relationship with Rachel, who was his student. It seemed Angus had reason to be jealous, though, as Rachel and Ty engaged in some light-hearted banter after the performance in which each dissed the other's singing in a flirty exchange. This latest performance of Unforgettable was also played over the final scenes of Oliver Barnes, as he called into the General Store to kiss his baby daughter Chloe and the love of his life, Carmella, goodbye.
The relationship between Ty and Rachel developed significantly in the months that followed, with Rachel and Angus calling it quits and Rachel's best friend Donna picking up on the chemistry between the two singers. Donna managed to land them both a guest spot on the Triple E Radio Station where Rachel and Ty recounted a recent mix-up where Rachel had hit Ty over the head with a cricket bat when she mistook him for an intruder. The DJs were impressed with the pair and played Unforgettable for their listeners, a move which led to an increase in interest for Ty's band. And love finally blossomed for Rachel and Ty when they admitted their true feelings for eachother after a gig at Charlie's.
The next time Unforgettable was played it was during a more sombre occasion, and in a slightly different arrangement. Rachel's younger brother Zeke had gone missing during a school rafting trip and after a number of weeks, was finally presumed dead (although he later showed up alive and well). A memorial service was organised at the store for Zeke, and Rachel bravely prepared to perform Unforgettable in tribute to her brother. But as Ty kicked in with the guitar intro, Rachel broke down and was unable to sing. However, her step-sister Libby came to her rescue by picking up from where Rachel should have started singing and led the assembled friends and relatives in singing the chorus of Unforgettable for Zeke. The moment was all the more poignant for long-time viewers who recognised the significance of what Libby was doing – she had broken down herself when she sang Wild Mountain Thyme at her husband Drew's funeral a few years before and Harold Bishop had come to her aid on that occasion.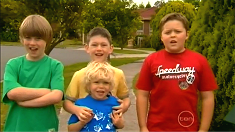 Unforgettable was heard for the final time on Neighbours when Ty left Erinsborough to join his beloved Rachel in London – although this time it wasn't performed by the likely candidates. Instead, Ty was serenaded by the kids of Ramsay Street – Callum, Ben, Charlie and Mickey – who adapted the lyrics for him, as Steph drove him to the airport and viewers were then treated to one final blast of the song played over a montage of Ty and Rachel's love story.
Unforgettable was a huge hit as a download online, with the official Neighbours website releasing it as a download within days of it's first broadcast during the school formal episodes. Dean and Caitlin performed a full version of the song in a special recording on the set of Charlie's Bar in September 2008, the same day The Wombats recorded a set for the show. There was also a second memorable collaboration between Ty and Rachel (or Dean and Caitlin) – We Share the Same Space which was the song that Ty wrote to sum up his feelings for Rachel and further tracks including You and Me, which Ty wrote for Libby and Dan to mark their engagement, It's Christmas, a festive tune performed for the residents of Ramsay Street by Ty and Rachel on Christmas Eve 2008 and You Make Me, which Rachel performed solo while auditioning for a permanent place in Ty's band.
Since leaving Neighbours late last year, Caitlin completed her VCE and spent time in panto at Norwich before landing the lead role in a new film adaptation of the popular teen novel, Tomorrow, When the War Began. She had been offered a recording contract in the wake of her performances on Neighbours but opted to stick with acting. Dean, meanwhile, finished his stint as Ty only weeks after Caitlin and his role on Neighbours led to his nomination as Most Popular New Talent at this year's Logie Awards. He has since based himself in Los Angeles where he is continuing to focus on his music career, writing and recording songs for his next album. But it is Unforgettable with which the characters of Rachel and Ty will be forever associated in Neighbours lore. All together now... "and I want you to know you're who I wanna be..."