.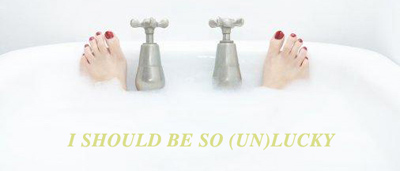 Features > I Should Be So (Un)Lucky by Ryan
Let's face it, soap characters are rarely blessed with good luck for long, but some are dealt a tougher hand than others. We take a look at the Ramsay Street residents who seem doomed to a life of misery…

Harold Bishop


When Harold Bishop lost his wife Mavis, he must have seen a move to Erinsborough as a new, and hopefully happy, beginning. How wrong can you be? At first things were going swimmingly; after a rocky courtship, he married childhood sweetheart Madge Ramsay, and was reunited with estranged daughter Kerry and granddaughter Sky. But after a couple of years, a pattern of disasters began… First of all animal rights activist Kerry was shot dead by a duck hunter, leaving Harold devastated and Sky motherless. Harold then narrowly survived a heart attack, and just three months later, he was swept off a cliff whilst touring Australia with Madge, and was presumed dead. However, Harold had actually survived, albeit with amnesia. Having been living as Salvation Army worker 'Ted', he found his way back to Erinsborough, where old friend Helen Daniels spotted him. Reunited with Madge, Harold's luck seemed to have turned, but within a year Madge was seriously ill with an aneurysm. She survived, but in 2001 was diagnosed with terminal cancer, leaving Harold a widower again. Happier times were ahead when both Sky and Harold's son David came back into his life in 2003, but just weeks later he suffered a stroke which nearly claimed his life – not to mention severely affecting his personality. But it was earlier this year that Harold faced his toughest times yet, when David, his wife Lil and daughter Serena were wiped out in a plane crash; a blow that drove poor Harold to attempted murder…

Helen Daniels


Saintly Helen was always one of the friendliest, happiest faces in Ramsay Street; remarkable considering the life she'd had. Before we even met her, Helen had lost her husband Bill and daughter Anne. Attempts to find love again ended in several disasters – Douglas Blake conned her, Gerard Singer was also dating her daughter, while Bill's cousin, Michael Daniels, married Helen without mentioning one little detail; he was still married to his first wife! Even the memory of her first marriage was tarnished when Helen discovered her husband had cheated with her best friend. There would be more tragedy in Helen's life in the mid nineties when she lost surrogate grandson Todd in a car accident, son-in-law Jim to a heart attack, and granddaughter Julie to a fatal fall within the space of two years. Meeting new man Reuben White looked set to bring happiness back into Helen's life, but a terminal illness claimed his life just a month after their marriage. Helen's health would also cause major headaches – she suffered two strokes, plus a broken hip. But despite all this heartache, Helen never lost her love of life, largely thanks to the love and support of her family (well, the surviving members of it!) While her death in 1997 was tragic, Helen was surrounded by people she loved and happy memories.

Lucy Robinson


Her mother Anne died giving birth to her – and from that moment on, the pattern was set for Lucy's life. Her childhood was full of traumas and disasters, including almost dying from a bee sting, going temporarily blind, suffering a burst eardrum and, most seriously, a brain tumour. After the relief of a few uneventful years at boarding school, Lucy returned to Ramsay Street, and within months she'd almost slept with her half-brother and been targeted by an obsessive stalker. Lucy's love life didn't improve from then on – her marriage to the much older David Kazalian ended in disaster, not to mention a drug and alcohol addiction. But who could blame Lucy for going off the rails somewhat when her cousin Todd, father Jim and sister Julie all died within two years? After returning to Erinsborough in disgrace, Lucy was helped back onto her feet by her grandmother Helen and friend Mark Gottlieb, before moving to New York to work for her aunt Rosemary. Nearly ten years on, Lucy is still working there and seems to have shaken off her curse – but given her brother had his leg amputated just before her last visit, maybe she's passed it on to him…

Des Clarke


Jilted just two episodes into Neighbours, the phrase 'unlucky in love' could have been invented for poor old Des. It turned out Des had been through broken engagements before, and when he finally got the woman of his dreams, Daphne Lawrence, to the altar, she was kidnapped on their wedding day – leaving Des convinced he'd been jilted yet again! Furious at his lack of faith in her, Daphne dumped Des, leaving the road open for his ex, Andrea Townsend, to worm her way in with the 'son' Des never knew he had, Bradley. After Des's mum Eileen revealed Bradley wasn't his son after all, he won Daphne back, and at last his life seemed on the up. Des and Daphne were delighted by her pregnancy, and the birth of their son Jamie… but a happy future wasn't to be. Having already suffered an almost fatal bout of meningitis, Daphne was killed in a car crash, destroying the devoted Des. Elsewhere, Des's estranged parents had reunited, only for dad Malcolm to jilt Eileen. The combination of this and Daphne's death led Eileen to suffer a breakdown, at a time when Des needed her more than ever. With his true love gone, Des's pattern of romantic disasters began again. His first tentative steps to love were with Penelope Porter, but Des's continuing grief held him back – only for Penny to later reveal she was sleeping with Des's boss! Des then surprised everyone by winning the hand of the younger Jane Harris, but when she was forced to postpone their wedding due to her nan's illness, their relationship fizzled out. Some months later Des left Ramsay Street, having seemingly found happiness with a new fiancée, Fiona. However, even then he didn't get a happy ending; when Jamie returned in 2003, he revealed Des had split with Fiona and had a nervous breakdown.

Steph Hoyland


Biker chick Steph was always the least troublesome Scully sibling, but it seems in soap that nice girls finish last. From her love life to her health, poor Steph has been dealt a bum hand over the years. Her first love, Woody, was a jailbird who later faked his own death. Fellow mechanic Drew Kirk seemed perfect for her – except he just happened to be engaged to her best friend… But these disasters paled in comparison to her engagement to rich kid Marc Lambert, who Steph discovered was cheating on her, with her own sister, as they stood at the altar! As well as a car crash of a love life, Steph was involved in a motorbike crash in 2000, although for once she was relatively lucky, as her passenger, Libby Kennedy, came off worse. But in 2003 Steph faced her biggest test yet when she was diagnosed with breast cancer, and despite seemingly successful treatment, the condition returned earlier this year. As if these traumas weren't enough for one lifetime, Steph's also narrowly avoided prison on two occasions; once when framed for robbery by her ex-boyfriend, and later when falsely accused of performing euthanasia on her grandfather. More recently Steph's luck seems to have turned – she's happily married to Max Hoyland, has a new baby after a miracle pregnancy, and is cancer-free once more. But will it last? Given Max recently tried to get her committed, we wouldn't count on it…

Joe Mangel


When Joe arrived on Ramsay Street he was estranged from his mother, had split from wife Noeline and lost contact with his son Toby. Within a few months he'd made up with his mum, gained custody of Toby and found love with Kerry Bishop. It seemed Joe was set to buck the trend of disastrous lives for soap characters… but then everything went spectacularly wrong. First Noeline was killed in a road accident, leaving Joe with a grief-stricken son. Then just a few months later, his second wife Kerry was fatally shot during an animal rights protest, devastating Joe and robbing her daughter Sky of a mother. To make things worse, Joe then lost custody of Sky to her natural father, Eric Jensen; however, Eric later had a change of heart, and the two were reunited. In time Joe's grief for Kerry lessened, and he found love again with Melanie Pearson. But even their wedding was tinged with tragedy, as Kerry's father Harold 'died' just days before. Soon afterwards Joe and Melanie moved away, but like Des Clarke before him, this widower didn't get a happy ending. When Sky returned to Ramsay Street in 2003, viewers discovered Joe and Mel's marriage didn't last. Joe himself returned in 2005, and when he found love with Lyn Scully, his luck looked set to turn. So what happened next? Why, the death of his brother-in-law, sister-in-law and niece in a plane crash of course!