.
Features > More Tea, Vicar? by Moe
While only at the forefront of a couple of major storylines over the last 20 years, religion and the church have always been somewhere in the background in Neighbours. Various religions and faiths have been represented, and throughout most of the show's run, there have been a number of recurring priests and vicars in Erinsborough. Here, we take a look back at them…
In the early years of the series, Erinsborough played host to various men of the cloth. There was the Minister that looked on sternly as Eileen Clarke sang completely out of tune at Sunday service once and proceeded to ask her to refrain from singing in church in future. And there was the clergyman who finally pronounced Des and Daphne man and wife after a lengthy courtship and a series of false starts. And who could forget the phony Reverend Errol Price, who kidnapped Helen Daniels and held her captive in a shed at Erinsborough Cemetery?
It wasn't until 1987 that the neighbours welcomed kindly Reverend Sampson to Erinsborough. In his two years in the neighbourhood, Reverend Sampson was often seen at local events, whether it was judging the cake baking competition or delaying Madge Ramsay by stopping her to chat in the midst of a heavy rain shower. Reverend Sampson also presided over the marriages of several Ramsay Street couples during his time on the show, including Scott and Charlene, Madge and Harold and Mrs. Mangel and John. Indeed, the latter two couples were well known to Reverend Sampson as the characters of Harold Bishop and Nell Mangel were regular churchgoers and members of the church choir. Madge also attended church regularly, and went every Sunday along with her best friend Helen Daniels right up until she moved to Brisbane in 1992. And even then, Madge's old flame Lou Carpenter kindly offered to take Madge's place alongside Helen at church each Sunday.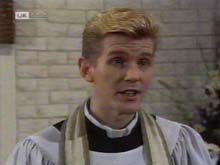 Reverend Sampson was replaced by the younger Reverend Richards in 1989. Reverend Richards got on very well with his peers in the community, such as Henry Ramsay, Bronwyn Davies and Melanie Pearson, and didn't object to them calling him by his Christian name, Craig. He even found himself time for a romantic storyline of his very own, when Cassandra Boyle took a shine to him after being passed over by Henry. Reverend Richards stayed in Erinsborough until 1992, and was last seen marrying Melanie and Joe Mangel. By the time of the next Ramsay Street wedding – Phoebe Bright and Stephen Gottlieb - a year later – Erinsborough was home to the fussy and conservative Reverend Fitzsimons, who refused to allow the couple to wed since Phoebe was a single mum. Helen came to the rescue for them, however, by contacting Reverend Richards, who had no problem with returning to the neighbourhood to conduct the ceremony.
Up to that point, it had always been Anglican ministers who were featured in the series, until Annalise Hartman and Mark Gottlieb began planning their wedding in 1994. Annalise was a Catholic and although Mark had come from a non-denominational background, he made the decision to join the Catholic Church in the lead up to the wedding. This meant he had to undergo religious instruction, be baptised and confirmed before he could marry in church. As a result, Mark was immersed in religion as the wedding day approached and became very good friends with Fr. Michael Graham. There was shock all round when Mark announced to Annalise, and a packed church, on the day of the wedding that he had decided to become a priest.
It was back to Anglican ministers as the 90s drew to a close, with Reverend Neyland presiding over the funerals of Cheryl Stark and Helen Daniels. But Catholicism was back on the table when the Scully family moved into Ramsay Street in 1999. The mother of the Scully brood, Lyn, was from a strict Catholic background, while Pa Scully, Joe, had an older brother, Tom, who was a Catholic priest. Indeed, we met Fr. Scully in 2003 when he relocated to the parish and fell in love with Susan Kennedy. He even went so far as to resign from the church, and caused a real stir around town by publicly displaying his feelings for Susan – with Lyn, in particular, objecting to her brother-in-law's behaviour. In the end, though, Tom realised he couldn't leave behind enough of the church to devote himself fully to Susan and he left town to visit his ill father in Bendigo.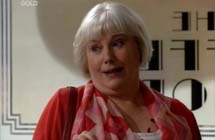 Before Fr. Scully, Neighbours had seen its very first regular character who happened to be a person of the cloth. And in a real departure, that person was also a woman. Rosie Hoyland proved that ministers were not all stuffy and conservative, as she had a wicked sense of fun and a strong sense of liberalism. Rosie's introduction provided us with the name of the church that had featured on Neighbours since the early days – St. Stephen's Church, on Church Street. In her 12 months on the show, Rosie also found herself at the centre of a battle for her affections between Lou and Harold, struggling to deal with her estranged son Max, and even going head to head with the first Bishop in Neighbours that wasn't related to Harold – the horrid Bishop McDermott when he wanted to transfer her to Byron Bay. Rosie, it seemed, had become so important to the community that nobody could bare to see her go and they successfully petitioned the Bishop to let her stay in Erinsborough. Strangely, when Rosie announced she was moving to Papua New Guinea a few months later, there wasn't a petition in sight. Well, not on screen anyway. But that's another story.
Presently, the residents of Ramsay Street have, not one, but two recurring members of the clergy. For the Catholics of Erinsborough there's Father Capitola who has been on hand for Scully christenings, weddings and funerals, and for those of the Serbian faith, which in Erinsborough is basically Liljana and Serena Bishop, there's Father Popovich, who has even managed to perform the last rites on Liljana – well before she actually required them.