.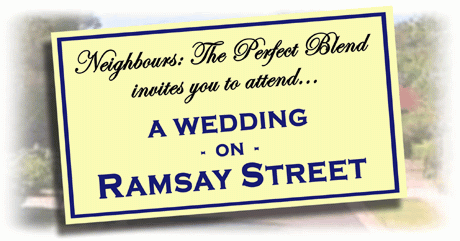 Features > A Ramsay Street Wedding by Steve, Moe, Rhys and Billy
This feature takes a look back at the Erinsborough couples who've made (or tried to make) the big leap into married life over the years...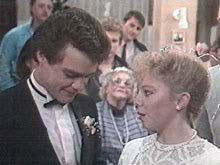 Paul and Terry September 1985
Although Des and Daphne's wedding is often considered the first Neighbours wedding, it was actually Paul Robinson and Terry Inglis who were the first Ramsay Street couple to say "I do". After literally one date, air steward Paul and plumber Terry got engaged and preparations got underway for their wedding. Paul's busybody sister Julie reacted to the wedding plans in a disapproving manner until Terry asked her to be her bridesmaid and Julie's frostiness rapidly thawed. In fact, Julie threw herself into the wedding preparations so much, she began to take over the entire organisation. Paul's brother Scott was upset when Paul chose his best mate Shane Ramsay as best man. But Scott was placated when Paul asked him to be the official wedding photographer. The wedding ceremony was held at the Robinson house on, and set the template for subsequent Ramsay Street weddings when an argument broke out between Shane and Mark Keating, an old flame of Daphne's. Shane was still in love with Daphne and jealous at the apparent rekindling of her relationship with Mark, a drunk Shane picked a fight with Mark - resulting in Shane landing face first in the wedding cake.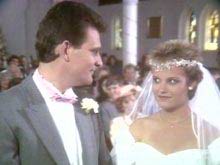 Des and Daphne July 1986
After their first wedding went wrong when Daphne was hijacked by a man in a gorilla suit, the second was something of a miracle for Des, who was convinced he was jinxed when it came to marriage. A practical joke at the stag night left Des with his arm in plaster (though he hadn't actually broken anything) but the big day was relatively painless. With the whole street involved, everything went very smoothly and Des was thrilled to finally make Daphne his wife. Things didn't go so well on the honeymoon, however, when Des put his back out and was forced to spend the whole time lying down. Soon after their wedding, Daphne gave birth to Jamie, but Des' life was to be torn apart when Daphne died after spending many months battling in a coma.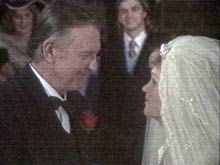 Dan and Edna September 1986
After a falling-out, due to Dan's constant flirting with Rosie Jacobs, Edna went to file for divorce and discovered that Dan had never filed the wedding certificate 50 years before meaning that they weren't legally married. Their shocked daughter Madge hired Clive's 'Gift of the Gab' service to reunite the pair. Clive decided to remind them of their youth, when they first started courting, arranging a night of nostalgia, with Madge's daughter, Charlene, singing one of their favourite songs, and fortunately it worked. They agreed to re-marry and had a beautiful service, before returning home to Queensland.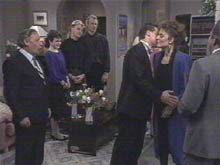 Paul and Gail June 1987
Gail was Paul's business partner and a very useful tool in the Lassiter's empire. In order for them to advance their careers, they had to be married. Paul and Gail tricked the Robinsons and their friends into thinking that they were really in love with each other, when really their entire relationship was a sham. The Robinsons welcomed Gail into the family which made everything all the more awkward. Hilary nearly caught them out when she noticed they slept in separate bedrooms, but they managed to pull the wool over her eyes by saying they had been having an argument the night before. Gail slowly realised that she was actually falling in love with Paul for real, and was devastated when she realised he didn't feel the same. She decided to leave Erinsborough, but her brother-in-law Scott knew that Paul was actually in love with Gail as well, and managed to get the two together before she left. They renewed their vows and Gail stayed in Erinsborough. The wedding took place, oddly, in the living room of Number 22. Gail's father and the Robinsons thought they had been invited round for a family dinner, but were in for a shock when they realised Paul and Gail were getting married! The Robinsons didn't seem to mind, and despite Jim having a few words with Paul about not telling anyone, they had a perfect evening.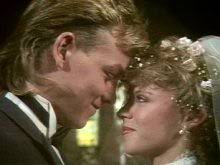 Scott and Charlene July 1987
*The* Neighbours wedding. A fairytale from start to finish, Scott and Charlene's nuptials saw the childhood sweethearts wed in an emotional service. They had wanted to live together, their parents objected, they got engaged instead. And all the sceptics were proved wrong when Scott and Charlene became one of Ramsay Street's most devoted couples. Their wedding was also significant in that it merged the warring Robinson and Ramsay clans after generations of feuding. With Jane and Lucy as bridesmaids, Charlene - led up the aisle by brother Henry - made Scott the proudest man in Erinsborough as they took their vows and reduced the congregation to tears. The reception back at the Robinson house provided plenty of laughter and drama, with old Dan Ramsay being accused of groping Mrs. Mangel, Lucy's pet mice being set loose, Jim admitting in his speech that he had got it wrong when he suggested Scott and Charlene shouldn't marry, and Charlene receiving a four year apprenticeship at the garage from Rob Lewis as a wedding gift. As the residents gathered on Ramsay Street to wave the happy couple off on their honeymoon, a knowing glance between Charlene and Madge added a touch of poignancy to proceedings, before Mr and Mrs Robinson drove off in Clive's beloved car Bertha.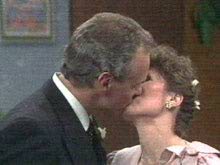 Jim and Beverly February 1988
Dad of four Jim and doctor Beverly were introduced to each other by Jim's cousin Hilary, who had gone to school with Beverly in Adelaide. Despite Hilary's attempts at playing cupid, Jim and Bev failed to hit it off at first, and actually rather despised each other. However, in true Ramsay Street fashion, the tension between the pair eventually developed into love and they started dating. After a brief separation during which time Beverly got back together with her abusive ex-boyfriend Stephen Armstrong, Jim proposed marriage at Christmas 1987. Beverly accepted, and they married on St. Valentine's Day 1988. Jim's son Paul also took advantage of the occasion to renew his marriage vows to Gail, their initial wedding having taken place purely as part of a business deal. The happy occasion suffered a hiccup, however, when Beverly's nephew and niece, Todd and Katie Landers, ran away. Although they were found safe and well after a few hours, Jim and Beverly opted to cancel their honeymoon and fly to Adelaide instead to try and sort out the marriage difficulties Todd and Katie's parents were encountering. With no resolution pending, Jim and Bev did the decent thing and offered to let the kids stay with them at No.26 to give their parents some time to patch up their marriage. So much for the honeymoon period.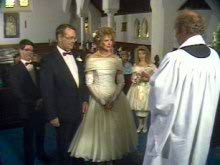 Harold and Madge May 1988
Madge had known Harold since high school, but had chosen to marry Fred Mitchell instead. After escaping the cruel Fred and moving to Erinsborough, Madge was surprised when her daughter, Charlene, arranged for Harold to call in. After realising that they were meant to be together, they started dating and Harold proposed. Despite several hiccups, including the reappearance of Lou Carpenter, another of Madge's old flames, the couple made up for lost time and headed down the aisle. The arrival of Harold's son, David, proved comical for the residents, as he was a carbon copy of his father. Everyone went well on the day, with the only problem being the sour attitude of Mrs Mangel, who had always held out hope that she would one day romance Mr.Bishop. Harold quickly put her in her place and everything was fine - although Nell managed to get one last dig in, by playing all the notes wrong during the wedding march.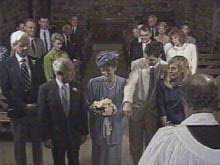 John and Mrs. Mangel October 1988
Nobody on Ramsay Street ever expected to see the neighbourhood's resident busybody find true love and marry. Mrs. Mangel's first husband, Len, had already left her after having enough of her nagging and interfering ways. But retired dentist John Worthington saw something in Mrs. Mangel that nobody else appeared to see, and he proposed to her. At first, Mrs. Mangel dithered and agonised over whether or not she should accept his proposal, especially since it included a move to England as part of the package. But Nell realised how lucky she was to find such happiness late in life and accepted. On the morning of the wedding, Mrs. Mangel was so nervous she developed a bad bout of hiccups and feared she wouldn't be able to go through with the ceremony. But her arch-nemesis Madge Ramsay came to the rescue by indulging Mrs. Mangel in one of their legendary spats, which successfully managed to stop Nell's hiccups. After a touching church wedding, Nell and John held a reception at Lassiter's Hotel, which was marred only by Mrs. Mangel's larrikin son Joe making a rather embarrassing speech. Days later, Mrs. Mangel bid her neighbours on Ramsay Street goodbye and set sail for a new life - and some new neighbours to nose on - in St. Albans.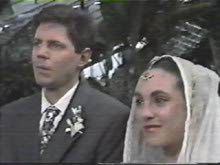 Joe and Kerry September 1989
The wedding of Joe Mangel and Kerry Bishop was never going to be a typical ceremony due to the fact that neither Joe or Kerry were particularly religious and Kerry was well known for her less than conventional way of doing things. And so, the Butterfly Gardens at the local zoo was the setting for the nuptials. Kerry looked amazing in an Indian style wedding dress, with little daughter Sky in tow as flower girl. Henry Ramsay and Bronwyn Davies were also supposed to marry on the same day, in a joint ceremony, but Bronwyn called it off at the last minute after her father persuaded her to wait a while longer. Although Henry was devastated, Bronwyn assured him she still wanted to marry him, and true to her word, she became Mrs. Ramsay a few months later when they married in New Zealand.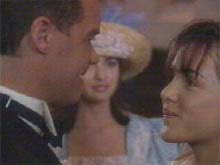 Paul and Christina February 1991
After two unsuccessful marriages, cold-hearted and ruthless businessman Paul finally had his cold exterior melted when he met Christina Alessi. The pair had an instant attraction to each other, and it wasn't long after their initial meeting that they decided to tie the knot. However, the wedding wasn't without its hitches. As the couple were preparing for the big day, Christina stormed over to the Robinson house and accidentally caught a glimpse of Paul - convinced that the wedding was doomed she ran off in tears. After much consolidation, she came round and pressed ahead with the busy day. Dizzy Melanie, who was to be a bridesmaid at the wedding, mixed up the dresses and had to race all over town to try and make the ceremony - she resorted to hailing a taxi in her bridesmaid dress as she was so desperate to make it in time. She burst in at the last minute, and Paul and Christina's wedding went off without a hitch. Then came the honeymoon. They had planned a romantic cruise together, and held the reception on the ship itself. The guests all left as the ship departed... or so they thought. As Paul and Christina headed for their cabin ready to make waves of their own, a drunken Melanie emerged from the bathroom, wondering when the ship sets sail.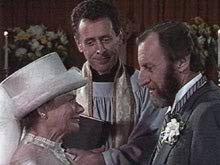 Michael and Helen July 1991
Helen's marriage to her late husband Bill's cousin, Michael, was a very grand affair. With Michael waiting inside the church, an elegant Helen wearing a top hat and soft pink suit, pulled up outside in a vintage car with Paul and Lucy in tow. An emotional service followed, and even Harold Bishop - hospitalised after suffering a heart attack - got in on the action by listening to the service via a walkie talkie. A honeymoon in New York and Europe followed for Helen and Michael, but while they were away, Jim made the startling discovery that Michael was actually already married and was forced to break the devastating news to Helen upon her return. Although it transpired that Michael's wife, Louise, was suffering from a form of dementia and had been in a home for several years, Helen could never get past the fact that Michael had committed bigamy and Michael left Erinsborough.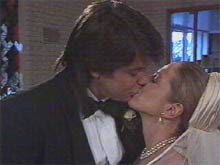 Joe and Melanie October 1991
It had taken Joe and Melanie a long time to get together, but after they appeared on Dream Date and won a romantic holiday together, they finally confessed their feelings for each other. An engagement swiftly followed, and Joe's kids Toby and Sky looked forward to officially welcoming Mel as their new 'mum'. The wedding was a beautiful service, with Sky as flower girl and Toby acting as Joe's best man. Melanie even burst into tears as she was making her vows, such was her happiness at marrying Joe. A reception was held afterwards in a marquee in the Robinson's back garden, the festivities marred only by a telegraph from Madge, in which she spoke of how pleased the recently deceased Harold would have been to see Joe and Melanie get together. Melanie's equally madcap sister Justine made her presence felt, meanwhile, by making a play for Glen Donnelly at every opportunity, and after Joe and Melanie departed for their honeymoon, Christina Robinson started to experience sharp labour pains and it looked as if she were ready to give birth. Luckily, it was a false alarm and she instead gave birth a few weeks later - in the back of an ice-cream van.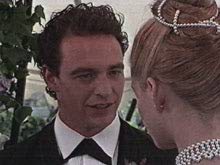 Stephen and Phoebe January 1993
Things were never easy for Phoebe. After falling pregnant then losing the baby's father, Todd, in a road accident, she thought she'd never love again. One day, however, she met Stephen while visiting Todd's grave. After a whirlwind romance, Stephen proposed on Phoebe's birthday and they made plans to marry before the baby's birth. However, Phoebe suddenly went into labour during Stephen's stag night and things had to be postponed for a few weeks, as premature baby Hope became poorly. The event finally took place in a marquee behind number 22, with Stephen's parents, Dave and Sally, performing music. Although a vindictive Michael Martin got Julie drunk, causing her to make a fool of herself, the perfect day was topped off for the happy couple when Pam arrived with baby Hope, announcing that she was off the critical list and able to go home.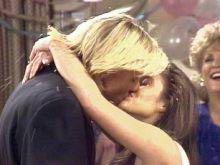 Brad and Beth December 1993
This couple has the dubious honour of having had three Neighbours weddings. The first was something of a disaster as Beth realised that her fiancé had been cheating on her with her best friend, Lauren Carpenter. After several other unsuccessful relationships, Brad and Beth soon came to the conclusion that they were meant to be together. Planning for wedding number two began but things quickly got out of hand. Brad's parents, Pam and Doug, along with Beth's mother, Bunny, attempted to dominate the proceedings, leaving their children feeling slightly put out. Brad decided that it would be better for everyone if they had a quick registry office wedding and headed off to Perth, where Beth had scored work. He managed to talk his fiancée into it and their plan succeeded, until the worried parents cottoned on and tracked their bus down. They managed to talk them into returning to Ramsay Street for a proper wedding, unaware that they'd already wed at the registry office. After the third wedding, held in the Robinson's lounge room, the happy couple finally left for Perth, when they later had a son, Ned.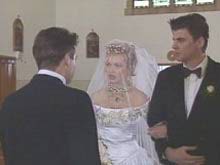 Mark and Annalise November 1994
Having been through a lot together, everyone in Ramsay Street was thrilled when Mark and Annalise got engaged. As preparations began for the big day, Mark decided to get baptised, to show that he respected Annalise's religion. However, this led to Mark getting increasingly interested in sharing his life with God. Meanwhile, Annalise was fighting an attraction to her new neighbour, Sam Kratz. When the big day arrived, everything seemed to be going well. However, Sam arrived at the church just as Annalise's wedding car pulled up and they shared a lingering kiss, surprising Mark's sister, Ren, who was one of the bridesmaids. However, the biggest shock was still to come. As Annalise began her walk down the aisle, Mark found that he couldn't take his eyes off the statue of Jesus hanging at the front of the church and so he walked back down the aisle and told Annalise that the wedding had to stop. He later explained to his shocked ex-fiancée that he had decided to become a priest.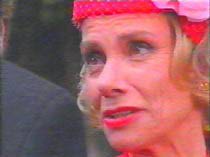 Reuben and Helen May 1995
Following the disastrous marriage to Michael a few years before, Helen finally found the man of her dreams in the form of millionaire philanthropist Reuben White. After a whirlwind romance, they married in a romantic ceremony by Lassiter's Lake. No expense was spared with a marquee erected in the ground of Lassiter's for the event, and champagne flowing left, right and centre. Helen looked radiant in a scarlet outfit and the sheer happiness at becoming Reuben's wife was plain for all to see as she took her vows. Sadly, the marriage was to be a short one as Reuben passed away a few weeks later.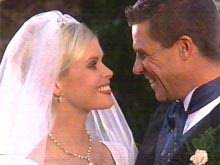 Rob and Jo June 1996
Jo first saw Rob when she was working as an aerobics instructor at the gym. When it came under new management and was made exclusive to females, Rob employed Jo as his personal trainer. Joanna and Rob soon fell in love, and they married later in the year in the garden of their lavish mansion. The build-up to the wedding had the usual hitches, like the gazebo collapsing, Jo losing her temper with Mal Kennedy and his slack work ethic, and Danni designing a ghastly dress for Jo to wear. However, despite these small hiccups, their special day went off without a single trouble, and even saw Sam and Annalise happily reunited.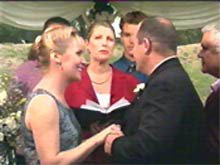 Phil and Ruth June 1998
Both single parents, it came as no surprise when after a year of dating each other, Phil popped the question. Of course his timing wasn't the best, as literally seconds after he asked her, her son Ben was involved in a serious car accident. After that died down, she accepted and they pressed ahead with the arrangements. When Ruth soon after had a cancer scare, they decided to move the wedding forward. She arrived on the back of a Harley Davidson and had a beautiful ceremony at Lassiter's lake (where else?). Days later, Ruth got the all clear and she moved in with Phil into Number 26 with her family.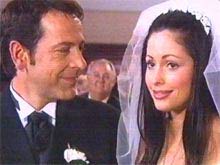 Peter and Sarah July 1999
After a terrible couple of years involving affairs with married doctors and a stalker, Sarah was thrilled to meet handsome doctor Peter Hannay. Although she often felt like she was simply trying to escape from her feelings for Karl, Sarah threw herself into the relationship and soon the couple became engaged. As the big day grew nearer, Sarah's negative feelings overwhelmed her and she called things off. However, she soon realised what she would be giving up and made plans to leave Erinsborough with Peter after the wedding. The big day went well, despite Sarah's arrival at the church with Karl, which raised a few eyebrows. However, just as she was preparing to leave the church, Sarah went into the vestry and Karl followed her in to wish her well. Their feelings overcame them and they shared a final kiss before the Hannays left for Amsterdam. The couple later had a child, Antigone, but sadly split up soon after.
Drew and Libby February 2001
After possibly the longest courtship in Neighbours' history, Drew finally made Libby his wife. Unable to speak his true feelings for more than a year, Drew finally won Libby over. After turning down his first proposal, during the Millennium street party, Libby accepted a second. However, they almost didn't make it down the aisle at all when Libby was involved in a motorbike accident. After being told that she would never have children, she called off the wedding. Drew gradually won her back and the wedding finally took place at the beginning of the following year. Drew's Scottish heritage meant that it was a very traditional ceremony and everything went without a hitch. Drew sang to his wife at the reception and it was the perfect start to their marriage. Despite the appearance of Libby's arch-nemesis Geri Hallett on their honeymoon, things quickly picked up and their 'miracle' son Ben was born by the end of the year. Sadly, the happy family set-up was not to last, as Drew was tragically killed in a horse-riding accident the following year.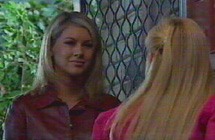 Tess and Darcy September 2001
The relationship between teacher Teresa Bell and Dr. Darcy Tyler was almost cursed from the beginning, as the pair got together whilst Darcy was still seeing Tess' best friend, Dee Bliss. Darcy proposed to Tess in a desperate attempt to win her back and he succeeded. However, few in Erinsborough had much faith in the pairing and as the wedding day approached, even Tess began to have serious doubts. On the day of the wedding, Dee visited Tess and tried to talk her out of marrying Darcy and when hairdresser Lyn Scully talked about trust within a marriage, it was the final straw. Tess phoned another of Darcy's ex-girlfriends, Alice, and realised that there was too much that she didn't know about her fiance. As Darcy, along with friends and family, waited at the registry office, Tess packed her bags, patched things up with Dee and left Erinsborough - and Darcy - for good.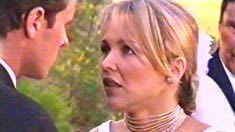 Marc and Stephanie May 2002
Steph and Marc met outside Lassiter's and hated each other instantly. However, they saw more of each other as the days progressed and started seeing each other on a much more serious level. Marc's parents, who owned Lassiter's, were very wealthy and didn't really take to the Scullys, which made Marc all the more determined to prove them wrong. He proposed and Stephanie was overjoyed. As the preparations got underway, Marc's eyes strayed to Stephanie's younger sister Flick. Flick, unable to help herself, engaged in a full-on affair with her sister's fiancée. Stephanie then thought she was pregnant, and when she told Marc the night before the wedding, he couldn't call it off. As the wedding was taking place, Marc stumbled when taking his vows, and Steph saw the look on her sister's face and realised all what had happened. She stormed off and had a blazing row with Flick in the middle of the street.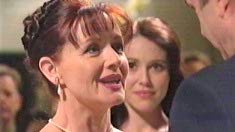 Karl and Susan December 2002
The Kennedy marriage, having finally made its way back on track after Karl's liaison with his receptionist Sarah, was thrown into a state of apparent disrepair when Susan had a terrible accident in the kitchen causing her to lose every memory she had after her sixteenth Birthday. After a very strenuous period, Susan's memory started returning in parts, and she began to fall in love with Karl all over again. Karl asked Susan to re-marry him, and she accepted his proposal. The pair got married in Lassiter's and asked Reverend Rosie Hoyland to conduct the ceremony. When saying their vows, Susan's memory returned and she recited her old vows she had said on the day of their original marriage.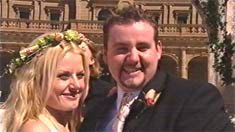 Toadie and Dee July 2003
After years as friends, Dee and Toadie got together in 2002 and surprised all the neighbours by making the relationship work. After enduring many problems - mostly created by the jealous Darcy Tyler - Toadie finally won Dee back and soon proposed. Despite the interfering presence of Toadie's mother, Angie, during the wedding preparations, things went relatively smoothly, which was just as well, as Dee was on the verge of a breakdown by the time the big day arrived. The venue for the big day was Werribee Mansion and all of Toadie's family made it down for the event. The ceremony was beautiful and nobody could deny the couple the happiness that they deserved. Tragically, it wasn't to last, as a car accident on the way to their honeymoon left Dee missing, presumed drowned.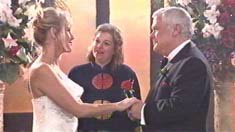 Lou and Trixie December 2003
When Lou met Nina's mother, Trixie, he was entranced. Having seen her perform on stage many times over the years, he had followed her career closely, and couldn't believe that she was performing in his pub. As Trixie's marriage to Nick had recently failed, Lou took a chance and asked her out. After a whirlwind romance, Lou proposed, and the revelation that Nick and Trixie had never been legally married meant that they could marry in a matter of weeks. After lots of secret arrangements, the couple married in style at Her Majesty's Theatre in Melbourne. Despite an objection from Valda halfway through the ceremony, a good time was had by all, though the reception took a tragic turn when Harold suffered a stroke. After only a few months of marriage, the couple set off for Hong Kong, where Lou was funding a production of Hello Dolly starring Trixie. When the play flopped, Trixie vanished in shame, and Lou returned to Ramsay Street a broken man.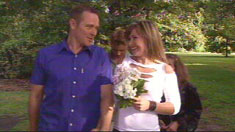 Max and Stephanie July 2004
After a long period of "will they won't they?" style dramas, Max and Steph settled down together and it almost looked for a while like they would never get married. However, after Steph battled cancer, the couple decided to make it official and began planning their big day. Unfortunately, the plans were soon hijacked by Steph's mother, Lyn, and grandmother, Valda. On the eve of the wedding, the couple realised that they'd had enough and they eloped with Max's kids, Boyd and Summer. However, Lyn managed to track them down and most of Ramsay Street descended on their happy day. Luckily, they were delighted with this development and things took an even happier turn when Valda received a proposal from her old flame, and Lyn's biological father, Charlie Cassidy. With the old wedding venue going unused, everyone changed location and the second wedding of the day took place.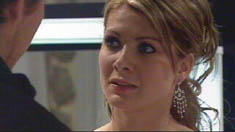 Karl and Izzy December 2004
Another of Ramsay Street's doomed relationships was that between Dr. Karl Kennedy and the much younger Izzy Hoyland. The relationship had begun soon after Karl had left his wife, Susan and Izzy had spent the vast majority of it lying about Karl being the father of her unborn child. After Izzy miscarried the baby, the relationship still survived and raced like a runaway train towards their Christmas wedding. On the big day, Izzy was in for a shock when Gus Cleary, the true father of her baby who had been sectioned months before, turned up to try and talk her 'round. His words about her not deserving Karl were enough for her to flee the scene, leaving Karl devastated. However, a run-in with Susan led to Izzy returning and apologising, with Karl amazing everyone by giving her a second chance. Although the couple never married, it would be another six months before Karl learnt the truth about Miss Hoyland.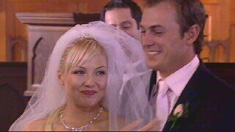 Stuart and Sindi August 2005
The strange behaviour of the bride was the main talking point at this wedding. With mysterious accidents following Sindi around for months, only Stuart's best mate - not to mention Sindi's ex - Toadie, was suspicious of what was going on. As the big day dawned, Toadie finally found evidence that Sindi had been following Stuart on his bucks' night, but when that evidence then went missing, he had to race to the church and stop the wedding. Naturally, nobody appreciated Toadie's stunt, particularly as he had no proof of his claims, and the wedding went ahead. It was only during the honeymoon that the extent of Sindi's mental problems was finally revealed. Having tracked down the incriminating photo, Toadie arrived at the resort and confronted Sindi, who promptly caused another "accident" and pushed Toadie down the stairs. However, Stuart had witnessed the whole thing and before long, Sindi was being taken away for assessment. It transpired that she'd suffered from similar delusions as a teenager and had caused the accidents to try and protect her relationship with Stuart at any cost. Although Stuart vowed to stand by Sindi, it would be a long time before they were able to be together as man and wife.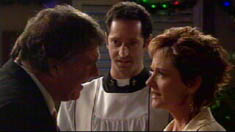 Susan and Alex December 2005
The relationship had moved quickly, but with the groom suffering from terminal leukaemia, there was little choice. Having met only a few months earlier, Susan and Alex had managed to overcome many problems, most of them Alex's secrets, including his illness and a long-lost daughter, not to mention the interference of Susan's ex-husband, Karl. However, love won through and, with Alex fading fast, the New Year wedding was brought forward a few days, with Karl and the aforementioned long-lost daughter, Katya, as witnesses. After saying some sad goodbyes to his other children, Rachel and Zeke, Alex spent his last moments asking Susan to take care of his children and to go on their honeymoon - on the Trans-Siberian railway. He then passed away, leaving Susan to deal with her grief and her new stepfamily.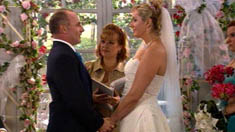 Kim and Janelle May 2006
Having already married once, in 1983, Kim and Janelle Timmins had gone through many ups, downs and separations in their 23-year marriage before deciding to renew their vows. Things seemed like they were picking up for the couple, as they managed to stay together for several months in one go, and Kim found work running a hot dog cart. However, as the bills, and the pressure for an amazing wedding, mounted, Kim took the opportunity to start selling pirated DVDs from the cart. His business quickly took off, particularly at the university, and he was making plenty of cash and able to treat the family and even put down a deposit on a new house for all of them. By the time the day of the "re-wedding" arrived, Kim was tied naked to a surfboard following his bucks' night, while Janelle was just praying that, for once, something could go right for her family. Unfortunately, her prayers were not answered, as the police had found out about the DVD pirating and turned up in Ramsay Street just moments after the wedding party departed. At the wedding venue at Lassiter's, the police arrived and were stalled for just long enough to allow Kim and Janelle to complete their vows, and for the groom to do a runner through the back door, leaving his devastated family behind.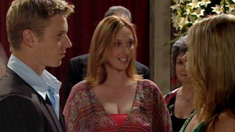 Boyd and Janae June 2006
Boyd Hoyland and Janae Timmins' relationship faced several hurdles en route to the altar, not least her jealousy of his uni friends, which split them up, only for Boyd to propose marriage in order to win Janae back. Their union immediately faced opposition from Boyd's father, Max, who felt that a Timmins wasn't good enough for his son. Janae's mother, Janelle, whilst happy for her daughter, struggled to cope with the news aswell, as she had married young and had sometimes regretted it. After being forced to move out of home and survive on their own by both Max and Janelle, they ended up living with Janae's cousin, Toadie, and continued to plan the wedding. However, as they were met with indifference by almost everyone they told, they decided that the best course of action was to elope, only telling Janae's younger sister, Bree, and Boyd's younger sister, Summer, of their plans. Because Janae was only 16 at the time, she was forced to use a fake birth certificate rather than ask for her mother's permission, but the wedding went ahead at the town hall, with only Bree, Summer and a couple of witnesses in attendance. Summer managed to alert her father, who arrived, along with Janelle, just as the ceremony was finishing.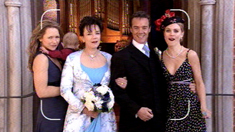 Paul and Lyn December 2006
With four previous marriages and a few engagements between them, Paul Robinson and Lyn Scully had already been around the block a few times before finding each other. After a relationship with the equally bad Izzy Hoyland, Paul was ready to settle down with someone like Lyn, in the hope that she would curb his behaviour and turn him into a family man. Having spent months working for Paul and falling for him, Lyn was delighted when he proposed and rushed the wedding plans, little realising that he was actually trying to fight his feelings for Rosetta Cammeniti, a young lawyer who had just moved in across the street. By the wedding day, Paul was so distracted by thoughts of Rosie that he almost didn't say his vows, but they were finally pronounced man and wife and, after an extravagant reception, they headed back to the hotel suite to prepare for their honeymoon in the Maldives. It was there that Paul dropped the bombshell that he could never promise to be completely faithful to Lyn and wanted them to split up before he broke her heart. Sadly he was too late, it was already broken and a sad Lyn left for the honeymoon without Paul, bringing to a close Ramsay Street's shortest ever marital union.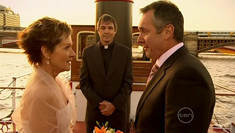 Karl and Susan March 2007
Having already been married for three decades, with one near divorce and a vow renewal, Susan and Karl Kennedy were officially divorced in 2004, and it was a very long road back to their 2007 reunion. Karl almost married Izzy Hoyland, while Susan did get married, to Alex Kinski, who died hours later, leaving her to care for his three children. By mid-2006, Karl and Susan were finally back in each other's arms and, despite a few complications, such as him sleeping with Izzy after taking too much sleep medication, and the protests of Susan's stepchildren, he was soon back living at 28 Ramsay Street. A few months later, the pair set off on a trip to London, where Karl proposed on the London Eye then surprised Susan with a romantic wedding ceremony on a cruise down the Thames. The trip was only marred by the presence of Izzy, who was living in London and in the midst of another drama, this time having got involved with a married footballer. She turned up at the wedding, intent on telling Karl that he was the father of her baby, only to suddenly go into labour. Following the delivery of baby Holly, Izzy decided against telling Karl the truth and spoiling his happy day, but Susan overheard her mention her baby's true paternity and, after agonising over it, told her new husband the truth once they were back in Australia.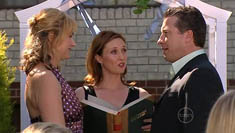 Janelle and Steiger July 2007
As a member of the rowdy Timmins clan, Janelle was looking for someone stable after her marriage to errant Kim ended once and for all, but everyone was surprised when she found love with local Senior Sergeant Allan Steiger. The pair finally got together during a pig-hunting trip and it wasn't long before Steiger moved in with Janelle and her large brood. But when he was then offered a two-month placement in the Solomon Islands, Janelle was concerned that, like Kim, he'd abandon her completely, so he gave her his grandmother's engagement ring and promised that, upon his return, they'd be engaged. He kept to his word but things were more complicated when he came back, with the arrival of Janelle's long-lost daughter, Anne Baxter. Wanting to be closer to Anne - as well as her son, Dylan - Janelle agreed to a plan to move the family up north to Cairns and, in the middle of the Timmins farewell barbecue, Steiger produced a celebrant and announced that they would be getting wed there and then. Following the ceremony, at the end of which Janelle's favourite singer Daryl Braightwaite arrived as a special guest, Steiger, Janelle and assorted Timmins children boarded a helicopter and flew out of Erinsborough in style.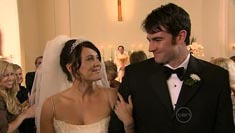 Rosie and Frazer July 2007
It was a long and complicated path to matrimony for Rosetta Cammeniti and Frazer Yeats. Rosie had originally been engaged to Frazer's estranged brother, Johnny for a marriage of convenience, but had walked out on it and, seeing an opportunity to get himself involved with the wealthy Cammeniti clan, gambler Frazer followed her to Ramsay Street. It didn't take long for a relationship to start, but when she found out the truth about his past, it promptly ended. But the love between them meant that they weren't apart for long and, with Frazer paralysed following an accident at the racetrack, they reunited and got engaged. And, after a few family dramas and Frazer regaining the use of his legs, the big day arrived and ran very smoothly. But, in true Neighbours style, it ended in disaster when the minibus carrying various guest back to Ramsay Street crashed, leaving Frazer's younger brother Ringo in a coma.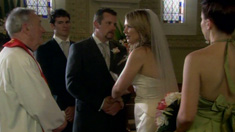 Steph and Toadie February 2008
Having been friends for years, Steph Hoyland and Toadie Rebecchi finally made their relationship official in 2007, as he moved in, but, following the breakdown of her marriage to Max, Steph was in no rush to get hitched again. When Toadie made a public marriage proposal, Steph left him humiliated as she turned him down but, after talking things through, she agreed to a long engagement. However, as time went on, she started to have second thoughts and didn't tell Toadie when her divorce from Max became official. After almost splitting up over it, Steph set a date, only two weeks away, leaving them little time to plan the event, or develop any doubts. When the big day arrived, Toadie had managed to convince himself that it was what Steph really wanted, but as she took several minutes to enter the church, then stumbled over her vows, he realised that her heart wasn't in it. The ceremony ground to a crashing halt, and Toadie and Steph's relationship looked to be beyond repair.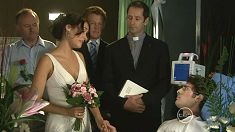 Marco and Carmella July 2008
Though only dating for six troublesome months, tragedy forced the union of Marco Silvani and Carmella Cammeniti. It was while they were enjoying a picnic in the national park, celebrating Marco's birthday, that he proposed and Carmella happily accepted but their joy was shortlasted as they realised that a bushfire had broken out. As they all made it to safety, Marco joined the search party, looking for several missing people, and was caught outside as the fire raged through the area. In hospital, Marco tried his best to convince Carmella that he was fine, but Dr Karl informed him that the fire had caused irreversible damage to his internal organs and he had only days, maybe hours, to live. The wedding was brought forward and a small service was held at the hospital, with everyone doing their best to be upbeat. Afterwards, Carmella sat with Marco in his final moments, telling him about how they'd grow old and silly together, as he quietly passed away.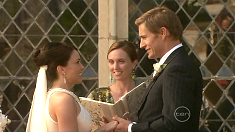 Daniel and Libby March 2009
After eighteen months of dating on and off, and navigating the dramas of Dan's first wife Samantha, Libby Kennedy and Daniel Fitzgerald finally made it up the aisle, with a wedding that took place in the beautiful venue of Montsalvat, outside Melbourne. The bride-to-be then spent the wedding day suffering from terrible stomach pains, which she attempted to keep from everyone, determined to get through the day. The ceremony then went ahead, with Karl and Susan proudly watching their daughter marry for a second time, but the day was to end badly, when Libby suddenly collapsed. At the hospital, it was discovered that Libby was pregnant - following a motorbike accident, she'd been told that it would be very difficult for her to carry a baby to full term, and even after almost dying whilst giving birth to son Ben, Libby was still determined to go ahead with the pregnancy, but sadly lost the baby, beginning a difficult time for Libby and Dan that would ultimately bring their marriage to a premature end.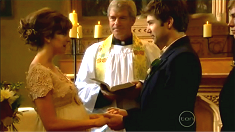 Declan and Bridget June 2009
Popular teen couple Declan Napier and Bridget Parker went through a lot during their two years as a couple, including having a baby together and an intimate wedding behind their parents' backs. After making the impulsive decision to get married at a small country church, they employed the services of their close friends Donna, Ringo, Zeke and Sunny to help them get everything arranged without their parents finding out. 'Didge and Dec' then had their perfect wedding ceremony in the tiny church, and everything was completed just in time for their parents - Declan's mum Rebecca, and Bridget's mum and dad Miranda and Steve - who'd been concerned about pregnant Bridge's welfare, to turn up, stunned to find out what their kids had just done.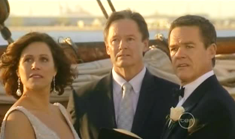 Paul and Rebecca August/December 2009
After being reunited in 2007, following a fling over twenty years earlier, Rebecca Napier and Paul Robinson had a long road to the aisle, including a first wedding that ended in disaster when Paul's previous wife Lyn Scully turned up and announced that she and Paul were still married, as she'd never filed the annulment papers. Four months later, however, Paul surprised Rebecca with a Christmas wedding at Charlie's, and with a celebrant dressed as Santa, they were finally officially married in front of family and friends. It was mostly downhill from there, as Paul's behaviour got worse and worse, culminating in Rebecca pushing him from the mezzanine at Lassiter's. Paul then used this information to blackmail Rebecca into staying with him, threatening to tell the police that her son Declan was the one who pushed him. Rebecca even went as far as renewing her wedding vows with Paul to keep up the pretence, but only a few months later, she realised that things couldn't continue like that, and she fled for Europe with her family.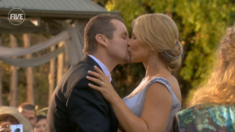 Toadie and Steph June 2010
Another of Neighbours' sham weddings, Toadie and Steph were pretending to be a couple, as Steph had fallen pregnant to Libby's husband Daniel shortly before he left town, and not wanting to destroy her friendship with Libby, Steph had turned to Toadie for help. Toadie, having had feelings for Steph practically from the moment she'd moved into Ramsay Street a decade earlier, was happy to pretend that he was the father of the child. After six months of pretending, Toadie and Steph were married, but, with a few unhappy friends and relatives in on the secret, it wasn't long before the truth came out. Steph fled Ramsay Street and gave birth away from everyone, before deciding to give the child over to Dan to raise, a decision that sent her on a downward spiral that she never recovered from.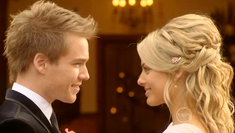 Ringo and Donna August 2010
As Neighbours celebrated its 6000th episode, there was high drama as Paul Robinson was pushed from the mezzanine at Lassiter's, but also a happier event, when young Ringo Brown and Donna Freedman were married. Their wedding was a typical Erinsborough affair, with everything going wrong at the last-minute, and Donna forced to stand in the back of Lucas's ute in her wedding dress, only for them to be stopped by the police on the way to the wedding. However, things went a little more smoothly after that, as they managed to get a police escort to arrive at the church on time, and Ringo even recorded his own version of Suddenly, the song played when Scott and Charlene were married 23 years earlier, to play as Donna walked down the aisle. A fairytale garden themed wedding reception at Charlie's topped off Donna's big day, but the marriage was to be a brief one, as Ringo was run down and killed by Steph Scully only a couple of months later.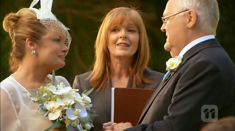 Harold and Carolyn June 2011
After some time travelling around Australia in his motor home, Harold Bishop returned to Erinsborough in 2011, in order to help Toadie through the latest crisis in his life. Whilst in town, Harold introduced the locals to his fiancee Carolyn Johnstone, who quickly showed that she was just as good at dispensing advice as her husband-to-be. On the day of the wedding, Harold did a disappearing act - popping off to Madge's grave to make sure she was happy for him to remarry - but Carolyn never worried for a moment that he wouldn't turn up. The couple were then married in front of their friends, and the day also had a positive effect on Toadie and Sonya, who'd been having problems ever since he found out that she was Callum's biological mother and had been lying to them all for over year, when they were reunited with a kiss.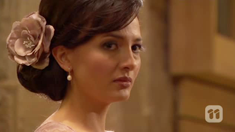 Lucas and Vanessa November 2012/September 2013
The complicated courtship of Vanessa Villante and Lucas Fitzgerald led to them having two weddings - and not being legally married at the end of either of them! The first wedding in November 2012 was something of a sham - Vanessa had fallen pregnant after a one-night stand with Lucas, and her strict parents were threatening to disown her if the child was born out of wedlock. Vanessa claimed that she and Lucas were a couple and planning to marry and, secretly in love with Vanessa, Lucas was happy to have any excuse to get closer to her. However, Vanessa's heart was with Rhys Lawson and she ran out of the church at the last minute, unable to marry Lucas. In the months that followed, Vanessa and Lucas's son, Patrick, was born and she realised that she loved Lucas. In September 2013, after a very difficult six months in which Patrick suffered a heart problem, and Lucas fought testicular cancer, they were finally married in front of their friends, though as Vanessa had only just begun the process of annulling her first marriage, it wasn't a legally recognised marriage. Vanessa, Lucas and Patrick then went to Daylesford for a few days, and upon their return, decided that they wanted to go back and live there permanently.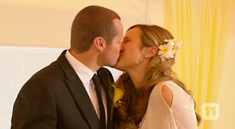 Toadie and Sonya March 2013
Though originally Toadie wasn't keen on getting married again, he eventually realised that he needed to embrace adulthood and make an honest woman of girlfriend Sonya, particularly as they already had a daughter together, and Toadie was adoptive father to Sonya's son, Callum. However, as the wedding got closer, Toadie grew convinced that he was cursed and that disaster would strike. When various problems - misspellings on the invitations, the reception venue flooded with sewage and both the best man and maid of honour unable to make it - started to strike, he was sure that it was all his fault. However, the wedding at a small country church was a success and the reception was moved to a marquee in the grounds of Lassiter's - and it was there that the full force of Toadie's curse hit the newlyweds. As Sonya was throwing the bouquet, a faulty gas bottle exploded, causing the marquee to collapse, leaving Sonya unconscious and wedding guests Priya Kapoor and Rhys Lawson dead.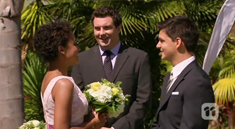 Zeke and Vic April 2014
When Zeke Kinski returned to Erinsborough, three years after moving to London, his secretive behaviour led stepparents Karl and Susan to believe that he was gay and was struggling to tell them. When they finally decided to talk to him and see if he would open up, he explained that he wasn't gay - he had a girlfriend called Vic who he wanted to introduce to them. He then dropped the bombshell that he and Vic had come to Erinsborough to get married, so that when they returned to the UK, Zeke could have British citizenship and they wouldn't have to be separated when he finished his studies. Though slightly surprised by the circumstances surrounding the wedding, Karl and Susan could see that Zeke and Vic were genuine, and the wedding quickly went ahead, with a last-minute celebrant having to fill in when the original one dropped out. With just Karl and Susan as witnesses, Zeke and Vic were then married, and, unimpressed with the celebrant getting Zeke's name wrong, Susan made a speech of her own for the newlyweds, leading her to decide to become a part-time celebrant.